Notre Dame Fighting Irish Fall to Maryland
December 5, 2011
Jonathan Daniel/Getty Images
Well, the Notre Dame men's basketball team was not wearing green Sunday, nor did the Maryland Terrapins have on anything resembling the "Pride" uniforms which they wore when the schools' football teams met on the field last month—a game won by Notre Dame 45-21. 
The result was also different this time. Maryland prevailed 78-71 in the BB&T Classic, a tournament which had previously been kind to Irish teams. The game was played at the Verizon Center in Washington D.C. in front of a crowd of 10,714.  
The game started out on a high note for Notre Dame as they raced to an 8-1 lead with the help of guard Eric Atkins and a jumper by fifth-year senior Scott Martin. But a three-pointer by Maryland's Sean Mosley put the Terrapins up 26-25, a lead they would never relinquish. By halftime, their advantage was up to 35-30, and Irish fans could feel the game swaying in Maryland's favor.   
Maryland went for the throat in the opening minutes of the second half and when star guard Terrell Stoglin drained a three pointer with 11:59 left, they were up by eleven at 51-40. 
Notre Dame did make a run and actually got the lead down to one at 55-54 on a free throw by Joey Brooks with 8:15 to go. 
For the next few minutes, Maryland had an answer every time the Irish threatened to take the lead. Still, it was a one-possession game at 74-71 when Martin hit both free throws with 46 ticks left on the clock.
They then decided to play defense rather than foul the Terps as there was an 11-second shot clock to game clock differential. But Stoglin made the Irish pay for this strategy by bolting around a screen and dead eying a long two-pointer with 13 seconds left.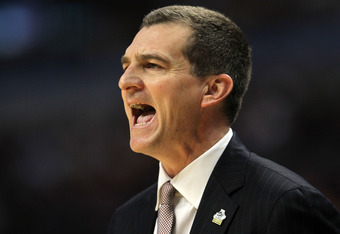 Jamie Squire/Getty Images
The Irish did play a much more competitive game than in the massacre at Gonzaga last Wednesday. But keep in mind that this is a Maryland team who is struggling mightily under first-year head coach Mark Turgeon and were lambasted by Iona 89-63 and barely escaped with a win over Florida Gulf Coast 73-67.
If Notre Dame could not come out with a win against this Maryland team—who in all honesty probably will not finish with a winning record—then we have to ask ourselves who is left on their schedule that they can beat? Aside from upcoming home contests against Maine, Dartmouth and Sacred Heart, you have to wonder if there are any other sure wins remaining on the Irish slate.
And even those games no longer seem like a given.
In fairness to Notre Dame, they were playing without much-maligned forward Jack Cooley who stayed in South Bend due to illness. Without Cooley, head coach Mike Brey platooned juniors Tom Knight and Mike Broghammer with mixed results.
Knight was 2-for-3 from the floor but did not gather in a rebound in nine minutes. Broghammer did seem a little more physical underneath the bucket while securing seven boards, but he did not contribute a single point in 16 minutes.
The only player that the Notre Dame defense was asked to key on was Stoglin. Instead they watched, often times from a 2-to-3 zone, as Stoglin came just one point short of his career high while pumping in 31.
Rebounding, especially offensive rebounding, doomed the blue and gold. At one point in the second half, Maryland had almost as many offensive rebounds (17) as Notre Dame had in total (15). Maryland finished with a 37-26 advantage on the boards.
Guards Eric Atkins and Jerian Grant tried to keep the Irish in it by scoring 16 and 20 respectively, the latter on eight of 13 shooting.  
This is clearly going to be a rebuilding year for Notre Dame basketball with many embarrassing losses yet to come. Irish fans who were sorely disappointed when Notre Dame bowed out against Florida State in the Round of 32 last year are now asking themselves what Brey may be building towards.
In his 12 season on the Irish sideline, Brey's teams have never been to the championship game of their conference tournament while advancing to the Sweet 16 only once. It looks as if we may have found the ceiling for teams coached by Brey.
The only question now is, how far down must the Irish fall before they find rock bottom?