UNC Basketball: Harrison Barnes Has Lost His Last Game as a Tar Heel
March 4, 2017
Nick Laham/Getty Images
Harrison Barnes elected to skip the 2011 NBA Draft and return to lead Roy Williams' North Carolina squad for one reason more than any other: to win a national championship.
Barnes joined teammates John Henson and Tyler Zeller in opting to push the draft off a year in exchange for another shot at the title.  With all five starters returning and another elite recruiting class ready to join the ranks, Roy Williams' Tar Heels were quickly installed as the preseason favorite to win the NCAA National Championship.
Talent alone, though, doesn't win games.
Through eight games this season, the Tar Heels have already lost two games: a stunner to UNLV on a "neutral" court and a dogfight with Kentucky in Lexington.  Two losses in the span of a week have pundits and fans abuzz with speculation about "wake-up calls," and "learning experiences."
Those concepts are entertaining for fans and analysts external to the game.  They don't hold much meaning to Harrison Barnes, though.
He's done losing.
While the Tar Heels were justifiably maligned for their lack of intensity and poor execution against UNLV, Saturday's game against the Kentucky Wildcats showcased a North Carolina team that is capable of beating any opponent.
On the road, facing a capacity crowd screaming for Carolina blue blood, the Tar Heels came within one point, one John Henson head fake, or one loose ball of victimizing the (next) most talented team in the country.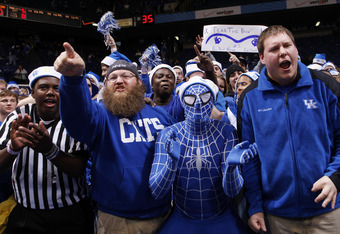 Joe Robbins/Getty Images
Following the game, Barnes and company issued the requisite mea culpas fans expect from a losing team.  Don't expect that to be anything more than lip service, though: the Heels are primed and positioned to contend for title and Harrison Barnes knows it.
Asked what he thought about Roy Williams wondering aloud about his team's toughness, Barnes told ESPN:  "I feel like we're tough enough.  We been through some pretty big things last year.  This year...we're getting some things accomplished."
Another reporter followed that by asking what Barnes thought they would learn from the loss.  After a standard issue regurgitation about "execution", Barnes' real feelings became clear: "I mean, (you) can say what (you) want.  We were right there.  Down one, last second shot.  That's essentially what it comes down to."
Looking ahead, several factors presage an strong North Carolina run, one that should end with another shining moment.
Perimeter Shooting
Paced by Harrison Barnes'  4-5 effort from three-point range, the Tar Heels turned in another impressive showing from long range, finishing with 11-18 shooting (61 percent).  For all the pre-season consternation about Carolina lacking a strong long-range game, the Tar Heels are currently the sixth-best shooting team in the country, connecting on 44.4 percent of their attempts.
They're even hotter recently.  Carolina opened the season just 11-38 (29 percent) in their first three games.  Over their last five games, the Tar Heels are shooting an absurd 37-70 (53 percent), led by freshman sniper sensation PJ Hairston (17-35, 49 percent 3P%).
With Barnes, Hairston, and Reggie Bullock making teams pay for doubling on the block, teams will be forced to play honest defense on the perimeter, opening up passing lanes for...
Kendall Marshall
After reading a harsh critique of his defensive shortcomings by a reactionary columnist, Marshall took umbrage and responded with inspired performances against Wisconsin and Kentucky.  In addition to his resurgent defense, Kendall Marshall has proven that he will continue to drop reality-defying dimes to his teammates, regardless of the defenses he faces.  Against Wisconsin's top-ranked defense, Marshall tallied seven assists and followed that up with eight more against overall No. 1 Kentucky on Saturday.
Carolina struggled to find their offensive rhythm early in the season, primarily as a result of defenses cheating down to the block to try to contain Tyler Zeller and John Henson.  With the emerging three-point offense, Marshall will continue to work his Butter-y magic, feeding both the sharpshooters outside and the Terrible Twins in the post.
Scheduling
The ace in Roy Williams' sleeve heading into the winter break is his team's schedule.  Carolina will host its next nine opponents at the Dean E. Smith Center in Chapel Hill, including its first two ACC tilts against Boston College and Miami.
The homestand features plenty of cupcakes for the Tar Heels to feast on.  Evansville, Appalachian State, Elon and Monmouth will provide ample opportunity for the Heels to hone their offensive sets and, more important, develop unstoppable momentum.
After inflating their per game scoring averages and shooting percentages against their remaining non-conference speed bags, Carolina won't face a real challenge until they host Duke on February 8th.  While Duke appears to be a legitimate-yet-raw Final Four hopeful, Mike Krzyzewski's squad is in reality not much more than a talented-but-unrefined freshman, a strong post player with no discernible offensive repertoire and a lot of excellent sixth men led by a Hall of Fame coach.
Facing a 21-2 Tar Heels team in Chapel Hill, the Blue Devils will suffer their worst defeat since the Ohio State drubbing in November.
The rest of the ACC will, as always, give Carolina their best shot every night, but no team will likely be able to derail the freight train that will be the Tar Heels come February.
Once tournament time begins, of course, anything is possible.  The win-or-go-home format is unforgiving; one poor showing means the end of a season.
Harrison Barnes and the Tar Heels will end their season amid a shower of confetti in New Orleans.