Fiesta Bowl 2012: Previewing Oklahoma State vs. Stanford
December 5, 2011
Ronald Martinez/Getty Images
The 2012 Fiesta Bowl match-up is set, and other than the BCS National Championship Game, the Fiesta Bowl offers the meeting between the two highest-ranked teams in the nation in No. 3 Oklahoma State and No. 4 Stanford.
The Oklahoma State Cowboys finished the season an impressive 11-1, with the only loss coming on the road in double overtime to Iowa State.
The Stanford Cardinal finish an identical 11-1, losing to eventual Pac-12 champion Oregon.
Just as exciting as the 3-vs-4 match-up is the clash between two massively successful quarterbacks; Oklahoma State's Brandon Weeden and Stanford's Andrew Luck.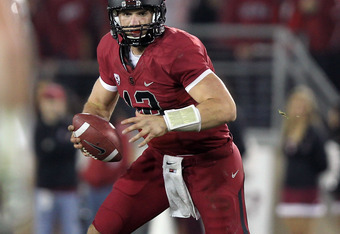 Ezra Shaw/Getty Images
Both Weeden and Luck had Heisman-caliber seasons, and you can be sure that both names will be appearing on more than a handful of Heisman ballots being submitted today. But in the biggest game of the season for both teams, the question will be: who can continue their defensive-dismantling attack?
Both Luck and Weeden can exploit even the smallest of holes in a defensive secondary, but if either has an edge, it has to be Luck's ability to create yardage with his feet.
Countering Luck's all-around skill is Oklahoma State's sizable chip that now resides on the shoulder of the Cowboys. Oklahoma State felt—with good reason—that they deserved a shot at LSU in the BCS National Championship Game.
A loss to Stanford would end any discussion of BCS controversy, at least where Oklahoma State is concerned. Will this intangible added to the explosive and prolific Cowboys aerial attack be enough to slow down Andrew Luck and the Cardinal enough to pull out a victory in Glendale?
If there's been one (major) strike against Oklahoma State this season, it has to be the fact that the Cowboys have done a fairly poor job of keeping opponents out of the end zone. Oklahoma State has give up an average of 25.8 points per game, ranking the Cowboys just 60th in the FBS this season.
While the Cowboys rank 2nd in the nation in scoring offense, the Cardinal aren't far behind at 5th in the FBS, averaging 43.6 points per game compared to Oklahoma State's 49.3.
Even with all of the fireworks that will be provided by the two great quarterbacks in this game, the end result will come down to the defenses. Can Oklahoma State find a way to keep Stanford away from the end zone just enough to give the Weeden-led offense a chance to outscore Andrew Luck and company?
A couple of weeks ago, we might have said no. But after the impressive display on a national stage in Saturday's game against then-No. 10 Oklahoma, the Cowboys defense may finally be finding ways to keep the opposition off the scoreboard.
Prediction: Oklahoma State 42, Stanford 35