Meineke Car Care Bowl 2011: Key Matchups for Texas A&M vs. Northwestern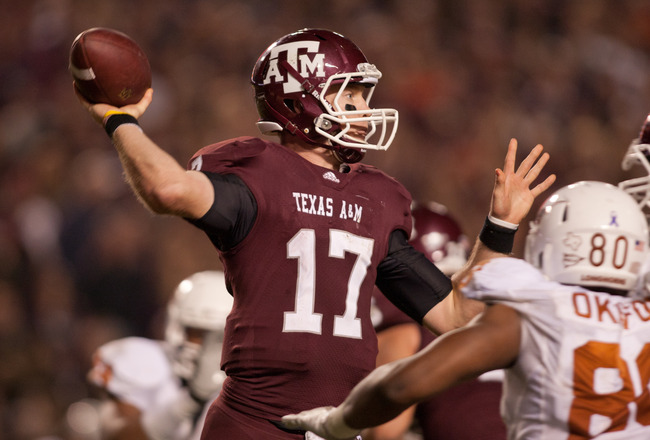 Texas A&M QB Ryan Tannehill will lead the Aggies against Northwestern in the Meineke Car Care Bowl of Texas on New Years Eve
Darren Carroll/Getty Images
A pair of 6-6 teams will meet in Houston on New Year's Eve in the Meineke Car Care Bowl of Texas.
Texas A&M will play its last game as a member of the Big 12 conference, before heading to the SEC next season.
Their opponent will be the Northwestern Wildcats out of the Big Ten conference.
While the Aggies may enjoy a home-game type of atmosphere, they will play under interim head coach Tim DeRuyter, who is replacing the fired Mike Sherman.
The matchup features a pair of teams with long droughts since their last bowl win, and an intriguing duel between two top flight offenses each possessing strong-armed and talented quarterbacks.
Here are five key matchups for Texas A&M vs. Northwestern
Ryan Tannehill (QB – Texas A&M) vs. Dan Persa (QB – Northwestern)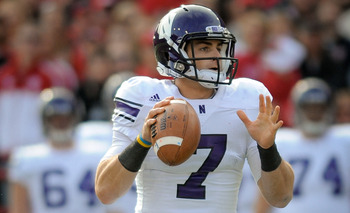 Persa had a strong season for Northwestern despite missing three games due to injury
Eric Francis/Getty Images
Ultimately, this game will come down a battle of talented signal-callers.
Despite starting his career in College Station as a wide receiver, Tannehill passed for 3,415 yards and 28 touchdowns this season.
Meanwhile, Persa threw for 2,167 yards and 17 touchdowns despite missing three games to injury in 2011.
The quarterback who imposes their will on the opposing defense will be the difference comes out on top between the Aggies and Wildcats.
Northwestern WRs vs. Texas A&M Secondary
Texas A&M will have to slow down Ebert if they hope to earn their first bowl win in a decade
Elsa/Getty Images
In what figures to be a shootout between two high powered offenses, both teams possess dynamic skill players in their arsenal.
Senior Jeremy Ebert has emerged as the leading target for Persa.
Ebert caught 71 passes for 1,025 yards and grabbed 11 touchdown receptions in the regular season.
The Aggies have struggled all season long in the secondary, as evidenced by their numerous second-half collapses this season.
If they can slow down the Persa-to-Ebert combo, they will have a great chance to win their last game as a member of the Big 12.
Northwestern Secondary vs. Texas A&M WR's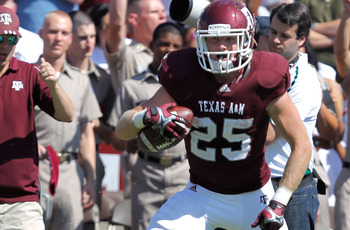 Against a suspect Wildcats secondary, expect Swope to have a big game
Sarah Glenn/Getty Images
Texas A&M's offense has plenty of firepower with Tannehill leading the prolific Aggies attack.
Tannehill has a pair of elite wide receivers in Jeff Fuller and Ryan Swope that have put up big numbers all season long.
Northwestern's secondary finished 11th in the Big Ten in pass defense.
A silver lining for the Wildcats may be the fact that they nabbed 11 interceptions, which was good for fifth in the Big 10 this season.
If the Wildcats can win the turnover battle, they may be able to put some pressure on an Aggies squad that has squandered big leads throughout the season.
Texas A&M Defensive Line vs. Northwestern Offensive Line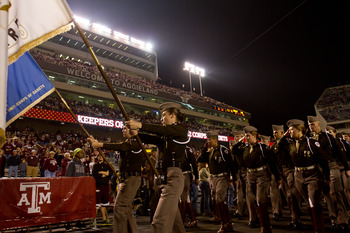 The Aggies defensive line will have to find ways to pressure Wildcats QB Dan Persa
Darren Carroll/Getty Images
Despite their noted failures in giving up second-half leads, the Texas A&M defense has managed to put some surprising numbers.
They lead the nation with 43 sacks, and rank 15th nationally against the run.
Meanwhile, Northwestern allowed 34 sacks this season, which means the Wildcats will have their hands full against the Aggies.
The battle in the trenches between these two units will be critical, because Persa could do some serious damage if Northwestern can keep him upright.
Tim DeRuyter (Texas A&M Interim Coach) vs. Pat Fitzgerald (Northwestern Head Coa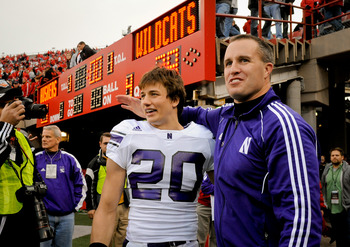 Fitzgerald will try to win Northwestern's first bowl game since the 1948 Rose Bowl
Eric Francis/Getty Images
DeRuyter, the Aggies defensive coordinator during the regular season, is in a tough position leading the Aggies into this game.
Chances are that A&M will know who their new permanent head coach will be, but DeRuyter will have gather his fellow assistants (who could all be job-hunting with him after the game) to right the ship and lead the Aggies to their first bowl win since 2001.
Meanwhile, Pat Fitzgerald has led the Wildcats to their fourth consecutive bowl appearance.
However, they have lost the previous three (two in overtime) by less than seven points, and the program has astonishingly failed to win a bowl game since the 1948 Rose Bowl.
It will be interesting to see which staff and team handles the pressure of a bowl atmosphere.
Keep Reading

Texas A&M Football: Like this team?