BCS Championship: Why Alabama vs. LSU Is the Best Matchup
December 5, 2011
Kevin C. Cox/Getty Images
LSU was forced to overcome a double-digit deficit for the second week in a row. After falling down by 14 early in the first quarter of last week's showdown with Arkansas, the Tigers faced similar adversity in this week's SEC Championship game—with Georgia leading by 10 for most of the first half.
Both of these SEC foes held a brief splinter of a hope that they would be the ones to dethrone the nation's best team. Both of them failed.
Thanks in part to a multitude of brilliant plays by LSU cornerback Tyrann Mathieu, the Tigers came out on top in consecutive weeks. The "Honeybadger" returned punts for touchdowns in both games, furthering his case for an invitation to New York for the Heisman Trophy ceremony.
But the 5'9'' corner didn't do it all by himself. After squandering those initial leads, the Tigers defense almost completely shut down Arkansas and Georgia respectively. The Razorbacks could only muster a field goal after going ahead by two touchdowns, while Georgia failed to come up with anything after relinquishing their initial 10-point lead.
What makes this even more impressive is that both Georgia and Arkansas were hot coming into their matchup with LSU.
Powered by one of the SEC's best quarterbacks and one of the nation's best statistical defenses, the Bulldogs had rattled off 10 straight wins. Surely they would at least be able to scare LSU a little bit, right?
Arkansas was ranked third in the BCS standings going into their big test at Baton Rouge. The Razorbacks had arguably the nation's best corps of wide receivers and unquestionably the SEC's best quarterback, Tyler Wilson. You would think the Hogs had a decent shot, right?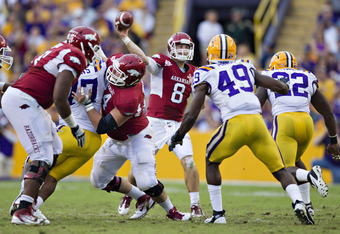 Wesley Hitt/Getty Images
Both of those questions don't need answering, as the Tigers proved their dominance on the field.
The one team that did trouble LSU this year, though, will get a shot at redemption.
The revealing of the final BCS standings set the stage for a rematch between LSU and Alabama. Of course, there will be many who deem this decision completely deplorable, citing Oklahoma State as a better candidate to try and take down the Tigers.
But when you look at this matchup, it's exactly what we all wanted.
As fans, we hope that the BCS National Championship game pits the nation's two best teams against each other, not the two most deserving.
If you look at the respective resumés of Alabama and Oklahoma State, the pokes have the edge. 
OSU won its conference and has beaten five Top 25 teams to Alabama's two. They've also beaten seven bowl-eligible teams, while the Tide have only beaten two.
Oklahoma State should play for the National Championship, but they won't. For us fans, that's a good thing.
While they have the more impressive body of work, evidence suggests that OSU doesn't even belong on the same field as LSU.
The Tigers beat an OSU-esque team in their first game of the season, thrashing Pac-12 foe Oregon 40-27. Arkansas was another OSU-esque opponent. How did that one turn out?
While the cowboys' up-tempo offense looks impressive, it just wouldn't work against a defense of LSU's caliber. Brandon Weeden and Co. haven't run into any issues scoring points all season; they also haven't run into any elite defenses.
Out of the top 11 teams in average points-per-game, four come from the Big 12. In other words, everyone scores points in the Big 12. That conference is about outscoring teams, not winning with defense.
OSU's strength is an elite passing game. Against LSU, it simply wouldn't suffice.
The Honeybadger very well may be invited to New York on December 10, but he's not even the Tigers' best corner. Morris Claiborne, who also scored a touchdown in LSU's beatdown in Atlanta on Saturday, is a likely top-10 pick in next year's draft.
Weeden and wide receiver Justin Blackmon have been extremely successful this season. But against LSU's defense, their success would come to a screeching halt.
John Chavis's defense shut down two of the nation's most prolific passing attacks in Oregon and Arkansas. What makes you think he wouldn't do the same against Oklahoma State?
The one opponent that actually challenged LSU this season did not have an up-tempo, high-powered offense. In fact, the team has one of the nation's least effective quarterbacks: AJ McCarron.
Despite relying on the freshman signal-caller, however, the Crimson Tide gave the Tigers all they could handle on Nov. 4—taking LSU to overtime before falling 9-6 on a Drew Allemand field goal.
In the wake of LSU's victory, most fans decried the prospect of a rematch in the National Title Game. But that's exactly what we're going to get.
Rather than watch the Tigers brush aside Oklahoma State like they've done to similar opponents this season, we get to see LSU take on the one team that matches up with them—the one team that can beat them.
It may not be the most popular BCS National Title Game matchup, but it's the best one we could hope for.