TUF 14 Finale: Is Diego Brandao Destined for UFC Gold?
December 4, 2011
Diego Brandao is the featherweight winner from Season 14 of The Ultimate Fighter. Brandao beat a slew of good fighters to win the title of "Ultimate Fighter," and did so in impressive fashion.
Brandao didn't let any of his opponents escape the opening frame and simply demolished anyone who had the unfortunate pleasure of being locked in the Octagon with him.
We knew Brandao had punching power coming into the finale, what we weren't privileged to see on the show was his impressive jiu-jitsu game.
Brandao showed a new facet of his game by pulling off what I would call the submission of the year in the UFC.
After rocking opponent Dennis Bermudez, Brandao found himself on the defensive as he was floored by a short right hool from Bermudez.
Brandao struggled to keep Bermudez off him but Bermudez was persistent and stayed on top of him, not letting the Brazilian rest.
In one of the greatest turn of the tides seen in a UFC fight, Brandao went from nearly being finished to nearly snapping Bermudez's arm in half.
Now that Brandao has the TUF title to his name, he's likely to see an increase in not only media attention, but also in opponent caliber.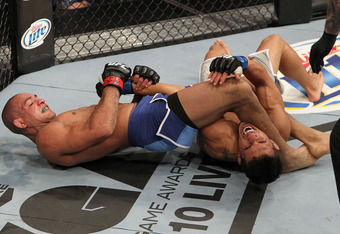 Brandao could find himself "in the mix" sooner rather than later given his talent and the fact UFC president Dana White was so impressed by him throughout the show.
The Brazilian will need to work on his striking if he wants to compete with the upper-echelon of UFC featherweights.
He has the power, but now he needs to refine and harness it into a technical striking game. While he has the one-punch knockout power to turn any opponent's lights out, he could be so much better by setting his power shots up with crisp combinations.
Controlling his aggression will also be key to his success. The reason he found himself in a position to pull off the armbar like is because he rushed in and got caught.
Against someone of a higher caliber, that one punch could've been the end of the night for Brandao, or a better fighter could've finished that fight.
But given the amount of potential Brandao has shown, and the fact he has "the mastermind" Greg Jackson as coach and trainer, is there any reason to doubt Jackson's MMA has another future champion under its roof?