A look at Boxing's Biggest news of 2008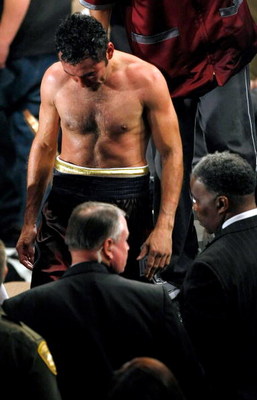 Happy holidays,

2008 is on the closing end, perhaps it's about time to list the best boxing moments of the year.
There were those who shone and there were those who disappointed.
Let's give due credit to those who deserve due credit in raising our beloved sport.
So just relax, sit back, and enjoy the slides.
10 - The Golden prospects' Golden year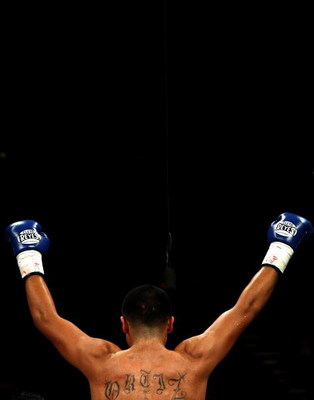 Danny Garcia and Victor Ortiz headlined the year for Golden Boy prospects as both fighters were sensational.
Garcia having a impressive 8-0 year that includes undercard fights of big cards like the dream match.
On the other hand, Ortiz looks very promising and ripe for a world title shot, knocking out anyone that comes his way.
2009 might be the Baptism of Fire for these two warriors...
Paulie Malignaggi might be a good test for Ortiz...
Garcia might need at least five more impressive wins before being considered as top contender in his division.
In summary it was a great year for these two future world champions.(I predict that they will be world champions sooner or later)
9 - The Marquez brothers, fearless and ferocious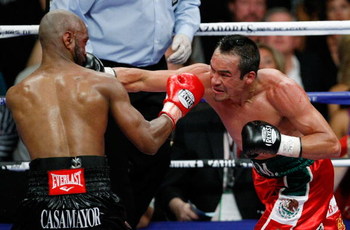 Juan Manuel Marquez started the year flat losing his alphabet title and lineal crown to Manny Pacquaio in a controversial and bloody brawl in which many experts and wanna-be experts declare that the Mexican is the real winner.
Nonetheless, Juan Manuel bounced back in his Lightweight debut knocking out the dirtiest fighter of the sport, Joel Casamayor and claiming the Ring Magazine Belt.
Rafael Marquez on the other hand was involved in one of the bloodiest and most dramatic fight of the year against WBC champion and arch nemesis Israel Vazquez. the best trilogy of Mexico, for me better than the Barrera-Morales...
8 - Calzhage's (mis)statement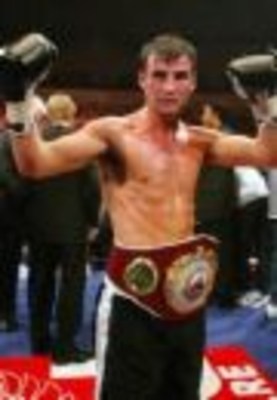 Calzhage's statement that Boxing is a Dying sport is perhaps because of his poor fan-base and weak following. (no wonder why the Brits only follow Hatton)
Well if Boxing really is a Dying sport, I won't be writing here at Bleacher Report, get it?
It can be justified, with the fact that the Calzhage-Jones match generated less than 225,000 PPV, Boxing is a dying sport or is it "the fans are not dying to see Calzhage"?
Just asking...
7 - The Execution of the Ghost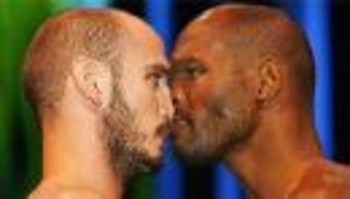 Heavily favored the younger, faster, slicker and more agile Kelly Pavlik was supposed to dominate the aging Bernard Hopkins but it turned out the other way around...
B-Hop schooled the Ghost winning unanimously.
After the fight Hopkins stated "I'm tired of always proving myself."
Well Hopkins does prove one last thing...
He still has it.. even at 44...
6 - Margarito Bulldozer's his way to Cotto
2008 was a year of underdogs...
Miguel Cotto knows that by heart. Cotto the former king of the welterweight division(that is after Mayweather's retirement) was a heavy favorite to win against the Rugged Antonio Margarito.
but the Tijuana Tornado proves that will kills skill..
Margarito seemed to absorb every punch that Cotto landed.. he keeps moving forward to launch his barrage of punches.
Later that evening Margarito knockout the Puerto rican pride to claim his third world title.
5 - The Trilogy of the Decade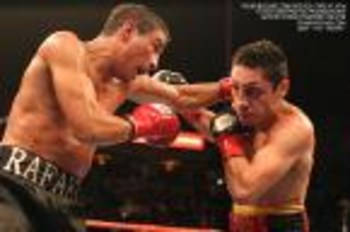 Israel Vazquez and Rafael Marquez two of the best Mexican Warriors of this generation slug it out for the third time in a brutal-UFC type of Boxing.
In their first meeting Vazquez retired and did not come out of his corner after the seventh...some people might think it's a sign of being coward but I think it's a sign of being smart.
Vazquez surrendered to live and fight another day, and fight he did, he knockout Marquez in their Rematch and eventually got two of the three judges nods in the Rematch...
Much better than the Barrera-Morales Trilogy...way better...
4 - Floyd's Surprise Re-retirement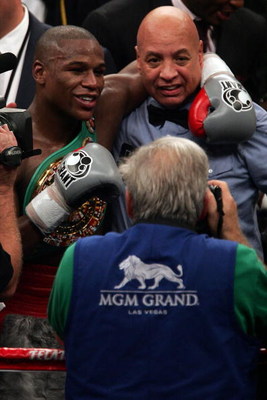 Oscar De La Hoya's 2008 plan was altered after Floyd Mayweather Jr announces his third straight (correct me if I'm wrong) retirement.
Mayweather, the pound for pound best and welterweight king at his prime, announces that he's tired of boxing.
He declined another eight digit pay day against the Golden boy of boxing.
Many people might hate Floyd, but surely everyone will miss him(even the haters)
We might see him agains this year...that is...if the price is right...
3 - The Klitsckho comeback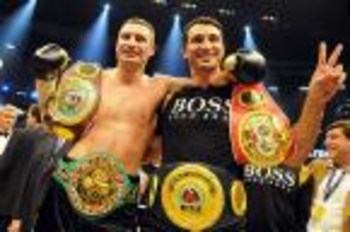 Wladimir continues his dominance winning all his fights this year including knockouts against Thompson and Rahman.
Vitali, after a four year layoff, regained his WBC heavyweight belt.
It's not a great year for Heavyweight boxing, but it was definitely a great year for the Klitsckho.
2 - Floyd enjoying Wrestlemania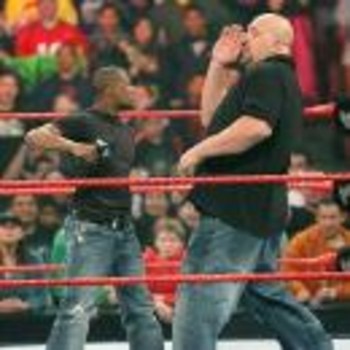 After toying with the Golden boy and knocking out the Hitman, Floyd again makes noise as he accepts the Bigshow's challenge at Wrestlemania.
In a choreographed wrestling match, Floyd annihilate the 7 foot 1, 500lbs monster.
That was perhaps Floyd's first taste of a "Hero role"
But can he be the one fighter that can play out the role as Boxing's superhero after De La Hoya's retirement or will he continue to hide (with all his money) in his lair.
1 - The Crowning of a New King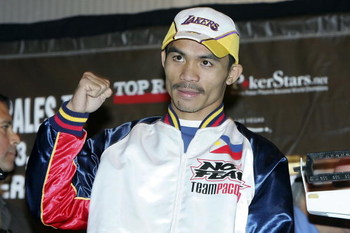 After Mayweather's retirement, it's just simple arithmetic to put Manny Pacquaio as the best pound for pound boxer in the world, considering that he plays the runner-up role to Mayweather.
But there are always doubters, well he did prove them wrong and strengthened his grip in the rankings as he systematically dismantle David Diaz in his lightweight debut...
And just weeks ago Pacquaio forced De La Hoya to submission in the biggest and richest fight of the year.
Pacquaio was crowned king of the Boxing world and at the same time PPV king.
Keep Reading