BCS Bowl Predictions: Virginia Tech Doesn't Deserve Spot in Sugar Bowl
December 5, 2011
Mike Ehrmann/Getty Images
If the rumors currently swirling around college football are true, then Virginia Tech will be the benefactor of some good, old-fashioned BCS highway robbery.
According to Stewart Mandel of Sports Illustrated, the Hokies have been selected play Michigan in the Sugar Bowl: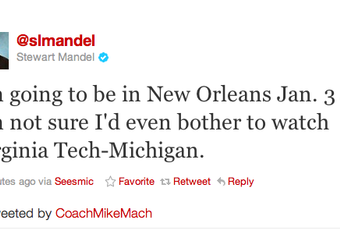 That puts two ACC teams, the other being Clemson, into the BCS for the first time ever.
And what a sham it's turned out to be. Sure, Frank Beamer's boys have won 11 games—a nice tidbit for their resume—but they've beaten as many Top 25 teams as you or I have this season. Their best wins of the season came at Georgia Tech (loser to Miami) and at Virginia (loser at North Carolina and versus North Carolina State).
VA Tech's two losses of the season, both to a Clemson team that lost three of its last four games before Saturday's ACC title game, came by a combined score of 61-13.
Meanwhile, Boise State, also with 11 wins, lost one game by one point, against BCS-bound TCU and manhandled Georgia in the season opener. Kansas State, now a likely snub on account of the Hokies' hijacking, beat Baylor and lost only to Oklahoma and Oklahoma State while playing in arguably the toughest conference in America this season—the Big 12.
It would seem, then, that, as with Michigan, Virginia Tech was boosted by its long-standing winning tradition in a BCS conference. After all, the Hokies have contended for the ACC title nearly every year since leaving the Big East.
But, if the BCS were really about rewarding teams for their accomplishments in the present year, then the Hokies would've been passed over in favor of K-State or Boise State.
That, apparently, isn't the case, not when the bowl commissioners get to handpick the most profitable matchups rather than reward the most deserving teams, regardless of "sex appeal."
Certainly, Virginia Tech's selection is somewhat surprising, though hardly shocking, considering the BCS is more concerned with lining its own pockets and hoarding the money amongst the "big boys" college football than it is with even trying to be fair.