Gator Bowl 2012: TV Schedule, Live Streaming, Radio, Game Time and More
December 5, 2011
Jamie Sabau/Getty Images
The Gator Bowl announced on Sunday that the Florida Gators will face the Ohio State Buckeyes. In other words, it's the Urban Meyer Bowl.
Meyer's old team will face his future team in what will easily be one of the most talked-about bowls this season. 
Where: EverBank Field, Jacksonville, FL
When: January 2, 2012, 1 PM ET
Watch: ESPN 2
Listen: Check here for Florida and here for Ohio State. 
Betting Line: Not yet available. 
Key Storyline
There will tons of great storylines in this one, but you have to start with Urban Meyer.
Meyer left Florida back in 2010, as he wanted to be with his family and concentrate on his health. Still, though, just a year later, Meyer took the job at Ohio State.
Now, coincidentally enough, the two schools face off against each other. Meyer won't be coaching on either side, but you can bet he'll be watching with a close eye.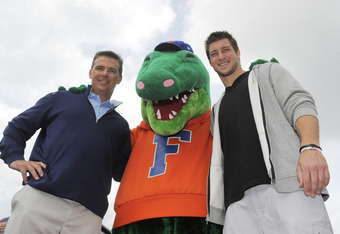 Handout/Getty Images
When you get on the field, things are a little less sexy. Both of these teams have struggled immensely this year, as they both sport 6-6 records.
It will be interesting to see which team can finish above .500.
Who Might Not Play for Florida
John Brantley (head), QB, day-to-day
Dominique Easley (leg), DT, day-to-day
Dan Wenger (ankle), C, day-to-day
Jordan Reed (ankle), TE, day-to-day
Jeremy Brown (knee), CB, day-to-day
Who Might Not Play for Ohio State
Corey Brown (shoulder), WR, day-to-day
Christian Bryant (undisclosed), DB, day-to-day
Andrew Sweat (concussion), LB, day-to-day
BCS/Top 25 Implications
A whole lot of nothing. Even with a win, neither of these teams will be able to crack the Top 25. They just haven't been good enough.
What They're Saying
Pretty much everyone is taking the same stance. They're all talking about Urban Meyer.
At ESPN, it's Urban Meyer.
At CBS, it's Urban Meyer.
Seriously, everywhere. It's the Urban Meyer Bowl.
Florida Player to Watch
Chris Rainey. The Gators have two of the most explosive running backs in the nation with Rainey and Chris Demps. 
Rainey has gotten more carries and receptions, but Demps has gotten more touchdowns. 
The OSU defense has been pretty solid this year, but they have been susceptible against the run at times. Fitzgerald Toussaint of Michigan just rushed for 120 yards against them.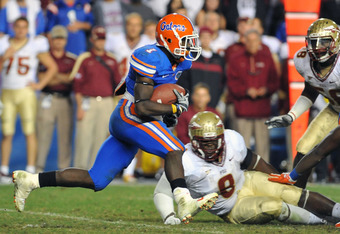 Al Messerschmidt/Getty Images
Rainey and Demps should have plenty of big runs.
Ohio State Player to Watch
Braxton Miller. Can Miller, who has really struggled throwing the ball this year, get it going against a good SEC defense?
That remains to be seen, but if he doesn't, Ohio State hardly stands a chance. Dan Herron can only do so much. 
Key Matchup
It has to be the Florida running backs versus Ohio State's front seven. The Buckeyes are giving up 3.9 yards per rush and 142 yards per game this season.
This one figures to be a relatively low-scoring game, and if Ohio State wants to have a chance, they have to limit the big plays from Rainey and Demps.
On the Hotseat
No one. Will Muschamp, despite struggling in his first year, has another year or two before he gets fired. 
And for Ohio State, well, you know their coaching situation.
Prediction
Florida 24, Ohio State 20