Tim Tebow Girlfriend Rumors: Personal Life of Broncos QB Remains a Great Mystery
December 4, 2011
Ezra Shaw/Getty Images
Bigfoot. The Loch Ness Monster. The Lost City of Atlantis. Tim Tebow's girlfriend.
What do these things have in common, you ask?
It's simple: Nobody is sure if any of them exist.
This seems to be particularly true of Tebow's girlfriend. The Denver Broncos quarterback is looming larger and larger in the public spotlight every week, but exactly who he spends his time with away from the gridiron is something of a mystery.
Many have tried to solve this mystery, of course. Ever since Tebow first started making a name for himself at the University of Florida, investigations have been launched and rumors have circulated on the Internet. All of them inevitably end in dead ends.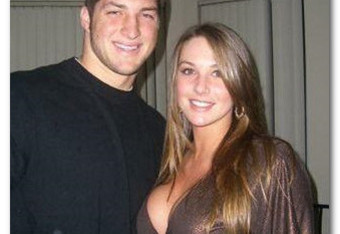 For example, when Tebow was still at Florida the photo on your right surfaced on the internets and people flipped out.
The question: Who is that and what is she doing with Tebow?
Naturally, people started to jump to conclusions, chief among them being the notion that this was clearly Tebow's girlfriend.
Nope. The girl's name is Erin Drewes, and she eventually had to clarify that there was nothing special going on between her and Tebow.
Via SPORTSbyBROOKS.com:
We are acquaintances through mutual friends and we would see each other here and there. We were standing together talking at a party at U of F and that's when the now-infamous picture was taken. I was never dating Tim Tebow, nor was I ever his girlfriend! I'm convinced the picture must have been photoshopped—my breasts certainly are not that big!
So as quick as it came, there went that rumor. It was nice of Erin to clear it up, though she probably didn't have to add that last bit about her breasts.
Before we move on, I guess it is worth noting that Drewes did go on to pose nude in Tim Tebow body paint, which was a curious decision on her part. Since the photos are NSFW, I'll leave you to find them on your own. I trust you won't have much trouble.
In 2009, well after the photo with Drewes had surfaced, Tebow took his turn clearing the air. He was asked directly at a press conference if he was a virgin, and Tebow didn't flinch in telling the truth.
"Yes, I am," he said with a laugh, per the Chicago Sun-Times.
As you may or may not recall, people flipped out about this too. Because, you know, it's not every day you come across a stud football player who hasn't taken advantage of the fact he's a stud football player.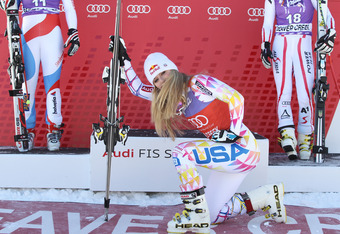 Francis Bompard/Agence Zoom/Getty Images
These days, the biggest rumor surrounding Tebow's personal life is that he may be dating professional skier Lindsay Vonn. So when Vonn took in the Broncos' game against the Chicago Bears on Dec. 11 in the Tebow family box (see USA Today), people flipped out once again.
But alas, Vonn cleared the air on her own via a guest column for the Denver Post:
A lot of people are wondering what's up with me and the Tebows. I'm just friends with the family. I met Tim and his brother Pete at the ESPY Awards like three or four years ago in the gym — we were working out there. I spent more time with Tim and his brother at the V Foundation Golf Tournament, and this year at the ESPYs.

...

I pretty much know their whole family now. They're great people. It's pretty awesome to be able to hang out with them — and to be able to witness the amazing things Tim and the Broncos can do.
So once again, there goes another rumor, though my personal advice on this one is to stay tuned.
The truth, or at least the truth as it appears to be right now, is that nobody really knows what's going on in Tebow's personal life. Given what we know about him, we probably care more about his personal life than he does.
But make no mistake, people are not going to stop trying to find out who Tebow's beloved is. Shoot, type "Tim Tebow" into Google, and the first suggested search that comes up is "Tim Tebow girlfriend." That is not a fluke. In fact, that's a classic case of Google playing the odds.
Sooner or later, these searches will turn up something concrete. Tebow has made it abundantly clear that he's a faithful Christian, but he's not a monk. At last check, saying "I'm a virgin" is not the same as saying "I'm celibate."
By his own admission, Tebow is saving himself for marriage:
Assuming he's telling the truth (when is he not?), Tebow will get married some day. When he does, he and his wife will do what married people occasionally do.
What kind of woman is Tebow looking for? That, my friends, is another mystery. He can have any woman he wants, but by the way Tebow carries himself I wouldn't be surprised if he doesn't have a set list of standards. The man will know when he knows.
Right now, I presume that Tebow's attention is focused solely on the gridiron. He's arguably the brightest star in the NFL at the moment, and he's making things more exciting every week. He and the Broncos appear ticketed for the playoffs, at which point Tebow Mania will be put to the ultimate test.
So in the immortal words of Short Round from The Temple of Doom, this is no time for love. Tebow will get a girlfriend when he wants one, but not a moment sooner. 
In the meantime, the search will go on...