Boston Red Sox: 3 Contract-Year Players to Watch for the 2012 Season
December 4, 2011
Abelimages/Getty Images
With just under $164 million on the payroll for 2011, the Boston Red Sox rarely have a shortage of funds for the players they want. Red Sox Nation will have their eyes on the 2012 squad to make up for the dashed hopes of last season, and will also be watching the transition from the Terry Francona era to Bobby Valentine at the helm
However, with most of the rotation and younger players locked up at least until 2014, the Red Sox will have a few key players who will be entering into a contract year this season.
The last two seasons have left 1B/3B Kevin Youkilis plagued with injuries. He has not played more than 120 games in either season, and particularly suffered at the plate in 2011, dropping in AVG/OBP/SLG/OPS and increasing his strikeout total.
At 33, Youkilis has played his entire career with the Red Sox and is showing signs of age. With a $12 million dollar salary this year, he might not prove to be a healthy and worthy choice for the Sox in 2013 and on.
Defensively, Youkilis is a superior corner infielder, but those opportunities dried up once Adrian Gonzalez was signed through 2018. Undoubtedly, an unintended consequence of Youkilis switching positions has been the extra strain on his body.
If Youkilis wants to finish his career in Boston, and if the Red Sox want to keep him after 2012, this will be an important season for him to perform.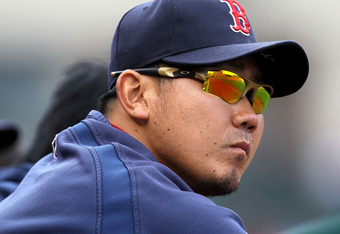 Stephen Dunn/Getty Images
Daisuke Matsuzaka
In midseason 2011, Dice-K underwent Tommy John surgery which resulted in a 12-15 month rehab sting. The earliest we could see Matsuzaka donning his Red Sox uniform could be in August.
Many would contend that the Dice-K experiment in Boston has been a bust. After paying $51 million just for the rights to speak with him, the Red Sox signed him to a six-year, $52 million dollar contract, with $10 million being paid out in 2012.
His only real successful season was in 2008 when he posted a 2.90 ERA, 1.324 WHIP and 154 strikeouts in 29 starts, finishing fourth in AL Cy Young Award voting. While Tommy John surgery more often than not improves a player's overall speed and arm strength, unless Dice-K pulls out a miraculous end of the season run, he most likely will not be with Boston after this season.
Marco Scutaro
In October 2011 the Red Sox picked up the 2012 option on Scutaro, who proved to be an extremely durable and consistent player as the season wore on, and one of the few bright spots during the infamous September collapse.
In theory, Scutaro is a placeholder for Sox prospect Jose Iglesias, a shortstop projected to have "elite defensive skills," but has struggled at the plate. At only 21, he has time to improve his batting average, but at the end of 2012 the Red Sox will have to decide whether to make a move if he is ready. If so, that could mean the end of Scutaro in Boston.
If Scutaro continues to provide an average defensive option with good batting, the decision could become a bit harder. Scutaro will be 37 at the end of the 2012 season and has nowhere near the defensive skills of Iglesias, but Iglesias will have to make a marked improvement in his hitting to be ready for the majors.