The 15 Sexiest Obscure Cheerleaders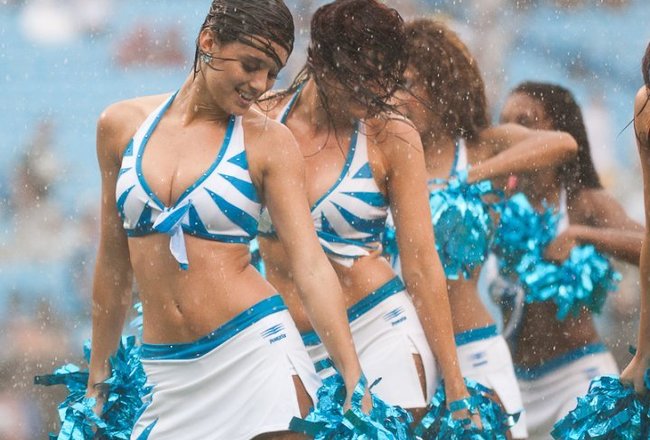 When was the last time you attended a sporting event and did not see some form of cheerleading? All sports have cheering, whether it is the fans, players or hired entertainment such as cheerleaders.
Cheerleaders are the greatest form of entertainment for any sport. They give us something to look at during halftime (unless you are watching the Super Bowl and Fergie is performing) and during breaks from the game. We might not be able to understand what they are saying, but we can easily identify which one is hotter.
But what about those sports we did not realize had cheerleaders? What would they look like, and would they be as exciting to watch?
There is only one way to find out. Check out these 15 groups of cheerleaders from some of the sports in which you would not expect them. Enjoy.
15. Cycling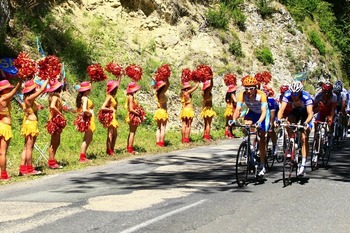 Cycling? Really?
What is there to cheer for? They pass you in a matter of seconds and then, voila, time to get back on the bus and head to the end of the race.
But who complains about sexy women in short skirts? Not this guy, that's for sure.
14. Arena Football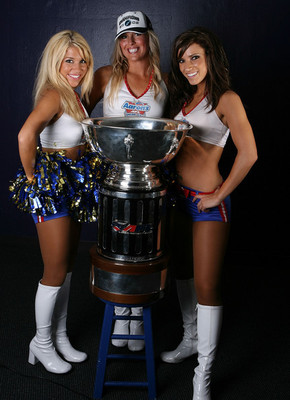 Arena Football is one of the coolest sports ever invented. It combines our love for football with some indoor fun.
Smaller field? Yes. Shorter goal posts? Yes. Fewer players on the field at one time? Yes.
Hot cheerleaders? Yes times three.
13. Racing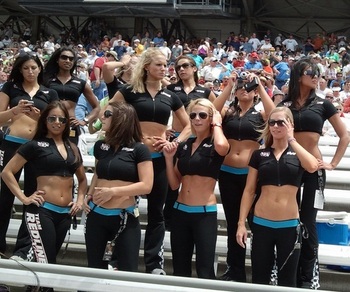 If you were a fan of the Indy 500 already, just wait until you see this.
They have cheerleaders, although they might not look like it here. These women are basically hired to walk around and cheer for the race cars.
I am already planning my next trip to Indiana.
12. Olympics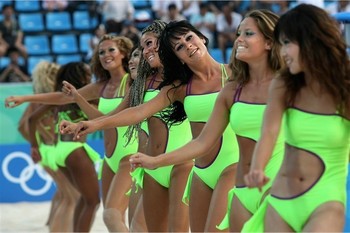 By the end of 2012, we will have seen many movies, read lots of books and enjoyed another great Summer Olympics in London. But what are the Olympics without sexy cheerleaders in bathing suits?
They would be a bland Olympics, that much is certain.
Now that beach volleyball is a widely played and well-respected sport, the Olympics have added some sexy cheerleaders to make beach volleyball even more hot.
Is that even possible?
11. Nascar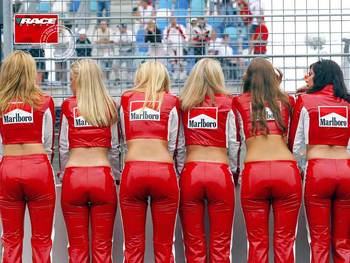 With all the excitement surrounding a Nascar race, it is very difficult to spot the hot cheerleaders on the track. In fact, you probably never even knew they existed until now. But that might be because no one ever watches Nascar on television for the women.
They watch it for the cars going in circles for three hours. Yeah, that is about as exciting as watching my laundry dry. But the cheerleaders, now that is another story.
10. Lacrosse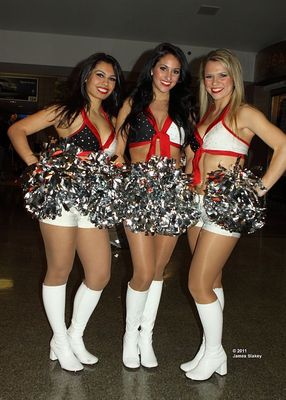 I have much respect for any person who plays Lacrosse, a mutant form of hockey. If there has ever been a sport that needed cheerleaders, it is Lacrosse.
However, I am not too sure if there is ever a time when it is a bad idea to have cheerleaders.
Yeah, I thought about it. It is always a good idea.
9. Tennis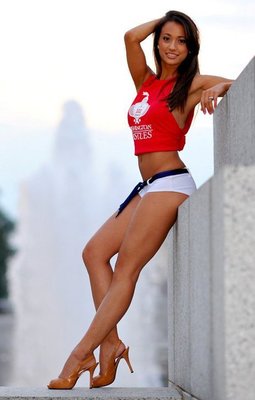 Have you ever heard of the Washington Kastles? What about the World Team Tennis?
This is a league of some of the elite tennis players of the world getting together to play in a league. It is fun to watch and has a Pro Bowl-like atmosphere around it. Do they need cheerleaders?
Of course they do!
8. Canadian Football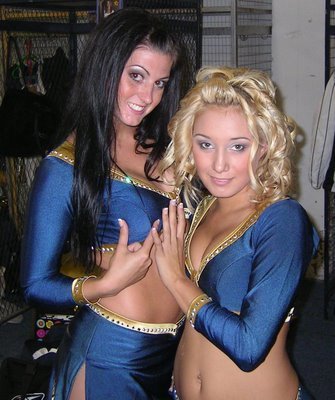 Robin Williams said it best when asked about Canadian Football on the Jay Leno Show in 2008, "You know the game is different. The field is longer and wider, and instead of a ball they use a flying squirrel."
He went even further, talking about the team names. "One is called the Alouettes, it means little sparrow!'
And another team is called Roughriders. "That they are renaming to The Brokeback Mountaineers!"
Now this is a sport that requires half-naked women.
7. Beach Soccer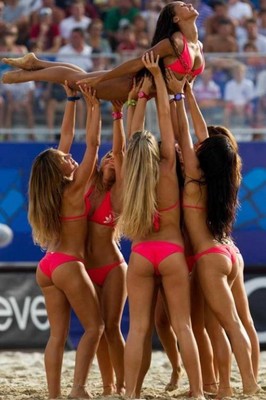 What is beach soccer?
On second thought, who cares? It is just another reason to enjoy beautiful woman running around in their bathing suits, otherwise known as cheerleading uniforms.
I find it hard to spot the downside of this sport.
6. Cricket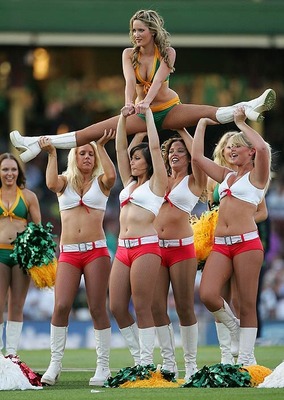 I once played cricket while on vacation. It is as hard as you think it is, especially when the solid leather ball is tossed at you at 90 miles an hour. If you think a baseball hurts, imagine getting popped with something like that.
I would explain the rules of the game, but I passed out about half way through reading them so I will let you enjoy the scenery instead. It sure is nice to have these ladies prancing around the field.
5. Dominican Baseball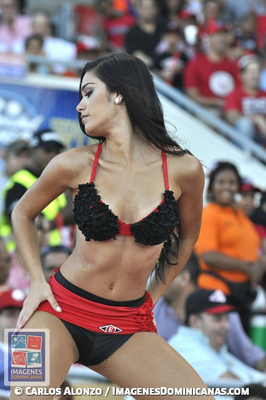 The Dominican Republic can do whatever it wants when it pertains to baseball.
They are responsible for Edinson Volquez, Sammy Sosa, Moises Alou, Albert Pujols, David Ortiz, Pedro Martinez, Jose Reyes, Robinson Cano, Juan Marichal and Alex Rodriguez, among many others.
So if they want to put together a baseball league with strippers for cheerleaders, go right ahead. Who knows? Maybe there are another ten future MLB players in the mix down there. It could be a good "excuse" to go watch some Dominican baseball.
4. President of Russia?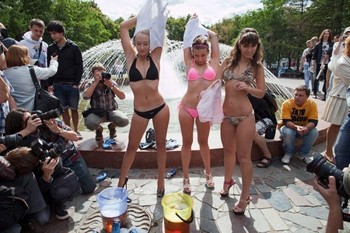 Is this a real thing? Does the President of Russia really have his own personal cheerleaders? That just does not sound like truth but it is.
Dmitry Medvedev has his own personal group of cheerleaders that show up at every one of his events. They are all volunteers but take much honor in their job.
Only Russia can get away with something like that.
3. Mexican Baseball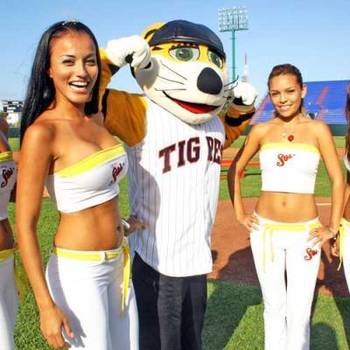 Is it true that you can get away with anything in Mexico?
That is what some people have told me. I am not sure if it is true or not, nor do I want to find out, but I do think the Mexican baseball league, LMB, follows this idea.
Their cheerleaders, for example, are hotter than the sun in July and they wear, well, take a look for yourself. Clothing? We don't need no stinkin' clothing.
2. World Series of Boxing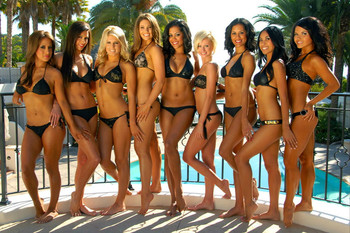 A fan of mine brought this league to my attention recently and we should all thank him for this information.
The World Series of Boxing is exactly what you think it is, a league for boxing. The cheerleaders, however, are the main reason I will be watching from now on.
I am pretty sure all non-boxing fans just changed their opinions too.
1. Rugby
There is absolutely no other cheerleading team in the history of cheerleaders that deserves this spot more than rugby cheerleaders. They are the hottest group of women on the planet, and that is before you even begin looking at them in their uniforms.
It would be a crime for me to not give you a little more teasing for your enjoyment and lucky for us, I found another great post with more of the goods.
Keep Reading