NHL: Why the St. Louis Blues Are a Playoff Team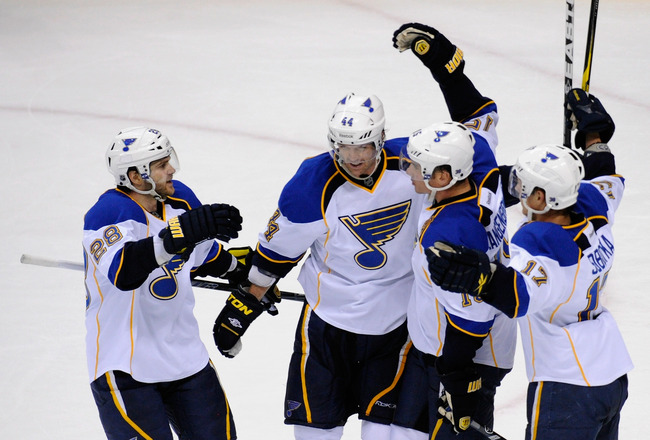 Hannah Foslien/Getty Images
They have been around since 1967 and have never won a Stanley Cup. They have made the playoffs only once since the lockout, only to be swept in the first round by Vancouver. They have not won a Central Division title since 2000 and have seen other teams from the division win the Stanley Cup five times since 1997.
The St. Louis Blues have had somewhat of a depressing history, especially in the past several years as they have been far from the success that they had experienced in the years before the lockout.
They had a 25-year playoff streak from 1979 to 2004, but never made it to the Stanley Cup Final. In fact, the only times the team has made the Stanley Cup Final have been their first three seasons, yet they were swept in each series.
I have been predicting success for the past several seasons for St. Louis, but it has never happened.
This year, however, is different.
Yes, I am once again predicting success for this team, but when I watch them this year, I see something different. This year, I see a product that could bring a lot of happiness to St. Louis hockey fans and a lot of fear to Detroit and Chicago fans. Here's why.
Youth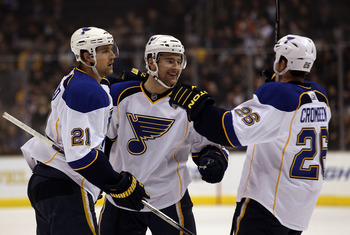 Bruce Bennett/Getty Images
The young talent of this team is phenomenal. Kevin Shattenkirk, David Perron, Patrick Berglund, T.J. Oshie, Alex Pietrangelo, Ryan Reaves, Chris Stewart and Vladimir Sobotka are all terrific players that are all under 25 years old.
From what I have seen, I believe Perron, Oshie, and Stewart can all be perennial NHL superstars given enough experience and opportunities.
In fact, all of the players mentioned above are already showing a lot of talent, and should continue to get better and better in years to come.
Experience/Veteran Leadership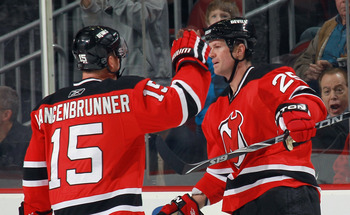 Bruce Bennett/Getty Images
After losing Paul Kariya and Eric Brewer, the Blues had a huge lack of veterans on the team to mentor these young stars. Because of this, they went and picked up two veterans who were no strangers to playoffs and winning.
Jamie Langenbrunner and Jason Arnott have been household names in the hockey community for the past decade, combining for three total Stanley Cups and five trips to the Stanley Cup Final. They have also combined for 15 seasons with the New Jersey Devils and 13 with the Dallas Stars, who were perennial contenders in the late '90s and early '00s.
They have some experience playing with each other as they both played for New Jersey last year, and they bring the kind of leadership to St. Louis that the Blues need in order to succeed.
Grit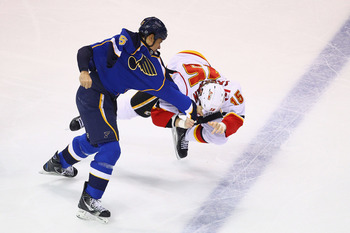 Dilip Vishwanat/Getty Images
Teams usually follow the style of their captain. David Backes, the captain of the Blues, is not someone to push around. He can beat you on the scoreboard, and he can beat you physically. This is true for several players on the team, most notably Backes, Roman Polak, Chris Stewart and Barret Jackman.
Defense/Goaltending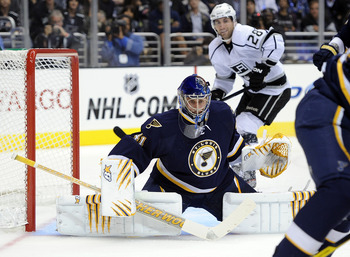 Harry How/Getty Images
St. Louis has one of the best defenses in hockey. The defense has been carrying this team throughout the season, giving up an average of just slightly over two goals per game. They are second-best in the NHL and are much better than Pittsburgh, Chicago or Philadelphia.
Since the team has the league's worst power play and a lackluster penalty-kill, the defense is an essential asset and a key factor in the Blues second-best five-on-five goals/goals—against ratio.
As far as goaltending goes, Jaroslav Halak is playing terrific and has proven to be a magnificent goaltender in the clutch after his 2010 playoff run with Montreal. Also, Brian Elliott is a decent backup who adds even more goaltending depth.
Lack of Injuries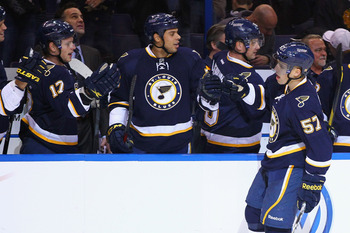 Dilip Vishwanat/Getty Images
Although they almost made the playoffs last year, St. Louis struggled with many injury problems that caused them to falter throughout the year, most notably T.J. Oshie and David Perron.
This year has been different, as the Blues have stayed healthy for the most part and Perron made his season debut on Saturday.
Who knows what the future will hold, but for now, most Blues have remained healthy.
Ken Hitchcock
Dilip Vishwanat/Getty Images
So far, coaching has looked like the most important factor to the success of the St. Louis Blues. After another slow start, the Blues fired Davis Payne and brought in veteran coach Ken Hitchcock.
So far, "Hitch" has been the perfect match for St. Louis, as the team has posted an 8-2-3 record with him at the helm and catapulted towards the top of the Western Conference.
Prediction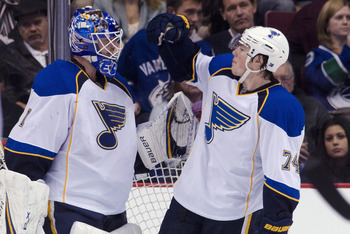 Rich Lam/Getty Images
I see St. Louis as a team with a lot of potential. They have definitely looked capable of returning to the playoffs and I believe that they can be a better overall team than Los Angeles, Dallas, Phoenix and maybe even Chicago.
Expect the Blues to get about fifth or sixth seed and return to the playoffs regularly over the next few years.
Keep Reading

St Louis Blues: Like this team?