BCS Rankings: Why Oklahoma State Should Finish No. 3
December 4, 2011
Ronald Martinez/Getty Images
Even after destroying Oklahoma on Saturday night, Oklahoma State has no business playing in the BCS National Championship Game.
Look, I agree that they have a very good team. Yes, Justin Blackmon is one of the most talented receivers in recent memory. And yes, they might be a victim of SEC bias.
Still, they shouldn't be playing for the title, for three reasons.
First, Alabama is a better team. I'm not a fan of the Crimson Tide, nor am I a fan of the SEC. Still, they are a better team. When you watch games, it is clear that Alabama has one of the most talented rosters in the country.
The best teams should get the chance to play for the title, and Alabama is that team.
When you move away from the subjective argument, it is still clear Alabama deserves a title shot. The Crimson Tide lost by three (at home) to the best team in the country.
Oklahoma State, on the other hand, lost to Iowa State by a touchdown (in Ames) in overtime.
To put that in perspective, Alabama lost to a team that has more wins this year than the team that beat Oklahoma State does in the last two years.
When your only loss comes to a team that is far inferior to the team you're trying to catch, you don't have much of an argument.
Finally, using the system that is in place (whether you think it's flawed or not), you must play by that system's rules.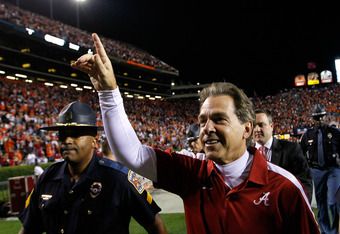 Kevin C. Cox/Getty Images
When the BCS is selecting the National Championship, it is trying to pick the two best teams. The system is designed to pick the two best teams in the country, whether or not they played during the regular season.
A rematch may not be the most enticing matchup for fans, but it would do what the system is designed to do: put the two best teams against each other on January 9.
Oklahoma State's throttling of the Sooners was impressive. Still, Alabama is the more better team, the Cowboys lost to an inferior opponent and the system is trying to pick the two best teams in the country.
When you consider all that, it doesn't make sense to argue that Oklahoma State should be in the national title game.