Nickelback vs. Peter Moylan: Who Won the Twitter War?
December 4, 2011
Gregory Shamus/Getty Images
If you're anything like me and my family this past Thanksgiving, you quickly made way to the dining room as the second quarter of the Packers-Lions game came to an end. 
Why? Because the halftime entertainment for one of the biggest NFL games of the year consisted of a stage, and Nickelback. 
Don't get me wrong, the Canadian alt-rock band is a refreshing noise to my ears on throwback night at the local pub, but in front of millions on America's hungriest holiday?
Now we know why Ndamukong Suh snapped.
Thus, a Twitter War Was Born
However the story gets interesting when Atlanta Braves relief pitcher Peter Moylan tweeted the following on Friday: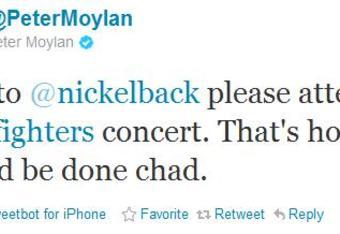 Looking at the Australia native's twitter history, it seems as if he has a Foo Fighters fetish. 
Dave Grohl and company certainly dominate the airwaves in my crappy Honda Accord from time to time, but they in no way deserve this kind of representation.
Nickelback quickly fired back with a stinger straight to the right arm of Moylan: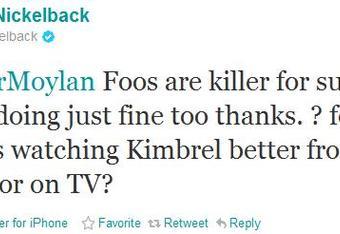 Like Chad Kroeger on the mic, the lead vocalist for Nickelback for those of you who do not know, Craig Kimbrel is the real deal on the mound late in ball games.
Kimbrel won 2011 NL Rookie of the Year honors with Moylan's team, the Atlanta Braves, after breaking the record for most saves by a rookie. 
And just like that, a Twitter war was begun.
We Have a Winner
Given Moylan's underwhelming career numbers with the Braves, perhaps he should quit his day job and become the Foo Fighters' new manager, or just quit his day job and remain the band's No. 1 fan.
Seriously man, enough Foo Fighters. Where are the offseason workout tweets?
That 3.24 ERA isn't going to lower itself.
It's clear that both parties have seen ups and downs throughout their talented careers, but Nickelback clearly out-rocked Moylan with that Twitter rebuttal.
He was keyboard-less (speechless in the Internet age).