BCS Championship: Argument for Oklahoma State Is Strong
December 4, 2011
Ronald Martinez/Getty Images
The argument for No. 3 Oklahoma State (11-1) to play for the BCS Championship is strong.  That would mean jumping No. 2 Alabama (11-1) in the current BCS rankings to play undefeated LSU (13-0).
First, let's make it clear that LSU is the best team in the country and belongs in the BCS Championship game. 
Second, Oklahoma State and Alabama are the only teams deserving of a shot at playing LSU for the title.
No. 4 Stanford (11-1) lost to PAC-12 Conference Champion Oregon by 23 points and Boise State (11-1) finished second in the Mountain West Conference to TCU.
Oklahoma State lost on the road, Alabama lost at home
Oklahoma State's one loss was on the road (Iowa State) in double overtime.  Alabama's one loss (LSU) was at home in overtime.
Oklahoma State finished stronger then Alabama
In their final regular-season game, when it came time to make a statement, Oklahoma State beat No. 10 in-state rival Oklahoma (9-3), 44-10.
Alabama defeated unranked Auburn (7-5) in their regular-season final.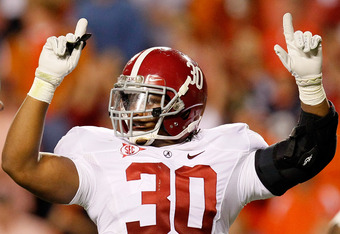 Kevin C. Cox/Getty Images
Oklahoma State had more quality wins than Alabama
Oklahoma State had wins over three currently ranked teams (No. 10 Oklahoma, No. 11 Kansas State, No. 17 Baylor). 
Alabama had wins over two currently ranked teams (No. 8 Arkansas, No. 21 Penn State).
Jeff Sagarin rates Oklahoma State's schedule six points tougher than Alabama's schedule

In last week's Sagarin Ratings, Oklahoma strength of schedule was 80.28 (sixth-toughest).
Sagarin rated Alabama's schedule 74.27 (23rd-toughest).
With the addition of Oklahoma, Oklahoma State's strength of schedule will rise.  It might pass Kansas, another Big 12 team, as the toughest schedule in the country.
Oklahoma State played a tougher non-conference schedule than Alabama
Oklahoma State only played one sister of the poor in their non-conference schedule (Louisiana-Lafayette).
Alabama played three sisters of the poor (Kent State, North Texas, FCS Georgia Southern).
Oklahoma State won their conference, Alabama did not
Oklahoma finished first in the Big 12 Conference.
Alabama didn't reach the SEC Conference Championship Game.
These are just a couple of reasons Oklahoma State should get the nod over Alabama.  One can make an argument for Alabama but it is largely based on their loss to LSU.  Alabama held LSU in check in their Nov. 5 meeting. 
In this game Alabama did not allow a touchdown to the nation's No. 1 team and lost in overtime 9-6.
And another reason Alabama could make it to the final game could have to to with its rich history and tradition:
Alabama is said to have won at least 13 National Championships.  Oklahoma State is still looking for their first National Championship.
Could it come this year?