Lions vs. Saints Sunday Night Football: Live Score, Video and Analysis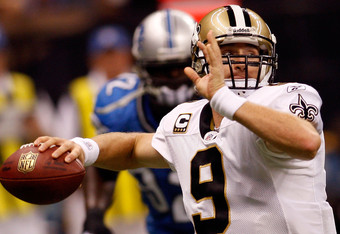 Chris Graythen/Getty Images
Here is the Bleacher Report recap for the Lions!
Stay tuned for a few more updates, including links to both post-game writeups and the nfl.com highlights before I sign off for the evening!
Just a few key statistics as we wrap up the game:
Saints
Drew Brees finishes with 26/36 for 342 yards and three touchdowns. His quarterback rating was 129.6.
Mark Ingram led the team in rushing with 54 yards and a touchdown on 16 carries.
Darren Sproles averaged seven yards per carry on four carries.
Robert Meachem led the Saints in receiving yards with 119 yards and a touchdown off of just three receptions.
Lions
Matthew Stafford ends the day with 31/44 for 408 yards, a touchdown, and an interception. His quarterback rating was 97.5, which is considered above average for a quarterback.
Kevin Smith was the team's leading rusher with 34 yards and a touchdown on just six carries.
Calvin Johnson led the team in receptions and receiving yards, with six catches for 69 yards.
On third down and 17, the Lions will run out the remaining clock to end the game officially.
Matthew Stafford is sacked, and Detroit isn't even trying to hurry back to the ball. This game is over.
All right, it's do or die time for Detroit. Can they pull a rabbit out of their hat?
The Saints go for it on fourth down and a yard, and it doesn't appear that they have made it. Pending a measurement, Detroit gets the ball on their own 28 yard line.
The Lions should get the ball back after a Darren Sproles run doesn't quite make a first down. They will have 1:13, and are down by two touchdowns. I've seen crazier comebacks in the NFL, but this seems pretty hopeless.
A Lions loss tonight will have some farther-reaching implications than simply adding another nail to the Detroit postseason coffin.
It's not just about the fifth loss in seven games, although that is pretty sad after the great start they had to the season. It's also about the NFC North, which the Green Bay Packers will clinch if Detroit drops this game.
Not that there was much hope of the Lions catching up to the Packers, but that factor is demoralizing on top of losing a game that they could easily have made more competitive.
The Lions are out of time outs, except for the two-minute warning.
It's a little bit surprising to see Drew Brees throwing in this situation. On second down and ten this seems like a running down for the Saints.
Then again, it probably doesn't matter since the Lions are burning their time outs to try to save some clock if their defense can get a stop.
On fourth down and three, the Lions hurry it up and make a costly mistake. Instead of taking a time out to make sure that the right play gets called, Stafford barely gets the play off and throws an interception to Tracy Porter.
Man, that hit was something else! What a stop by the Saints.
And now the Saints earn only their third penalty of the night, but it's a big one: Roughing the passer for 15 yards instead of a fourth down and 41.
I may be a little bit off on my rules here, but I think that Pettigrew is another Lion who is lucky to not be thrown out of the game.
The Lions have done nothing but shoot themselves in the foot on this drive, which is truly sad given the starting position they had to begin.
And Brandon Pettigrew just drew another flag!
Nate Burleson gets his unbelievable third offensive pass interference penalty, wiping out yet another first down. The Lions are going to lose this game thanks in huge part to penalties at this rate.
The Lions are getting the ball back with great field position and the luxury of a little bit of time. Earning two scores in just over five minutes is difficult, but possible.
The Saints defense needs a big stop here to close out the game.
Drew Brees is fortunate that pass wasn't intercepted.
The Saints have revived their ground game in an effort to run out the clock. Their efforts on the first play are for naught thanks to an offensive holding penalty.
The 12th man has come alive in New Orleans as the Lions face fourth down and 14 to go.
With just 6:42 left in the game, giving the ball back to the Saints is a dangerous decision.
This is the second pass interference penalty on Nate Burleson. This time it didn't wipe out a big gain, but it did knock the Lions out of field goal range if their drive stalls here.
Matthew Stafford relies on Calvin Johnson, his gigantic safety blanket to grab some easy yards to start the drive.
The Lions are behind by two scores and can't guarantee that they will stop the Saints' offense. They need bigger plays than that.
The Lions will start with the ball just past their 20-yard line.
A quick toss to Darren Sproles gives New Orleans a touchdown and a two-score cushion for their lead.
Saints 31, Lions 17.
This article is
What is the duplicate article?
Why is this article offensive?
Where is this article plagiarized from?
Why is this article poorly edited?

New Orleans Saints: Like this team?