BCS Championship Game Preview: Oklahoma State or Alabama Crimson Tide?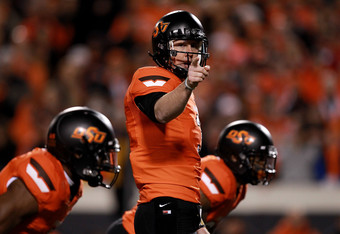 Ronald Martinez/Getty Images
The time is here to evaluate which teams truly deserve to be in the BCS Championship...against the LSU Tigers that is.
LSU has managed to barrel past both the Arkansas Razorbacks and in the SEC Championship Game against the Georgia Bulldogs to secure a spot in the BCS title meeting. There was little debate that even in the event of a loss, the Tigers would already have a palpable resume to reach the finish line.
But, the questions were unnecessary. LSU's Tyrann Mathieu held up the MVP award and Coach Les Miles was presented the trophy for winning the SEC Conference. It is time to move on.
Who will LSU face in January after all of the title games are played out? The Oregon Ducks were out of the race after losing to the USC Trojans in the "true" inaugural Pac-12 Championship game. The Stanford Cardinal did not even make it to their conference game. The Oklahoma Sooners fell out of early contention and No. 3 Arkansas fell to LSU not too long ago.
The only viable replacements are the Alabama Crimson Tide and the Oklahoma State Cowboys, after winning against the Oklahoma Sooners to take over the Big 12 conference.
At first glance, the Crimson Tide football team seems more primed to join LSU January 9th at the Louisiana Superdome. The only team they lost to was the No. 1 ranked Tigers and the team that handed Oklahoma State their first loss of the season was an unranked in-conference Iowa State Cyclones squad.
Of course, Alabama lost to a more BCS-heavy opponent and that should be taken into account when voters choose which team deserves the bid more. However, when taking a deeper look into the end-of-season achievements between both football programs, the Cowboys have a wider case that may just lift them over Alabama when all is said and done.
We all realize that Alabama has paid their dues. But, no one wants to watch a movie that they walked out on before.
Conference Championships
Alabama did not make it. LSU and Georgia were the headliners of the SEC Championship game while Alabama football took a break to watch how the last week of non-Bowl college football took place. An announcer during the SEC title game spoke his mind on how the system should be changed stating that only the winners of their conference should be able to play in the title game.
Heck! It would make the conference championships mean a hell of a lot more than they do. Right now they're good for berths into BCS Bowls, but a program vying for the BCS title game has a lot more that could be gained in the light of some type of guidelines' shift.
Oklahoma State would be sitting pretty to take that second spot. After losing a few weeks before, the Cowboys route the Oklahoma Sooners in the presumable Big 12 title game. The most impressive part was not necessarily that they won.
The Sooners are not untouchable and have proven so against both Texas Tech and Baylor. The game against the Bears where Robert Griffin III led a TD-scoring drive with a little under a minute on game clock only left a mark on an already tarnished season for Oklahoma's BCS title hopes and Landry Jones' Heisman hopes as well.
Oklahoma State won in a BCS-ranked manner. They held the Sooners to three in the first half along with a fumble for a loss and an interception to cap off an almost successful Oklahoma drive. The Cowboys dominated the entire game and should be rewarded for the strides they took in offense as well as great defense.
BCS Ranking
Ronald Martinez/Getty Images
After winning against the Oklahoma Sooners and finishing with the number one record in their conference, the Oklahoma State Cowboys will most likely finish this week off right under LSU in BCS rankings. Alabama does not play today and the latest and greatest wins usually propel a team ahead of those with some sort of bye-week.
Alabama already lost
One of the biggest criticisms of a possible rematch between Alabama and LSU in the BCS title game is that it has already been done before. When playing with home-field advantage against the Tigers, not only did the Crimson Tide fail to score a touchdown, but they failed to win in overtime.
If LSU were in this position, then it would be much easier to make a case for them in light of a road loss. But Alabama lost at home and a lot of college football fans do not feel like they deserve another chance. That and the fact that a lot of viewers that regarded the game as sort of a snooze-fest provide opinions as to why the BCS should just move on from the idea.
Actually, anyone who does not focus on the defensive aspect of how games are won does not desire to watch another defense-determined contest.
People love to see a quarterback throw for a billion yards and a corner shut him down to turn the game around. The ultimate secondary is already in place to make that happen, but Alabama's primary offense is trucked through RB Heisman candidate Trent Richardson.
The ability of LSU's front line to stop Richardson has already been visited and hammered into everyone's mind. The general consensus is, "Why in the hell do we need to see this again?"
If this were a perfect world, then Oklahoma State would be a shoo-in for the second BCS Title spot. Anchoring control of their conference would be rewarded against a team who failed to do so. But, the voters are not so much driven by game recaps and actual plays as they concern themselves with personal opinion and feelings.
Should Alabama or Oklahoma State join LSU in the BCS Championship Game?
They are faced with the responsibility of handing LSU a team that can give them some sort of a viable matchup on January 9. If they decide LSU would be better matched with a high-potent offense, then Oklahoma State would most definitely be selected. The pairing of Brandon Weeden and Justin Blackmon against LSU's secondary would be a phenomenal series.
However, if the voters feel as if Alabama's defense would better suit LSU's tendency to catch fire late offensively, then the Crimson Tide will get a shot at redemption.
Follow @nyhlaablack on Twitter
This article is
What is the duplicate article?
Why is this article offensive?
Where is this article plagiarized from?
Why is this article poorly edited?