Oakland Raiders vs. Miami Dolphins: Live Score, Video and Analysis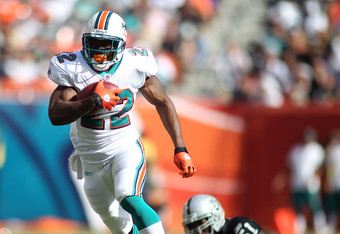 Marc Serota/Getty Images
The Miami Dolphins had the chance to play spoiler for the Oakland Raiders this afternoon.
Mission accomplished.
Behind another great performance by Matt Moore (13/25 for 162 yards, one touchdown passing, one touchdown running) and Reggie Bush's 22 rushes for 100 yards and a touchdown, Miami dominated Oakland 34-14.
Miami moves up to 4-8 while Oakland, who came in at 7-4 and in first place in the AFC West, move down to 7-5 and thanks to another Tebow-led Broncos victory, are tied with Denver for first in the AFC West.
UPDATED SCORE: Miami 34 Oakland 14 Final.
Didn't see the highlights from today's game? Check them out here!
And that ends it...Miami wins 34-14.
Onside kick fails for Oakland, Miami needs to run the clock down, but can they do it considering their last two drives were three and out?
Terrific catch by Darius Heywood-Bey to make it only a three touchdown game with three minutes left.
I doubt Miami will blow it, but would you be surprised if they found a way to do just that?
Sorry about that, I was falling asleep, but TJ Houshmendadeh just scored his first touchdown with the Raiders, so Oakland now gets the score to 34-7 with 7:51 left in the game.
Just a few seconds later, Kevin Burnett comes up with a 34 yard interception returned for a touchdown.
Yikes!
34-0 Miami with 4:41 left in the third quarter!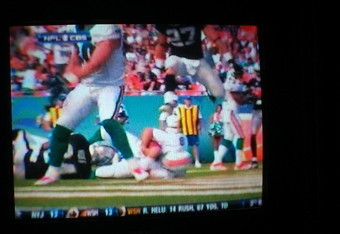 After the Seymour ejection, Matt Moore takes it into the end zone on a quarterback keeper to put Miami up 27-0.
This game is turning into a laugher right now and not in the way anyone expected.
Richard Seymour has been ejected from the game thanks to a personal foul penalty.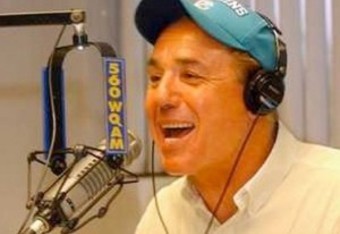 So nice to see the Dolphins honor their long-time radio color analyst and former tight end Jim Mandich. Mandich was a class act through and through and one of the biggest Dolphins supporters around. I'm sure he's smiling down on the Dolphins this afternoon, especially after that Clyde Gates kickoff return to start the game.
During the Reggie Bush touchdown we just saw, I could hear the "aww-right MIAMI!" that echoed from the heavens, and I'm sure he has another couple of those in him today.
Rest in peace Mad Dog, may the Dolphins make you proud today.
Miami leads Oakland at halftime 13-0. Matt Moore so far is 10/19 for 92 yards and a touchdown for the Dolphins while Carson Palmer is 8/17 with 101 yards. Reggie Bush has been good so far today with 10 carries for 79 yards while Daniel Thomas has five carries for 33 yards. Anthony Fasano has four catches for 66 yards.
Michael Bush on the other hand has five carries for five yards.
So far this is looking like their last home game against Buffalo but we'll see down the stretch. Can Miami play spoiler to the Raiders?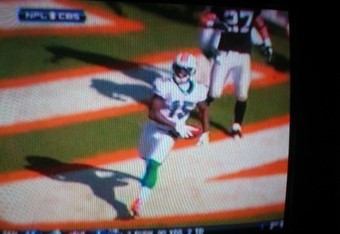 Miami finally gets a touchdown thanks to Davone Bess' second touchdown reception of the year, this time a 12 yard catch.
Miami now leads Oakland 13-0 with 8:24 left in the second quarter.
Karlos Dansby coming up big with the intercept-never mind he's called for an illegal contact penalty.
Best linebacker in the NFL my (word deleted for a better America, children read this you know) .
After a Richie Incognito forces Miami into a third and 28 situation, Matt Moore scrambles to improve field position for a 33 yard Dan Carpenter field goal.
Miami now leads 6-0 with 1:30 left in the first quarter.
Decent drive by Miami where they go 40 yards in eight plays leads to the return of Dan Carpenter, who hits a 48 yard field goal as if he never left.
Miami now up 3-0 with 10:11 left in the first quarter.
Oakland, wearing their traditional silver and black, opens with a three and out on their first drive. This is followed by a disappointing (for Shane Lechler) Shane Lechler punt.
This article is
What is the duplicate article?
Why is this article offensive?
Where is this article plagiarized from?
Why is this article poorly edited?

Miami Dolphins: Like this team?