Kimberly Keenum Destroyed Case Keenum's Heisman Chances & Houston's BCS Bid
December 3, 2011
A BCS bowl game was on the line.
The 12-0 Houston Cougars needed just one more win against the No. 24 Southern Miss Golden Eagles.
But it was the Eagles who soared, and the Cougars who plummeted.
Now there's all kind of hoopla going on about the fact that Houston quarterback Case Keenum's wife, Kimberly, may have had a hand in being too much of a distraction.
Kimberly was seen several times during the ABC broadcast, and there's no doubt her presence was felt inside that stadium.
Just as tweeter ChasChasB pointed out.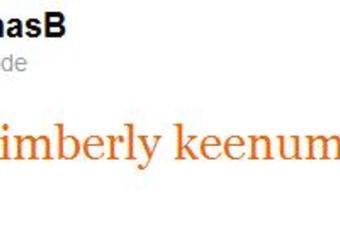 Now, I'm not accusing Keenum of looking up at his wife every play, but there's no denying athletes are human beings, too. So often we forget that they aren't immune to distractions. They aren't robots.
Now Keenum and the Cougars miss out on a golden opportunity to be the Boise State of this year, a team with an undefeated record in a bad conference that still gets the opportunity to play in a BCS bowl game.
Keenum threw for 373 yards and two touchdowns on Saturday, but it took him 67 attempts and he tossed two interceptions. He was on the edge of the Heisman discussion entering the game, but he certainly didn't play like a Heisman candidate today.
Keep in mind, this is a Southern Miss team that had lost to Marshall and UAB. There was no way Houston, the No. 6 team in the country, should have lost to the Golden Eagles.
Distractions are not only a part of life, they are a part of football, too.
Was Kimberly the Jessica Simpson of college football?