BCS Rankings: Teams Entering Bowl Season with Overrated Reputations
December 3, 2011
Streeter Lecka/Getty Images
As the college football regular season wraps up with the conference championships, bowl season awaits fans around the nation.
The BCS bowls will be announced Sunday night, and then the rest of the postseason schedule will develop shortly after. 
One thing is certain however, there are guaranteed to be some overrated programs playing in games they truly have no business playing in this winter.
SEC teams like Arkansas and South Carolina have been painfully over-hyped this season and will more than likely wind up nabbing better bowl bids than more worthy teams outside the conference.
As bowl season arrives, here are some overrated teams riding on pure reputation:
No. 8 Arkansas Razorbacks (10-2)
The Razorbacks were rewarded for beating up on a soft SEC schedule this season. Their only two losses came at Alabama and at LSU. The two teams are likely headed to New Orleans for the BCS title game this year.
However Arkansas' 40th-ranked scoring defense is a major concern given their No. 8 national ranking. Arkansas' D didn't even show up in those two games against the SEC's best, losing by 24 points in both matchups.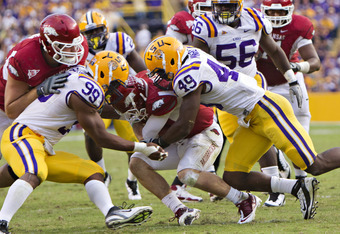 Wesley Hitt/Getty Images
The Razorbacks struggled mightily in late-October on the road at Ole Miss and at Vanderbilt, winning both games by a combined eight points, and proving they don't belong near the BCS Top 10.
No. 12 South Carolina Gamecocks (10-2)
At 10-2 the Gamecocks are currently ranked No. 12 in the nation. Two losses to Auburn and Arkansas derailed USC's title hopes in 2011, but those hopes were likely dashed long before. 
With RB Marcus Lattimore lost for the season to a knee injury back in mid-season, the Gamecocks became a mediocre football team with a putrid offensive attack. The offense was further hampered by the loss of QB Stephen Garcia in mid-season.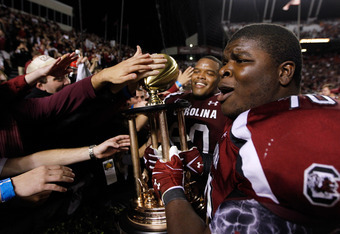 Streeter Lecka/Getty Images
The Gamecocks notched shaky, narrow wins against Mississippi State, Tennessee and Florida, which elevated them in the BCS, to a level they still don't belong at.
USC didn't even win the SEC East division, instead losing to the very team it knocked off in Week 2 of the season, Georgia who is oddly ranked two spots behind South Carolina despite having won 10-straight games.
No. 13 Michigan State Spartans (10-2)
The Spartans finished the regular season 10-2 in 2011 and as the highest-ranked Big Ten team going into the conference's inaugural championship game.
Still, who has Michigan State beaten this season? They lost in blowout fashion at Notre Dame and at Nebraska. Yeah that's not a misprint.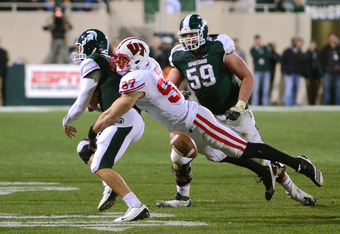 Mark Cunningham/Getty Images
The Spartans have a solid defense no doubt (ranked sixth in scoring defense), but the offense needs serious work to keep pace with the nation's best (46th in passing & 78th in rushing).
State needed a desperation heave at the horn to top the Badgers at home back in October, and the second meeting with Wisconsin in Indianapolis should prove the Spartans are overrated.