Kentucky Basketball: Young Cats Still Have More to Prove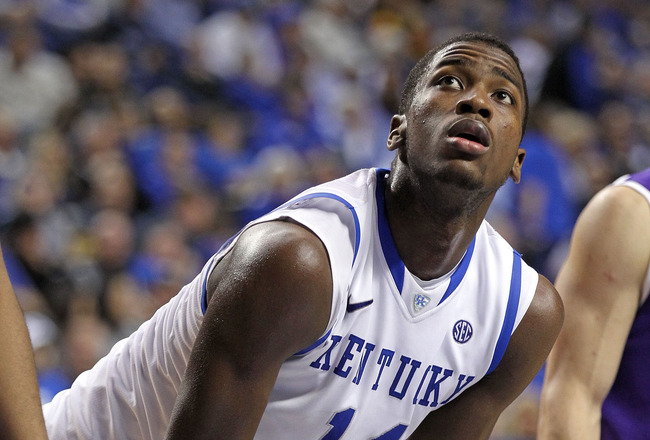 Andy Lyons/Getty Images
Kentucky just beat North Carolina in the most exciting 40 minutes of basketball this season. Anthony Davis sealed the deal with a block on 6'11'' John Henson in the final seconds of the game.
How else would you expect Kentucky to win? Their defense has been exceptional thus far, and the length of Davis and Terrence Jones inside give opponents no easy shots. Kentucky recorded a season-low seven blocks in this top-five duel, but the seventh was a game-changer.
The Wildcats were paced by Terrence Jones' 14 points in the first half, along with Michael Kidd-Gilchrist dominating the offensive glass. The Wildcats had 11 offensive rebounds at halftime compared to six for the Tar Heels, and that statistic kept Kentucky in the game.
However, once again, Kentucky did not put together a full game of basketball. In the first half, Kentucky struggled to get open looks, and when they were available, simply missed. Lapses on defense were seen by multiple easy fast break opportunities for North Carolina, even though this was no doubt talked about in John Calipari's game plan.
While they proved that they can beat a very good opponent, Kentucky still has room for improvement.
Here are the five facets of the young Wildcats' game that they have yet to prove:
5. Bench Play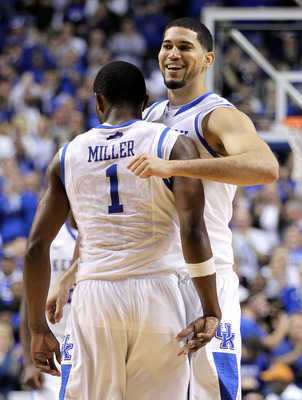 Andy Lyons/Getty Images
Depth can definitely be one of Kentucky's strengths, but just how deep are the Wildcats?
We all know that Darius Miller is one of the best sixth men in the country. Kyle Wiltjer does a great job stretching the floor with his range. And Eloy Vargas has shown he can battle when he is in the game.
However, John Calipari has yet to establish a fluid rotation. Miller, Wiltjer and Vargas all have shown they can put in solid minutes, and they should expect more.
In the first half against North Carolina, when Terrence Jones wasn't in the game the Kentucky offense was stagnant. This Kentucky team doesn't look comfortable when they are playing with Vargas or Wiltjer on the floor.
Kentucky's offense has no lack of scoring threats, which means their offense shouldn't skip a beat with Vargas or Wiltjer in the lineup.
4. Poise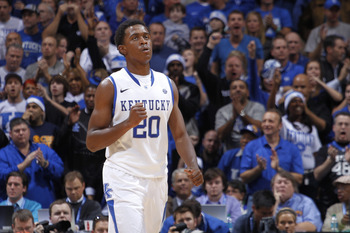 Joe Robbins/Getty Images
Sure, Kentucky showed some poise in coming back against North Carolina. Unfortunately, they won't always have 24,000-plus fans supporting their run.
Their first test will come soon enough: a December 10th battle in Bloomington, Indiana.
This game will no doubt be a wild atmosphere, with the Hoosiers enjoying another hot start. These young Wildcats will need to show they have the poise to win a game in a hostile environment against an NCAA tournament caliber team, because there are certainly more to come.
Kentucky has another week to enjoy their perch atop the rankings in college basketball. They will be tested in every game this year, and should continue to prove why they deserve that ranking.
3. Shooting Skill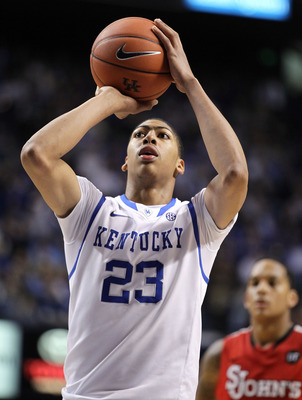 Andy Lyons/Getty Images
After the first three games of the season, Kentucky boasted an offense that shot 46.7 percent from beyond the arc and 55.9 percent overall.
Now, they are shooting below 50 percent from the field and their three point percentage has dropped to below 40.
So, which percentages are a better indicator of this Kentucky team's shooting skill? I tend to think it is somewhere in between.
Kentucky shoots too many outside shots. Terrence Jones can break down any defender and get a good look, Doron Lamb is one of the best spot up shooters in the game, and Anthony Davis is phenomenal above the rim. And this team still settles for outside jumpers.
The allure of the three point basket has proven to be very tempting for this young team. They still need to prove they can pass on the long jumper and take better high percentage shots.
2. Defensive Patience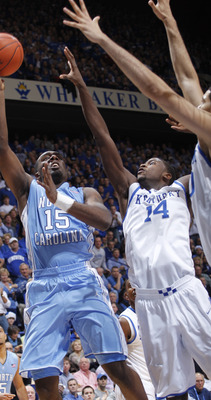 Joe Robbins/Getty Images
Too often Kentucky goes for the showtime block or steal for the opportunity of a fast break. And one game it may cost them.
Granted, that is what makes Kentucky so good on defense: the unrelenting pressure they put on the ball.
However, if Kentucky were to get into foul trouble early, they would be in trouble late. Anthony Davis and Terrence Jones go for every swat, and without either of them on the inside, Kentucky becomes very perimeter-oriented.
Keeping Davis and Jones out of foul trouble will be key because Eloy Vargas and Kyle Wiltjer simply aren't as good defensively.
1. Offensive Consistency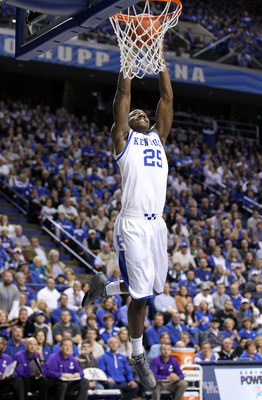 Andy Lyons/Getty Images
I'm looking at you, Marquis Teague.
Teague is the newest installment in the line of John Calipari point guards, and to the frustration of the Big Blue Nation, he hasn't lived up to his hype.
His games against Portland and Radford were solid, but he has yet to produce the offensive performance expected of him. Teague has done a better job of not turning the ball over, but his shot selection leaves much to be desired.
The entire Kentucky offense needs to be more consistent as well. Communication must be improved, and there is no reason to not have a high-percentage shot every time down the floor with these athletes.
All of the Wildcats, and Teague in particular, need to penetrate more often. Quickness is a skill that no starter on this team lacks, and should be exploited in future games.
Keep Reading

Kentucky Wildcats Basketball: Like this team?