Why Bengals Exceeded Expectations from Analysts While Eagles Disappointed
December 3, 2011
John Grieshop/Getty Images
A tale of two 2011 NFL seasons has been a fairy tale for the Cincinnati Bengals and a harrowing horror for the hapless, helpless and hopeless Philadelphia Eagles. 
It may sound harsh, but how else can you describe the enigmatically horrendous start for a team favored by many to reach the Super Bowl, especially in contrast to the unexpected success of a hard-working group of players that many fans labelled as the NFL's worst during preseason predictions?
In recent seasons, the Eagles have been a postseason staple under head coach Andy Reid, and the team has consistently replenished its talent pool in an effort to continually compete. Conversely, the Cincinnati Bengals have been a lesson in futility. With players showing up on rap sheets more than wrapping up wins, fans have questioned the control Marvin Lewis and ownership have had over the organization long-labeled the "Bungles."
Sure, Cincinnati has seen AFC North championships in the decade and the Eagles have failed to win a Super Bowl in the Andy Reid era, but the overall consensus on both teams has been a perceptive lesson in opposites. And we all know who is who in the "lackluster" and "gangbusters" categories.
So, with 2011 seeing tiger stripes in the playoff hunt and bird feathers stuffed away in sorry sacks, today represents a changing of the guard in team performances, and it could result in a changing of the guard in Philadelphia altogether. As the Bengals prepare for a key contest in the Steel City, the Eagles traveled to the home of the Space Needle, where they love a good cup o' Joe, and received a can of something else. 
Let's be frank—Philly's 31-14 loss in Seattle made them the "laphing stock" of many Friday morning water cooler conversations. After visions of Lombardi Trophies and aspirations for a 13-win season, what went wrong? With a free agency splash bringing in great talent to support an already winning squad, wasn't an NFC East championship a prediction predicated on common sense?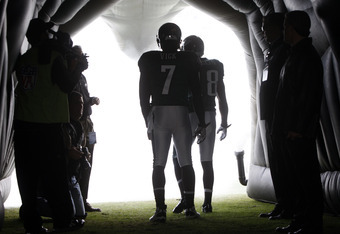 Rich Schultz/Getty Images
Despite the Eagles' struggles in Seattle, the Bengals had no problem dispatching the Seahawks this season, winning 34-12.
If the Eagles are a stunning surprise story, the Bengals are a shocker in a very different vein. Cincinnati fans are enjoying a potential Rookie of the Year season from Andy Dalton, whose aplomb and chemistry with rookie receiver A.J. Green have helped open up the Cincinnati offense enough to see success. 
It isn't just the youngsters contributing, however. The entire team is infused with their energy, and veterans and rookies alike are playing with a passion not seen during the tenure of dead-weight talent filled with nothing more than potential, better referred to as "no-tential."
In the City of Brotherly Love, a phrase serving as another lesson in misconception vs. reality, the offense has been inconsistent at best. With tons of athleticism at quarterback between two studs rife with potential (there's that word again!), the two are proving to adhere to that potential literally, as in the scientific principles of potential energy, or stored energy.
If you keep something in storage for too long (like your upside), you're bound to spoil or be sent away. Kinetic energy, or energy in motion, is normally used to describe Michael Vick, who spent Thursday night on the sidelines again as his team fell to 4-8. Vince Young, erratic at best, was unable to spell the team in the absence of Vick.
So, the Eagles are 4-8, while the Bengals have a shot to be 8-4. Even if they fall to 7-5, Cincy's rise to contention is one of the feel-good stories of the NFL season, as opposed to Philly's surefire trip to "contention detention." Fans in Eastern PA are hopeful for just a short hiatus from winning football. If they wish to see their team return to winning ways, the Eagles will need to cut dead weight and get back to sound decision making—regardless of whether it is popular.
Our judgments—yours, mine and almost every unbiased person alike—were built on years of seemingly empirical evidence coming into the year. For the team formerly known as the Bungles, Mike Brown refused to trade Carson, thus improving his team, bringing in rookies at key positions after a short offseason. What did we think?
Loser ... idiot.
And, as for Andy Reid and company, Nnamdi and Cullen came to town to buoy an already floating squad, and the Eagles were going to soar to new heights.
Winners …
Winners and losers. And, as it turns out, perhaps most of us are the idiots for considering anything certain in August. We have these stern labels about almost every team; basic words of context that we either accept or deny that rest in our craniums, often quite subconsciously.
In the case of the Eagles and Bengals, the future may simply put these teams back into their normal categories. In 2011, however, the two have had a role reversal.
We judged the Bengals for not replacing Carson, but did we consider the entitlement of the modern athlete? Sure, sports are a business, but every contract is a business commitment, from your cell phone to your lease.
How many of us can just walk away, unabashedly, without repercussion? In a world of men making mounds more than doctors, who save lives, is it so wrong for an owner to hold his employee accountable for the professional decisions he makes and for signing the dotted line?
We heralded the Eagles for their stellar defensive signings, but did we ever stop to ask ourselves how they would fit into the defensive scheme? And, on that note, did we ever stop to question one other huge detail: What is that scheme?
And, who is Juan Castillo, the defensive coordinator? Sure, he had a small stint coaching defensive line in the college ranks back in the days when Ron Jaworski wore green, but his background was predominantly with the offensive line. 
We ignored it (well, many of us).
And, for our oversights, lost in the hype of an NFL season to be, big-name acquisitions and overwhelming positive support, most were stunned at the Eagles' sudden free fall. The defense has struggled to contain opponents, and only recently has a suspect defensive front (conveniently ignored, like the new coordinator, in a wave of mass hysteria) showed some signs of life. 
For his eight weeks of bliss, Michael Vick was given a lifetime of financial stability. In return, the Eagles were not even given stability in their starting lineup at the most important position on the field. When Vick has been able to play, stabilization has been likewise absent, as the quarterback has performed like the version seen with Atlanta; and, to some degree, in December and January last season.
As opposed to the phenomenal passing attack on display for those two months in 2010, the $100 million man began to play like his former $100 million dollar self (the first one). He began to play like the Michael Vick who was a great athletic talent but whose passing skills have come under scrutiny. What better evidence of the "here and now" fickle nature of analysts than to see Vick's rank at No. 20 on the "Best Players of 2011" NFL Network list and to witness those in agreement.
The problems on offense haven't been exclusive to Vick or Young. With a king's ransom spent on free agents and on Vick, the perceived future signal-caller, DeSean Jackson, he of previous disgruntled disposition (and previous king's ransoms!), decided to play in spite of his disappointment with his current agreement.
Jackson, the speedy, play-making wideout, continues to feel his market value isn't being met. With another lackluster night against Seattle, Jackson isn't even matching the terms of his current contract; he dares cry foul? Whether apathetic because of circumstance or the victim of unfair judgments about not trying, Jackson is choosing not to talk the talk—and, lately, hasn't walked the walk.
Considering his recent benching by Andy Reid in addition to his statistical drop-off and contract issues, it's only logical to suspect a lack of focus. For those who feel this assessment is unfair, I have to ask: What did the young man think would be inferred from these events?
When you make your bed...we all know the rest. And, as it concerns "bed-making," Jackson isn't the only Philadelphia athlete not straightening the sheets.
It was still unfortunate to see the Eagles quit (I repeat, quit) on Andy Reid on Thursday night, pulling their own version of the Tampa Bay Buccaneers. Those Bucs didn't show up for a playoff game under coach Tony Dungy, another player's coach like Reid (a.k.a. fall guy), and lost in embarrassing fashion in, you guessed it, Philadelphia.
Yep, it all comes full circle.
In the midst of Carson Palmer's holdout and retirement threats, Bengals ownership refusing to trade him, and their relative inactivity, led us to judge the Bengals for their "doing nothing" and herald the busy Eagles and Jets. The Bengals, ahead of both in the standings, proved us all wrong, showing why big media headlines aren't necessarily the gateway to winning.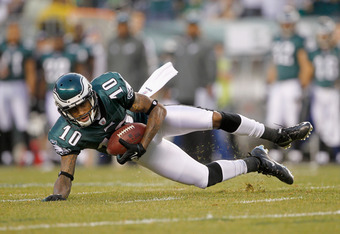 Rich Schultz/Getty Images
We all forgot one principle—addition by subtraction.
As opposed to adding players, the Bengals dropped attitudes, and today's players wearing the tiger stripes are a hard-working bunch looking to secure their worthiness amongst their NFL peers. Self-entitlement was sent packing, and hungrier Bengals are now attacking.
While fans question the commitment of DeSean Jackson in Philadelphia, few fans truly view Chad Ochocinco or Terrell Owens as legitimate current-day threats, but most can see the potential for huge problems with either. The Bengals have dropped the dead-weight receivers from their roster. Many people called it a loss of talent over the summer. The nerve!
Perhaps they forgot that Carson, the soon-to-be nomad, played his best game of 2010 when both glory hogs were out of the lineup?
Everywhere he'd ever ventured, Terrell Owens was a potential cancer. Tick T.O.ck, tick T.O.ck, midnight would always strike the T.O. clock. While Owens was by far the more productive of the Bengals' T.Ocho duo last season, Ocho-stinko (the former Chad Johnson) was barely visible in Cincinnati.
Who can forget that wonderful Monday Night Football affair against the Steelers, when Johnson (his real name, legal or not) screamed at his quarterback (who didn't want to be there) for not getting him the ball (his first catch was in the first quarter) due to surefire jealousy with Terrell Owens (who put in a yeoman's work that night, but who we all know would have eventually snapped).
While the Eagles continue to see defensive struggles from sudden change in coordination and acquisitions not proving to be the sum of their parts, Philly fans are also frustrated by an offense whose star player who is clearly just biding his time. In Cincinnati, the city of alleged fools who "had no clue how to manage" when they "let go of talent," the Bengals fans are having fun!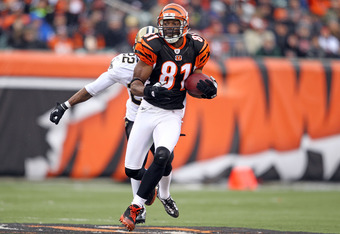 Andy Lyons/Getty Images
Instead of calling it a loss of talent, we can now refer to it as "cutting the fat." Dumping the apathetic and replacing them with young, hard-working talent that desperately wants to win has been its own evident reward in Western Ohio.
Andy Dalton and A.J. Green have turned an expected season of utter ineptitude into a surprise study in franchise revival, and they didn't need ownership to go after big names or commit to huge contracts. They only needed a coaching staff to utilize their strengths and have faith in them.
The defense, despite losing a fine cover corner in Jonathan Joseph and struggling in 2010, has returned to 2009 form under the tutelage of Mike Zimmer, ranking near the top of the NFL in many categories.
In other words, the dead men walking are very alive, and the head man on the team predicted by many magazines and prognosticators to be destined for greatness, may just have an uncertain future. If anything, the opposite views and outcomes between these teams is evidence that the will to win is always as important, if not more, than the talent on the field. Indeed, the whole of a team can be much less or greater than the sum of its parts.
Rewinding the clock, how many of us gave the Bengals a shot at six wins this offseason?
And, be honest—did you pick the Eagles to win the NFC East? How about the NFC? Dare I ask, to win the Super Bowl?
Fast-forwarding to today, who would take the Eagles to beat the Bengals if they were to face off, no matter the home field? Hell, who would take the Eagles to beat more than, say, five other teams?
In 2011, the Eagles—just like the Bengals themselves—are proving that you can't judge a tiger by its stripes. Not in the NFL. And, certainly, not in August.