BCS Rankings Week 15: Reaction and Analysis of the Final Poll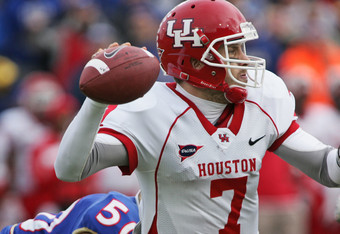 Brett Deering/Getty Images
There is only one more week left for teams to make a final attempt at trying to claim a BCS bid.
The final Saturday of the regular season doesn't just include conference championship games, but it's also Bedlam in Stillwater.
Oregon claimed one of the available BCS spots by winning the Pac-12 championship last night. The Ducks will be joined in the BCS by the other five AQ conference champions which will be determined today.
Week 15 promises to be action-packed with a lot riding on the line.
Check back often for updates and real-time reaction during Conference Championship Week.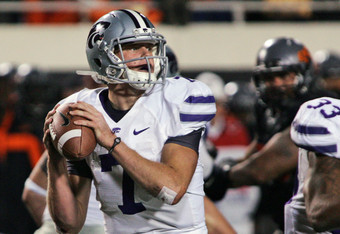 Iowa State 13 Kansas State 10, Second Quarter, 4:00
BCS Bid on the line for Wildcats?
With Houston on the verge of being upset by Southern Miss, one additional BCS bid could be available.
That bid could be going to Kansas State, but first they have to take care of Iowa State, but the Cyclones are putting up a fight throughout the first half.
Wildcats quarterback Collin Klein has had success in the first half, but Kansas State has had several drives stall in the first two quarters.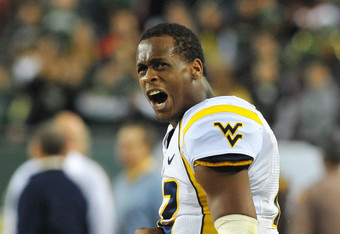 Mountaineers to BCS Bowl?
It looks more and more like West Virginia will earn the Big East BCS bid by winning the tie-breaker.
Cincinnati currently leads U Conn 35-20 with only 9:58 remaining in the fourth quarter.
With a Bearcats victory, all the Mountaineers need to do is finish as the highest ranked Big East team in tomorrow's final BCS Standings.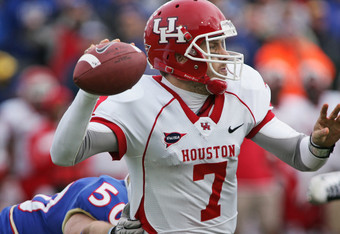 C-USA Championship Southern Miss 42 Houston 21, Fourth Quarter, 15:00
Houston in Huge Trouble, BCS Spot Open for Someone to Claim
There was a power outage that prevented me from updating for an hour, but there was no such outage in Houston for Southern Miss as they have stunned No. 6 Houston through three quarters.
Case Keenum and the Cougars look more like a junior varsity team this afternoon and their BCS at-large bid is in serious jeopardy.
Golden Eagles quarterback Austin Davis has outplayed Keenum to this point (4 touchdowns) and the Cougars have had no answer for running back Tracy Lampley, who has 177 combined yards and a pair of touchdown catches.
Houston is 15-minutes of football from seeing their perfect season come to an end.
C-USA Championship Southern Miss 14 Houston 7, Second Quarter 7:48
Keenum Comes Alive. Cougars Back In Game
Case Keenum got Houston on the board with the Cougars best drive of the game, cutting the Southern Miss lead to 14-7.
Against the Golden Eagles aggressive defensive front, Keenum had success with a lot of short, quick passes; including three swing passes. The drive was capped off with a nine-yard pass to Justin Johnson.
Now Southern Miss gets their first shot going into the wind, which Houston had to do in the first quarter.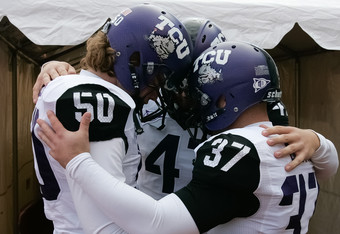 C-USA Championship Game. Southern Miss 14, Houston 0 Second quarter, 13:08
Who benefits the Most From a Cougars Loss?
There's plenty of football left to be played in Houston, but down 14-0 you have to start thinking upset.
There are also several teams out there rooting for Southern Miss to finish the job.
Who benefits the most if Houston loses?
TCU: The Horned Frogs still have to get up to No. 16 in the final BCS Rankings. If they somehow can jump the two spots then they would likely head to their third straight BCS game.
Michigan: If Houston loses, there is one more at-large bid to be had if TCU doesn't make the climb to No. 16. Michigan could claim one of those spots, but they also need to climb two spots to No. 14 in order to be eligible.
Kansas State: There could be an extra BCS bid to hand out and Bill Snyder's Wildcats are more than worthy.
Virginia Tech: If they lose to Clemson in the ACC Championship Game, they could get one of the final at-large bids still.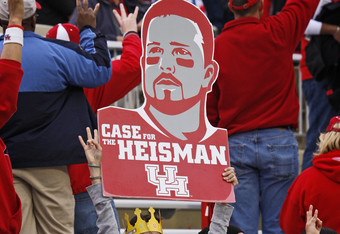 C-USA Championship Game.: Southern Miss 7 Houston 0, Second Quarter, 15:00
Upset in the Making?
Through one quarter in a very windy Houston, Texas, the Houston Cougars look like a very average football team and not a team one win away from a BCS at-large bid.
Golden Eagles quarterback Austin Davis hit Ryan Balentine with a 14-yard touchdown pass to give Southern Miss the 7-0 lead. That came after a second Houston bad punt in the quarter.
Cougars signal caller Case Keenum is a mere 6 of 12 for 29 yards after one quarter.
Although the only other time Houston didn't score in the first quarter was three weeks ago against Tulane, but the Cougars ended up scoring 73 points that day.
Things Looking Good For Mountaineers
Cincinnati 14 Connecticut 0, Second Quarter, 15:00
The Bearcats scored their second defensive touchdown of the first quarter after Drew Frey picked off Huskies quarterback Johnny McEntee and returned it 15-yards for a score.
A Bearcats win probably sends West Virginia to a BCS game.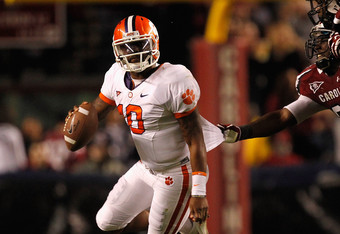 Can Clemson Get it Turned Around
It's hard to beat a team twice in a season and the way Clemson has been playing, it's going to be hard to beat anyone.
The Hokies come in playing very well and quarterback Logan Thomas has been very good after Virginia Tech's lone loss of the season to Clemson.
Can Clemson quarterback Tajh Boyd get things back together and help the Tigers win the ACC and subsequent BCS berth?
He will have to be very good and the Clemson defense will have to give an effort similar to their last meeting against Virginia Tech.
As good as the Hokies have been and as bad as the Tigers have been to close out the season, don't count Dabo Swinney and company out of this one.
It boils down to a one-game season and anything can happen in one game.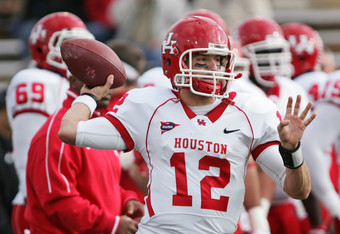 C-USA Championship Houston 0 Southern Miss 0, First Quarter, 8:00
Elements Could Play a Role
Keep an eye on the wind conditions in the C-USA title game. It's extremely windy and both quarterbacks have struggled adjusting to it early.
After a Cougars punt barely went 20-yards into the wind, Southern Miss is set up in very good field position and just came through on a third-and-13 situation, but missed a 38-yard field goal.
Keep an eye on the wind as it could play a role.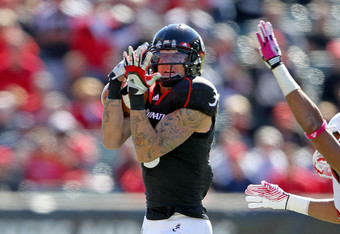 Louisville, WVU have eyes on Cincy
The noon kickoffs don't offer up much except the C-USA title game and some Big East action.
Speaking of the Big East, the champion has yet to be determined, but both Louisville and West Virginia will be paying close attention to what happens with the Cincinnati- U Conn game.
If the Bearcats win, WVU will almost certainly head to the Orange Bowl as the Big East BCS rep. In the case of a three-way tie, the bid goes to the team with the highest BCS final rankings.
In the case of the Huskies winning, which they already trail 7-0, a two-way tie would exist in which Louisville would get the BCS bid.
Either way,the Big East shouldn't be getting an automatic bid.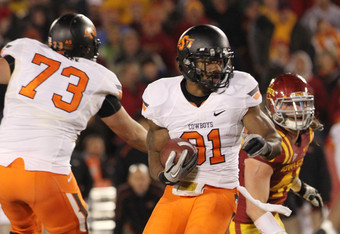 Will any losers on Conference Championship Games Deserve an At-Large?
Even though the Big 12 Conference doesn't have an official conference championship game, for the sake of this argument we are counting it as one.
Of all the favorites coming into today's action, really only Oklahoma State has a chance at a BCS at-large bid with a loss.
No three-loss team will be worthy of a BCS spot for sure, which really leaves only the scenarios of Houston, Virginia Tech and Oklahoma State losing and still getting an at-large.\
Maybe you make the case for Virginia Tech as a two-loss team, but that's doubtful given their resume.
It's quite possible that none of the losers get in, but if there is one that should be safe. it's the Cowboys.
Brett Deering/Getty Images
Cougars One-Win Away From BCS Berth
A BCS at-large bid will be on the line Saturday for Case Keenum and No. 6 Houston ast they prepare for No. 24 Southern Miss in the Conference USA Championship Game.
Keenum gets one more chance to pad his resume for Heisman Trophy voters, but more importantly, Houston would earn not only the first BCS berth in school history, but would become the first C-USA school to earn a BCS bid as well.
In Southern Miss, the Cougars will face their toughest conference battle of the season, but Houston is only four quarters of football away from finishing an impressive perfect regular season.
We should be seeing the Cougars next in a BCS game.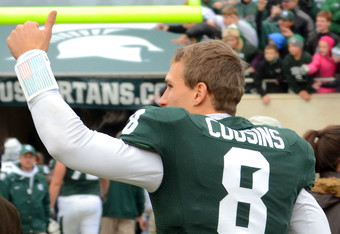 Rose Bowl Berth on the Line For Badgers, Spartans
Today's Big Ten Championship Game gives us a rematch of one of the more exciting games of the season when Wisconsin revisits the Hail Mary, which ultimately cost them a shot at playing for the BCS Championship.
While it's not the bowl game that the Wisconsin likely had in mind, avenging the early season loss to Michigan State will send the Badgers to a meeting with Oregon in the Rose Bowl.
Wisconsin looked great a week ago against Penn State to earn the opportunity at winning the Big Ten Conference, but it won't be easy. The Spartans defense contained the powerful Wisconsin offense in their first meeting and can do so again.
While most assume Wisconsin will win the Big Ten, don't count out Michigan State, who not only has the talent to compete with the Badgers, but defeat them for a second time.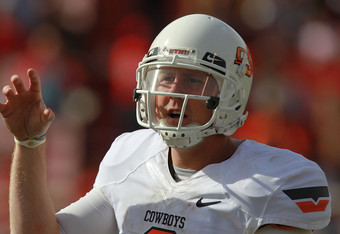 Cowboys Get Opportunity to Make One Last Statement
Bedlam highlights today's slate of games and for Oklahoma State, it's one last opportunity to impress the voters enough to make a final push at the BCS Championship Game.
Would an impressive enough win from Oklahoma State be enough to elevate the Cowboys to No. 2 in the polls?
Probably not, but anytime the human element is involved you never know.
Oklahoma State enters the final weekend of the regular season as the only team with a shot, albeit a minimal shot to unseat Alabama for a spot in the title game.
Either way, it's worth paying attention to the situation.
As for Oklahoma State and their chances at the BCS Championship Game, it's all meaningless if they don't take care of business against the Sooners tonight.
This article is
What is the duplicate article?
Why is this article offensive?
Where is this article plagiarized from?
Why is this article poorly edited?