Iona vs. Canisius: Gaels Go to 5-1 with 69-57 Road Win
December 3, 2011
Last year Iona lost the Metro Atlantic Athletic Conference Championship Game to a St. Peter's team that frustrated the Gaels shooting by slowing the game to a crawl.   
Canisius must have watched that tape and tried to slow this game down as well before Iona pulled ahead in the second half to earn a 69-57 road win in Buffalo. The game marked the start of conference play for both teams.

The Gaels, who have been leading the NCAA in team scoring per game at 94 points per outing, were held to their lowest offensive output of the season. Iona maintained a 33-32 lead at the half and pulled away in the second half with 10-1 run, which left them ahead 61-51 with 5:51 left.
The third true guard on the Gaels, senior Jermel Jenkins, was the difference maker on the night, providing 17 points on a trio of three-point shots and 4-of-5 shooting from the free-throw line. Some nights Jenkins gets a hot hand, and against Canisius coach Tim Cluess gave him 26 minutes to show what he could do at the third guard position. He split time with Kyle Smyth, who had six points on the evening.
After Jenkins, the big scorers for Iona were the two junior transfers. Taaj Ridley had 12 points in 23 minutes and Lamont "Momo" Jones had 12 along with four assists. Power forward Mike Glover, who went into the game averaging over 20 points and 10 rebounds per game, was held to six points and three rebounds by the Canisius defense. 
Point guard Scott Machado leads the NCAA in assists per game but was held to eight points and seven assists, well below his season average. 
For Canisius, Harold Washington had 22 points and seven rebounds and Chris Manhertz added 10 boards as the Griffins out-rebounded Iona 28 to 22. Reggie Groves added 11 points and Alshwan Hymes provided 10.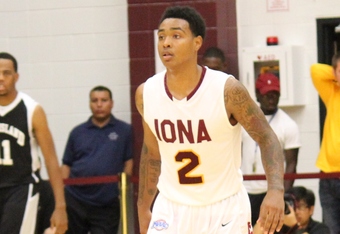 Iona has been out-rebounded in some games, with Mike Glover being double-teamed under the basket. The Gaels need Taaj Ridley and Kyle Smyth to add a presence in the paint to take some pressure off of Glover, who will draw a crowd all season long. Despite being out-rebounded 28-22, Iona won the battle of the boards with 32 of their points coming in the paint versus 18 for Canisius—a big factor in the game.
The Gaels had six steals, which contributed to 21 points off of turnovers compared with just six for Canisius. Iona's bench—led by the 17 from Jermel Jenkins, three from Ra'Shad James, three from Sean Armand and two from Randy Dezouvre—provided 25 points. James also added six rebounds, always a key contribution off the bench. 
The depth of the Iona bench being able to play nine deep is going to help as the Gaels have a lot of tiring road trips this year. This is the first of eight straight road games which will take them to Denver and Marshalll next week, then later in December to Richmond, Vermont and William and Mary. Right after Christmas the Gaels play at Hofstra, then at Madison Square Garden on January 3 against Sienna.
Sunday, Iona completes the annual western New York trip with a 2 PM game against Niagara. The Purple Eagles are 3-4 after a loss to Fairfield, 79-75, to open conference play. They have wins over Central Connecticut State (102-93), Sam Houston State (69-52) and St. Francis of Pennsylvania (69-52). They have lost to Missouri (83-52), South Dakota State (79-71) and Mercer (74-55).
The Gaels will need to get ready for teams that try to slow the game down and force them to play half court with constant double-teams on Glover. The Gaels to work on getting the ball to Jones to take pressure off the inside play to Glover. Should be interesting to watch as the Gaels become the big game on their opponents' schedules.


Ken Kraetzer covers Iona basketball and West Point football for WVOX 1460 AM in New Rochelle, NY.