Toronto Raptors: Latest Team News and Buzz
December 3, 2011
 Raptors preseason announced
The Raps will back on the court on December 18 where they will face the Boston Celtics at home in Toronto. The game will be the first of two games against the Celtics, the second to take place on December 23 in Boston.
While a two-game preseason isn't a whole lot to get excited about, there's a good chance we'll see some new faces in Raptors uniform by then. Training camps are expected to begin on December 9.

TPE still in play?
Last season the Raptors traded away Chris Bosh to the Miami Heat and were left with a huge $14.5 million player exception, which could then be used for flexibility in trades by allowing the Raptors to take back more salary.
Normally teams would have a one-year deadline to use the TPE, but rumors suggest that the Raptors' remaining TPE could be returned to the team when the lockout concludes. The Raptors still had $9 million of the trade exception left before the lockout began.
This gives Toronto an advantage in the free-agent market as it could now take negotiate sign-and-trade scenarios with the teams of restricted free agents such as Marc Gasol and DeAndre Jordan. The TPE could also be used on a number of amnesty players who could become available at season's start. Free agency is expected to begin on December, 9, the same time that training camps start.

How realistic would a Marc Gasol signing be?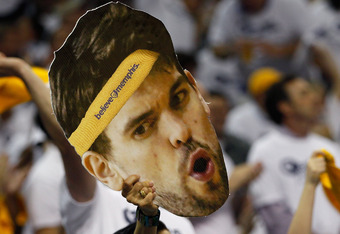 Kevin C. Cox/Getty Images
Speaking of Gasol, am I the only one who thinks signing him is a realistic option for the Raptors?
The Raptors have been proactive in planning out their future, and ESPN has reported that the Raptors have "informed the players involved that it intends to lodge serious bids for Nene, (Tyson) Chandler and restricted free agent Marc Gasol."
But Gasol is a restricted free agent and Memphis is adamant on keeping him, how can Toronto sign him? Well, first of all I think we fans are the ones overvaluing Gasol, and a lot more than one would expect. An article published by the Spanish website Marca.com suggests that Gasol asked for a $9 million annual salary or threatened that he would go back to Europe.
While Grizzlies owner Michael Heisley made it clear that he could match any offer for Gasol, there might be a chance that he isn't expecting teams to offer more than $10 million annually.
In 2010 the Grizzlies locked up Rudy Gay to a max contract, and last year they the same for All-star big man Zach Randolph. With Michael Conley's five year, $45 million contract about to kick in, can the small-market Grizzlies really match a $11 million to 12 million a year offer from Toronto?
The Raptors and Grizzlies are similar cap space standing, with the Raptors owing $50 million to players going into next season and the Grizzlies owing under $53 million. The difference is that Toronto holds a $7.6 million expiring contract in Leandro Barbosa and also has the amnesty clause, while many of the Memphis players are either on the front ends of their contracts (and therefor will see a steady rise in pay every year), or will need re-signing next summer.
Matching a potential offer from Toronto could mean have to risk losing Shane Battier, O.J Mayo and Darrel Arthur by next summer.
The Raptors could offer the Grizzlies a young player or a pick in a sign-and-trade if they're given the Bosh TPE (mentioned above). The offer could put the Grizzlies in a tight situation. That's exactly where we want them.
One change in this upcoming CBA is that teams will only have three days to match an offer made to restricted free agents and, as we saw last year at the trade deadline, Memphis is not good with deadlines; they could be reluctant to re-sign Gasol and opt for Toronto's other assets instead of losing him for nothing in return.

The time is now for Andrea Bargnani
Why exactly do we hate this guy again? Andrea Bargnani has improved in almost every season in the league, and he's just amped to start playing.
The only Raptor in Toronto right now, Bargnani has already started working out at the ACC and seems determined as ever get it right this season. The 25-year-old power forward will, for the first time in his career, start as an actual power forward, and that's going to be huge for him.
Bargnani has been training extra hard this summer and got to stay active playing for Italy in September. Reports say he has shed some weight and will be light as a feather when the season begins. Throughout his career, motivation and confidence issues seemed to be the main roadblock preventing Bargnani from achieving stardom, and it finally seems as though he's in the right state of mind after waves of criticism throughout all of last year.

Chuck Hayes being eyed by Toronto?
Fox26 Sports has also reported that Toronto is one of the many teams interested in free-agent center Chuck Hayes. Hayes has a good relationship with Dwane Casey, who coached him in Kentucky, and the 6' 6" center would be a great low-cost solution at center for the Raptors.
Hayes can rebound and defend incredibly well in the post despite being about five inches shorter than your average center, and he has only made $1.65 million annually throughout his five-year career. If the Raptors could sign him for about $3 million, it'll be a total steal with or without further additions to the front court.
Basketball is only a week away and there's a lot to get excited about with the up coming fire sale also known as free agency. Lets hope Toronto's young core of players arrive at training camp in great shape and let's also hope Casey gets the most out of them. Thanks for reading, let us know your take on the topics discussed by leaving a comment!