Brandon Jacobs: 3 Reasons the New York Giants Should Have Traded Their RB
December 3, 2011
The New York Giants have been nearly dead-last virtually all season in their run game, and this week, they currently stand 32nd in the league (last). This is a franchise that is known for pounding the ball down another team's throat.
They have done that for years. Names like Rodney Hampton, Otis Anderson, Tiki Barber, Joe Morris, Dave Meggett, Frank Gifford have all become synonymous with the ground-and-pound offense that is New York Giants football.
Enter the 2011 version of the Giants rushing attack. They are led by Ahmad Bradshaw who has 440 yards on 111 carries. This is a man who just last season had 276 carries for 1,235 yards; a man that the Giants wanted so badly that he was the only former Giants offensive player they re-signed in the hurried offseason.
The team wanted him back so desperately that they asked Brandon Jacobs to restructure his contract to make room for Bradshaw; and Jacobs was a hero for a time. He was viewed as selfless and just maybe, perhaps, finally "getting it."
Fast forward three months. The Giants are 6-5 and Bradshaw is out. Jacobs spent most of the first few games of the season stating that he wanted the ball more, and the Giants gave it to him. What has he done with it? He posted 103 carries for just 320 yards.
This from a man who is 6'4" and 264 lbs. and a man that is 29 years old and has the experience to do better. The argument could be made on a younger player that touches matter (the more touches, the better the feel for seeing the hole and making a play).
This is an experienced player. If he hasn't learned to read the defense and see the gaps by now, he never will, regardless of how many carries the man gets. The Giants made a big mistake this past month—the NFL trade deadline came and went a week before Halloween, and the Giants stood idle.
They had a player they could have dealt for some value. When the deadline was upon us, Jacobs was taking a backseat to Bradshaw and not liking it one bit. He still had worth then, though. His argument that his stats were down because his carries were down was valid and they could have traded him.
There would have been teams interested, and why they didn't is beyond me. Why they made a mistake in not pulling the trigger is clear, though. There are three reasons that they made a mistake; maybe more, but let's start with these and see how far we get.
First, the Giants RB is a free agent after this season. Thus, they they will have to let him walk, with nothing to show in return, as it is seriously doubtful that he will come back. With the emergence of Da'Rel Scott and DJ Ware, Jacobs has become obsolete to a degree.
Ahmad Bradshaw is the present and the future of this offense; a player that makes plays in open field on screens and draws—not the straight sweep or middle smash. Those days of the smash-mouth Giants football are over. The team made it clear by choosing Bradshaw for an extended contract and not Jacobs.
Therefore, Jacobs will leave as one of the top rushers in Giants history (statistically), but he will not be missed by many. Again, just letting him walk in February without a player or even draft pick to show for it was irresponsible of the Giants.
At least they could have said they received a practice squad player in return. That would have been better than listening to him complain and point the finger at everyone else for the rest of the season while the team fades to mediocrity and out of the playoff race.
If they do blow it again, it will be on Jacobs' shoulders. A bad locker room, a bad run game—that's all on him the past few games.
Secondly, he has become everything the organization does not want around. He's a selfish player who spends most of his time talking about how disgruntled he is. That has a strain on the locker room. It hurts morale and makes the team feel like their hands are tied—they have to appease him or keep hearing it.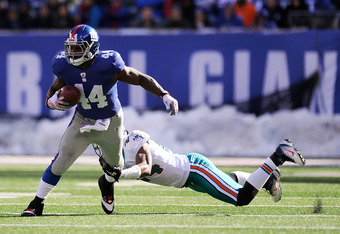 Patrick McDermott/Getty Images
If that's the case, why not just end it? Instead, the team, the administration, the media and the fans have to hear the constant nagging and murmuring for another few months. That puts the team even further on edge and hurts them overall.
Finally, he is a bad example for the team's younger players. This is a man that, when he does catch the ball or scores a TD, celebrates to the high heavens. In fact, his game awareness was evident and on display Monday night.
When down by 18 points in the third quarter against a Saints team that was owning the Giants, what does he do when he scores? You guessed it, celebrates excessively and taunts the Saints! Seriously? Your team is trailing by a lot and you want to taunt? Definitely a poor show of sportsmanship.
Furthermore, it's not what Giants football is all about. The Giants have been known throughout their many years as a classy and professional organization. What is classy about having your own teammates stop you mid-taunt and costing the team a penalty for your stupidity? There is nothing classy or professional about it.
It was a mockery of everything that is Giants football. Just when you thought he was changing for the better and caring about the team and the purity of the game, Jacobs proves you wrong every time.
The New York Giants made a large mistake by keeping him around and GM Jerry Reese has to know this by now—especially with Ahmad Bradshaw returning against Green Bay and Jacobs seeing his opportunities diminish.
The time for a trade has passed and G-men are stuck with this disgrace of a running back; this poor excuse for a Giants offensive leader. There will be a time when fans can look back at his numbers and appreciate all his contributions to the organization. That time is not now however, nor will it be for a while.
When the team needed him most, Jacobs failed to come through; when the Giants needed to trade him the most, Reese failed to come through.
For more about the New York Giants, please visit Big Giants Boom