Brandon Triche Explodes in Syracuse Backcourt in Statement Win vs. Florida
December 4, 2011
In another game overshadowed by an off-court scandal, the No. 3 Syracuse Orange's win against the No. 9 Florida Gators had the 24,459 Orange faithful on their feet the whole way. 
The action started before tipoff, as once again Jim Boeheim's name triggered a thunderous ovation that deafened anything else on the floor.
The crowd only grew more frenzied, as Fab Melo's thunderous opening dunk set the Syracuse tone early: They're bigger than Bernie Fine, and ready to show the world. 
In a game that featured back-and-forth lead changes, spotty shooting by both teams and a comeback cut short for the Gators, Brandon Triche was a hero in the Orange's 72-68 win.
Triche's 20-point effort showed his ability as an all-around player, hitting both mid-range and long shots to help counter the 22 points from Florida's Kenny Boynton. 
Another key performer was the divisive Scoop Jardine.
Jardine started the night agonizing fans with his erratic shooting, but settled in during the second half to lead the Orange. It was his contested three that, somehow, found the net, that nailed the Gators' coffin shut with just under four minutes to play. 
Jardine's 16 points and seven assists show just how big of an impact he can have when he's on his game.
This backcourt tandem, rich in experience and expectations, finally broke through on a night when they needed to.
Triche will be looked up to as the key scorer for the Orange, as James Southerland fell flat in this effort.
This game shows that the hometown hero has the potential to be a game-breaker: now Triche just has to consistently perform when the Orange need him to.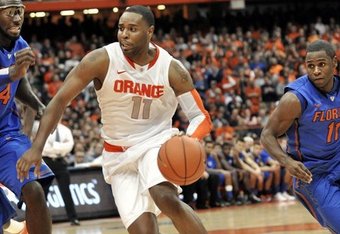 Not to be outdone by the backcourt, the Syracuse frontcourt showed tremendous talent and even more potential. 
Rakeem Christmas has taken Fab Melo's former place as "freshman to start for two minutes and do nothing", and was replaced by C.J. Fair.
Fair continued to show that he may be the best player on the team, with a solid all-around performance of nine points and 11 rebounds.
Fab Melo is showing that he can be the emotional replacement for Rick Jackson.
Fab's dunk early on was just the start, as early in the game he would play and show a tenacity necessary to be an elite big man in basketball.
If Melo and Fair continue to play at this level, the frontcourt as a whole is better than last year's.