Illinois vs Gonzaga: Illini Face Major Test at Home as the No. 18 Zags Visit
December 3, 2011
Andy Lyons/Getty Images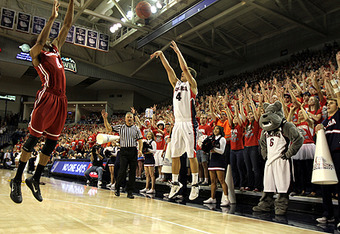 So far the season has gone according to plan for Illinois.
They have run out to a 7-0 record and are building a strong resume, backed by wins in Cancun against Richmond and Illinois State, and a big win in Maryland this week against the Terrapins in the Big Ten/ACC Challenge.
Now the Illini face their biggest test to date, a visit from the No. 18 Gonzaga Bulldogs.
Over the past few years Illinois has struggled to build up a strong resume against non-conference opponents, ultimately costing them spots in past NCAA tournaments.  Last year however, Illinois was able to get big wins against North Carolina and Gonzaga to propel them into March Madness.  
Today, Illinois looks to continue their non-conference success when they meet Gonzaga at Assembly Hall. The Bulldogs are ranked No. 18 in the country and come in featuring a 5-0 record and a fierce starting five.  
This game kicks off a big stretch for Illinois in which three of their next six opponents are currently ranked in the nation's top 20, the other two being No. 20 UNLV and arch-rival No. 13 Missouri.
First off though, Illinois needs to take care of Gonzaga.  
The battle I am interested to see is between the two seven-footers.  Illinois features 7'1" sophomore Meyers Leonard, while the Bulldogs counter with 7'0" senior Robert Sacre.  Sacre currently leads Gonzaga in scoring with 16.6 PPG while Leonard is third for Illinois with 12.3 PPG.  
This battle will really help decide the game, because whoever can dominate the inside can not only pull down defensive rebounds, but can also help with the scoring by pulling in offensive boards and keeping possessions alive.
Another interesting matchup to watch will be Kevin Pangos of Gonzaga and the Illini's D.J. Richardson.
Pangos made a huge statement on the national stage when he lit up Washington State for for nine three-pointers to open up the ESPN College Basketball Tip-Off Marathon.  Pangos has settled down a bit since his historic shooting night, but still averages fifteen PPG for Gonzaga.
As for Richardson, he currently averages 12.4 PPG for the Illini, but has stepped up in big moments for them.  This should be a very interesting matchup between these two very talented young guards.
The difference in the game will be Brandon Paul and the depth of the Fighting Illini.
Brandon Paul, as I will continue to mention throughout the year, is one of the most talented players in the Big Ten, if not all of college basketball.  Paul has struggled with his consistency and still has a lot to learn, but the junior guard is clutch.
On Tuesday night against Maryland, Paul had 17 points and seven rebounds.  I look for Paul to continue to improve in his junior year as the season moves on, and expect him to be a huge factor for the Illini when March rolls around.  
As for the depth of Illinois, they feature 11 players who average at least 10 minutes a game.  This depth is critical because only one of these 11 players is a senior; three are juniors and the rest are freshmen and sophomores. The Illini are building up a strong, young and talented program in Champaign right now.
I think Illinois will come out and get a big win over the Bulldogs today.  
The Orange Krush and the home-court advantage will definitely help many of the young players on the roster get relaxed more quickly in this crucial matchup.
Although the average fan may look past a game like this, these are the games that the tournament committee looks at come March to determine if a team is worthy to experience the madness of the NCAA Tournament.