The Holiday Gift That Sports Celebrity Will NOT Be Getting
December 3, 2011
In the season of gift-gifting and charity, it is time to reflect on the presents that our beloved athletes and sports celebrities will NOT be getting this holiday season.
Urban Meyer --- Home Defibrillator Kit
LeBron James --- Flag football championship ring
Jerry Sandusky --- Soap on a rope
Tim Tebow --- The Atheist's Playbook to a Super Bowl Crown
Sidney Crosby --- Scrambled eggs and melon recipes
Ron Washington --- Hair Club for Runner-Ups
Jim Boeheim --- I Know Nothing: The Autobiography of Sgt. Schultz
Ndamukong Suh --- Tap dance lessons
Bobby Valentine --- All-You-Can-Eat Pass to "Jacoby's House of Fried Chicken"
Peyton Manning --- Washington Redskins HANS device
Dan Mullen --- Combination shower locks
Jerry West --- Mr. Wonderful doll
Bernie Fine --- Final Four tickets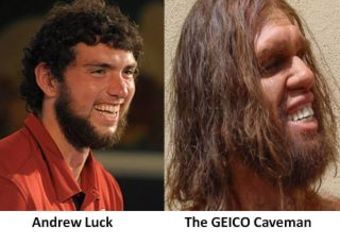 Laurie Fine --- Dr. Phil's holiday rendition of "Mrs. Robinson"
Albert Pujols --- I Love LA: 254,000,000 Reasons To Abandon The Midwest
Bruce Boudreau --- iPhone app of Russian curse words
Brian Kelly --- iPhone app of Catholic curse words
Rex Ryan --- A Parachute Maker's Guide to Sweater Vests
Rob Ryan --- Don King's Hair Gel for Men
Nelson Cruz --- Wall shy repellent
Prince Fielder --- A ham sandwich
Carl Edwards --- The Platter's CD "Smoke Gets In Your Eyes"
Aaron Rogers --- Deep-sea fishing trip with Mercury Morris
Danica Patrick --- www.winlessandstillcashingin@godaddy.com
Michael Phelps --- Waterproof rolling paper
Wilson Ramos --- Bulletproof catcher's mitt
Roy Williams/Huckleberry Hound -- Separated At Birth, Series I
Lexi Thompson --- Michelle Wie's "Tipsheet to LPGA Longevity"
Bob Costas --- Platform interrogation shoes
Andrew Luck/The GEICO Caveman --- Separated At Birth, Series II
Jared Sullinger --- Greg Oden stand-up doll