Browns vs. Ravens: 9 Keys for a Cleveland Upset Win over Baltimore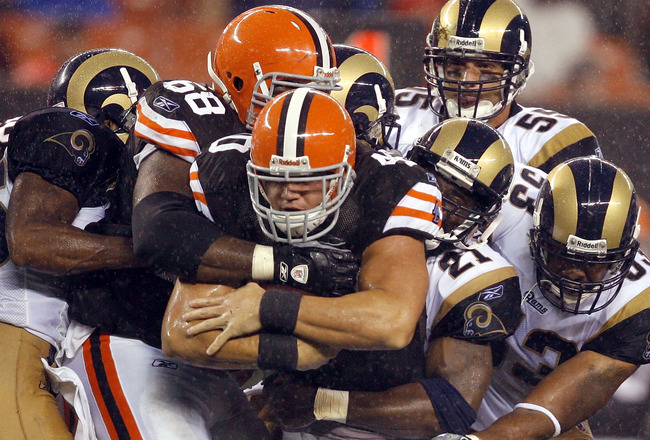 Never give up
Matt Sullivan/Getty Images
Yes, I do believe that Colt McCoy can lead the Cleveland Browns to a win at home against the division-leading Baltimore Ravens. No, I do not need a drug test.
Is it likely? Well, no. But if you don't believe in the "any given Sunday" philosophy, you have no business whatsoever being an NFL fan. Much less a Browns fan.
Cleveland appreciates quality. The weather stinks. The economy stinks. And yet this Rust Belt city boasts one of the best symphonies and one of the best legitimate theatres in America. And the Cleveland Browns defense.
That's right. I said it. The Browns have a good defense.
Going into Week 13, Cleveland is the highest-ranked passing defense in the National Football League. This group has given up less than 175 aerial yards per game on average all year. That is impressive.
The Browns rank sixth in total yards allowed per game (313.4) and ninth in points (19.6). That's not bad.
Unfortunately, this defense is 29th when it comes to stopping the opponents' running backs, letting them gain almost 140 yards every week.
Don't bother me with details; I'm on an optimistic roll.
So what do the Browns have to do in order to get to 5-7 against the Ravens?
Stop Ray Rice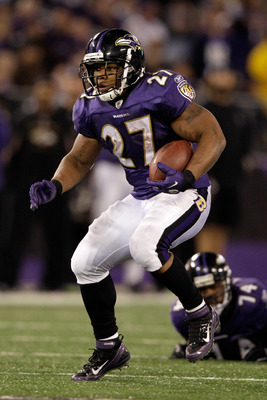 Diminutive Dynamo
Rob Carr/Getty Images
Actually, this is not a key to the game. It is the key to the game.
Ray Rice is 5'8". He weighs 212 pounds. How is it that, in the AFC North, this man averages four yards per carry and has eight touchdowns? I am the last person to discriminate against another human of short stature, but how is that possible?
Browns MLB D'Qwell Jackson is 6'0", 240 pounds—and has 100 tackles. WLB Chris Gocong is two inches taller and 23 pounds heavier. He has 38 tackles, one-and-a-half sacks, a forced fumble and a fumble recovery.
We don't know who will start at SLB this week due to injury. If I were Cleveland defensive coordinator Dick Jauron, I would be anticipating a lot of Ray Rice to the strong side.
As a group, it took entirely too many defenders to bring Jaguars RB Maurice Jones-Drew to the ground two weeks ago. And he's the closest thing to a Ray Rice clone that has ever lived. I counted four Browns hanging off of MJD on one play. Excuse me? He's 5'9".
Cleveland did make it through the first half without giving up big rushing yardage in the Jacksonville game—but they got tired after being on the field too long and couldn't keep it up.
The same thing happened in Week 12 versus Cincinnati Bengals RB Cedric Benson. The Browns D started strong but was worn down throughout.
When Ray Rice has 20 carries, the Ravens win. Gentlemen, you have your assignments.
Rattle Joe Flacco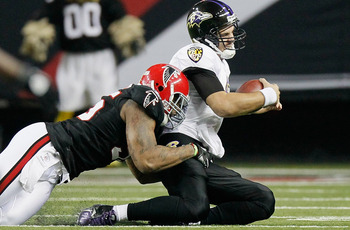 This is what we need
Kevin C. Cox/Getty Images
This is, apparently, rather difficult to do. Flacco looks like one of those guys who just shrugs his shoulders at citywide criticism and goes about his business. Kind of like Eli Manning, but cuter.
And let's not forget that his business includes slinging the ball 65 yards in the air with a flick of the wrist. This QB makes a mockery of the phrase "he can make all the throws." Yeah, including the ones half way up the grandstands.
We all know that the two biggest Ravens receiving threats are speedster rookie Torrey Smith deep, and enormous and tough Anquan Boldin everywhere else. Just because Boldin isn't going to beat anyone down the field, does not mean that he won't win almost every contest over the middle and come down with his share of passes in the back of the end zone.
The Browns linebackers have to come prepared for collisions with Mr. Boldin at the same time that they are trying to keep track of Rice.
The Cleveland Browns' D-line is one of the brightest spots on this team. And probably will be for years. They don't get a lot of credit outside of Ohio, but this is quite the collection of young talent.
Just in case you're not from Ohio:
1. Jabaal Sheard, rookie, four-and-a-half sacks and 35 tackles in 11 games played.
2. Phillip Taylor, rookie, 42 tackles, four sacks in 11 games played.
3. Ahtyba Rubin, 25-years-old, 53 tackles, three sacks in 11 games played.
4. Jayme Mitchell, 27-years-old, one-and-a half sacks, 24 tackles in nine games played.
I don't know about Flacco, but that scares me.
Defense Must Score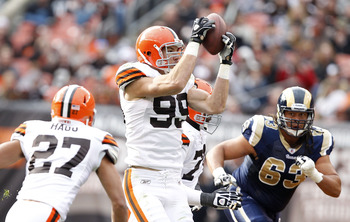 Big man with football
Matt Sullivan/Getty Images
Starting Safety T.J. Ward is out. Linebacker Quentin Spears is out.
Nickel back Dimitri Patterson is questionable with an ankle injury. Starting safety Mike Adams is questionable with a shoulder problem. Starting SLB Kaluka Maiava is questionable. That's a bit worrisome since his backup is Spears. Hmmm.
This leaves young-and-talented Joe Haden and old-but-smart Sheldon Brown to pick off Joe Flacco and make something happen. Haden has zero INTs on the season, despite getting his hands on several passes. That needs to change Sunday. He's a rising star at CB. Time to show it.
Backup safety Usama Young has 13 solo tackles and one INT on the season. This would be a tremendous week for INT No. 2, Mr. Young.
Ward's backup is Raymond Ventrone. Aside from the fact that he went to Villanova and has two tackles on the season, I don't know much about him.
I'm betting that Joe Flacco and John Harbaugh have made it a mission to find out all about sixth-year Ventrone and that they are planning to target him. He must rise to the challenge.
The Browns have a total of six INTs this season. Two of those were from linebackers (one of whom is now out of the game). This is not going to result in a winning season or a winning Sunday.
Cleveland Running Backs Must Win Versus Ravens' Run D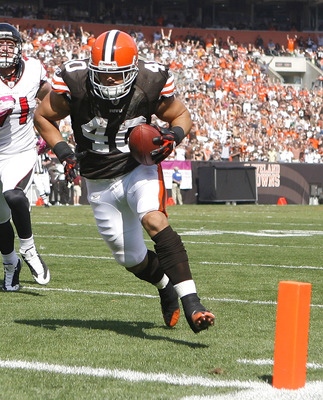 Welcome back
Matt Sullivan/Getty Images
Here's the update in terms of dominance potential:
1. Peyton Hillis is probable. That is by far the best news to hit Cleveland since Bernie Kosar. Regardless of his spats with the coach and the front office, this is a real power running back. Did you see the incredible difference his presence made last week?
I believe in the bottom of my football-loving heart that Peyton Hillis has the talent to succeed against the Baltimore defense. We'll see if he actually does it.
2. I used to put Montario Hardesty second on this list. But he is still questionable. And, frankly, I've been more inspired by Chris Ogbannaya's heart than anything I've seen out of Hardesty.
Ogbannaya is healthy, familiar with Colt McCoy's tendencies and out to prove that he is for real. He has performed very well in the past two weeks particularly.
3. It would be great if Hardesty could join his fellow rushers on the field. There is a reason that the New York Giants won the Super Bowl the same year that "Earth, Wind and Fire" were in their backfield.
Coming into Week 13, Cleveland managed a pathetic 96.8 rushing yards per weekend. The Ravens ranked third in the NFL against the run, giving up 91.5 yards. Ugh.
Offensive Line Must Protect Colt McCoy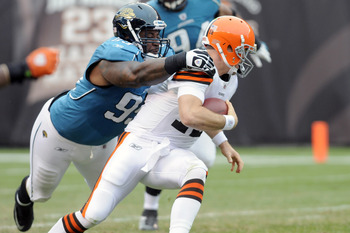 This is not what we want
Jason Miller/Getty Images
Although Colt McCoy is on the injury list as questionable, I'm sure he'll be on the field. How long he'll stay there depends on the highly-suspect, Browns pass protection.
McCoy has been sacked 27 times, not to mention being hit, hurried and generally harassed on far too many passing attempts. With separation-challenged WRs, this is a problem.
The O-line simply must give Colt enough time for someone to come open. Hint: Keep an eye on Ravens D-lineman Haloti Ngata. Mr. Ngata may be a lovely man who puts reindeer antlers on his dog for the family Christmas photo (honest), but I don't want him anywhere near my QB—or Terrell Suggs, either.
As a petite blonde woman, I've had my share of not being taken seriously. So I have wanted to come to Colt McCoy's defense ever since I first saw him. Just because he looks like Ricky Schroeder in "The Champ" doesn't mean that he isn't tough.
I found out just how tough in Michael Silver's recent Yahoo! Article. Mike Holmgren drafted McCoy, not Eric Mangini or offensive coordinator Brian Daboll. Apparently, that gave Daboll license to abuse McCoy for all of last season. He yelled into Colt's helmet so loudly and so long that McCoy had to turn off the speaker in order to call a play. Wow.
The fact that the entire team noticed it, and that several players talked to reporter Silver about it, proves to me that Colt McCoy is lucky to have escaped with his psyche intact. How about we keep his physique intact this year?
Colt McCoy Must Score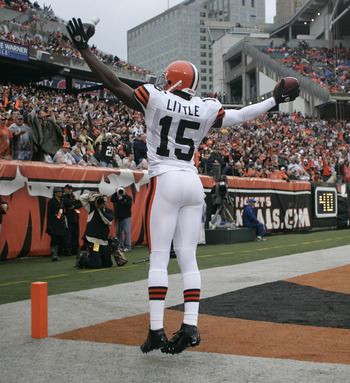 This is what we want to see
John Grieshop/Getty Images
And he needs help doing it, guys.
Fifteen points per contest is 28th in the league in terms of scoring, with passing yardage that ranks 24th. Hmm.
Facing the Baltimore Ravens defense may be a tough week to start improving those stats, but improve they must.
Let's get right to it—this offense starts games too slowly. Well, that's an understatement.
For most of the season, the Browns' first-quarter offenses have looked like they were underwater. And, Mr. Head Coach and Play-Caller Pat Shurmur, you are not the offense that should be running the delay—of all plays!
There is hope. In Week 12, the Browns offense actually started the football game with something approaching energy. They hadn't made it to the level of urgency, but it was a definite improvement.
However, it's getting better. I saw signs of life in the first quarter against the Jaguars. Unfortunately, they came from McCoy and not the WRs. As a group, they are turning too late into the receptions.
McCoy has 51 rushes on the year. Correct me if I'm wrong, but he was hired to pass the ball, right? I'm all for QB mobility, but running for his life is different.
Greg Little. Dude. We believe in you—but you have got to start catching more balls. It's called focus. Ten drops in the last five games!
Cleveland has to do something to stretch the field, or the Ravens' zone-blitz D is going to crowd the short distance and eat McCoy and the RBs alive.
Note: When you do go deep, please look for Ravens safety Ed Reed. Then throw it somewhere else.
While I'm calling people out, how about Pat Shurmur gets TEs Ben Watson and Evan Moore more involved in the offense? Yeah, I know. They help with the pass protection.
Fine. Can they block someone and still be the checkdown receiver? I'm fairly sure that this system occurs on a regular basis in the NFL. And how many times does Watson need to prove that he can find the end zone?
Speaking of throwing the ball to people, let's continue the Jordan Norwood experiment. If last week's performance was a fluke, we'll find out soon enough. In the meantime, the kid beat Cincy DB Nate Clements more than once. I'm just saying.
Spreading the ball around can only help stud Josh Cribbs and uneven-but-the-second-best-WR Mohamed Massoquoi. I'm glad that Massoquoi is back on the field. I am. But he frustrates the you-know-what out of me.
Generally, perhaps coaches could acquaint the WRing corps with the concept of "Yards After the Catch." Just a thought.
Phil Dawson Must Be Awesome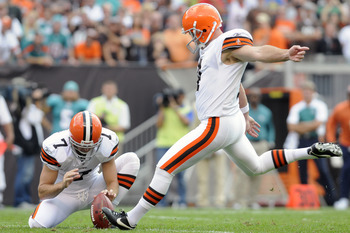 Hold that ball!
Jason Miller/Getty Images
The Browns' PK has contributed 69 points this season. But the ideal scenario would have Mr. Dawson contributing no more than one third of the total points scored. For a man used to being three quarters of the offense in recent years, this would be a break.
In a pinch (or the fourth quarter, whichever comes first), you can't do better than Phil. The man has made 11 FGs of more than 40 yards, and seven of those were over 50 yards. He nails more than 78 percent of his attempts.*
This scenario means that Colt McCoy must get his guys into the end zone on two thirds of their visits into the red zone. Okay, that's probably not going to happen.
So, Dawson needs to be as sharp as ever on Sunday.
Former Brown Billy Cundiff is kicking for Baltimore. Cundiff has come on strong after an uneven start to his career, and even made the Pro Bowl in 2010. He's also reliable up to 50 yards, but he's only 1-6 beyond midfield.
Cundiff hasn't had to try and win as many games for his team as has Dawson. Ironically, seeing more of Billy on Sunday would be a good thing, since it would mean that the Browns D is succeeding against the Baltimore offense.
*I don't know if the statisticians are including that bad call in the Jaguars game, but we all know that it was good, right?
Special Teams Must Shine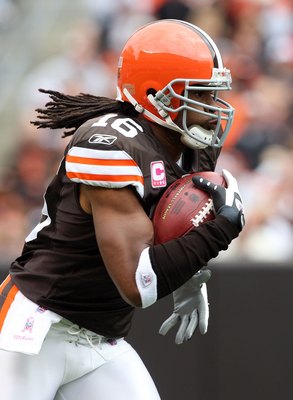 One Man Band
Jim McIsaac/Getty Images
Josh Cribbs hasn't scored a touchdown as a return man yet this season. Sunday would be a good time to start.
Please do not think that I am criticizing No. 16. He is the best athlete on offense and special teams, clearly. He plays WR very well, is a record-holding return specialist—and I have even seen him on kick coverage!
This kind of conditioning is frankly unimaginable to me. But, enough already. Somebody else has to make some plays.
Punter Brad Maynard is living up to his career extension in Cleveland. He has nailed 18 punts inside the opponents' 20-yard line. He is averaging almost 42 yards per punt, with a long of 55 yards. I'm not sure how much more you want out of a punter. Hopefully, he won't be called upon to tackle.
Ravens punt returner Lardarius Webb has a season long of 29 yards. Well, that's one thing in the Browns' favor.
Baltimore kick returner David Reed, however, has sprung one for 77 yards. That can't happen.
Of course, the biggest shakeup in Cleveland has been firing Long Snapper Ryan Pontbriand after two botched snaps. The new man in this particular spotlight is Christian Yount.
Yount is from UCLA and he was an undrafted rookie free agent used by the Tampa Bay Buccaneers until their regular long snapper got healthy. So he has seven professional games and four days of practice under his belt. Yikes.
Coaches: Be Aggressive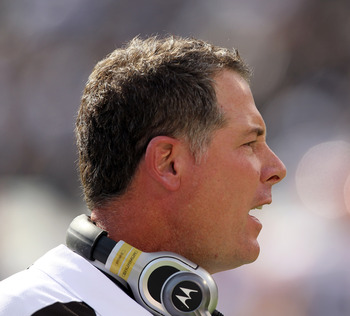 Fire up
Ezra Shaw/Getty Images
John Harbaugh has only run a fourth-down play four times this year. They have achieved a first down three of those times. That is out of 717 offensive plays.
Ravens opponents have scored 17 touchdowns. In 11 games. Ohhhh-kay.
So what does this tell us? How about that, when you have one of the best defenses in football, you don't have to be overly aggressive on offense. We all remember the deep bombs to Torrey Smith because they aren't the norm.
Dick Jauron has his Cleveland defense playing well. So I'm thinking that the Ravens will be punting it back to the Browns offense quite a few times. (Unless they score a whole bunch, which would make this entire article moot.)
Pat Shurmur, we're begging you—go for it!
The Ravens may have had time to rest their older legs, but all season this team has not played well against losing teams. If there were ever a game with "trap" and "letdown" written all over it, it's this one.
No one in the football world thinks that the Browns have a chance to win this game. What have you got to lose?
At the very least you can go out there and dare to succeed.
Keep Reading

Cleveland Browns: Like this team?