NBA 2011-12: A Letter from the Los Angeles Clippers to Chris Paul
December 3, 2011
Dear Chris Paul,
We are as ecstatic as you are that the lockout is over, and we get to do what we love so dearly, play basketball. We are writing to you in hopes of easing your nerves and helping you regain focus on what's important, going after an NBA championship.
We want to compliment you on the way you are handling the media, always saying the right things and having an unwavering look when asked about your decision to not sign an extension and if you are really going to leave New Orleans. You are so convincing, but we've all been there and know that a new contract, or the possibility of a trade to a better situation, can privately consume you.
Playing with familiar people and in familiar settings are always great choices, but when those choices just aren't logical possibilities, then it's time to focus on the next best option. Chris, let's be honest, the New York Knicks, where your buddies Amare Stoudemire and Carmelo Anthony currently play, is just not an option that will come to fruition. Unfortunately, they have given up all their desirable young players in the trade to the Denver Nuggets for Carmelo last year and now have nothing to give that your current team, the New Orleans Hornets, would want.
The next best choice is to come play with us here in Los Angeles. The first reason is you'll have many opportunities to realistically make a run at a title. With the combination of Blake Griffin, Eric Gordan, DeAndre Jordan and yourself, the sky is the limit, not only for this year, but for many years to come. Everyone knows the Lakers are on their last legs with Kobe, just as the Celtics are. The Dallas Mavericks are even an older team that won't be intact for too much longer, so the West is wide open.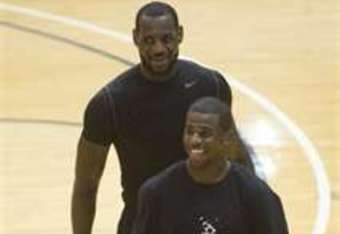 We have the young players here to offer New Orleans enough to satisfy their desire to still be able to formulate a team and rebuild. We have the cap room to give you the salary you so deserve. We also have enough to sign a veteran this year and be even more of a force. Can you imagine adding Grant Hill or Shane Battier to that mix we mentioned? Wow! We'll have the L.A. fans chanting "Kobe who?" in no time.
Don't worry about our owner, Donald Sterling, and all the bad you've probably heard about him. That's all in the past. He is willing to pay for the talent now. He has seen the support from the city when he pays for the talent, so, finally, he's doing what an owner should. He's staying out of the way and allowing the basketball minds upstairs to do their jobs.
Lastly, we understand that you are used to playing in great venues where you are beloved and supported. The Clipper fans, also known as Clipper Nation, will embrace you like no star before. They have remained loyal through the tough times before the arrival of Griffin and Gordan, so they are as excited about our team as we are. They truly are the 11th man!
New York is a great city but Chris, this is Los Angeles. Snow? Blizzards? Icy roads? Need we say more? You are already a superstar in this league, but your brand can sky rocket to the level of LeBron James and Kobe Bryant with the limitless resources that'll be at your fingertips and sitting courtside watching you dominate Derek Fisher, Steve Blake or whoever the Lakers rent for this season.
The bottom line is that joining us in Los Angeles and becoming the biggest star to ever dawn a Clipper uniform makes a lot of sense and is, quite frankly, your best option.
Take time to think about it (but get back to us by December 9th or 10th) and we will be sure and work out the kinks with the Hornets management. The championship trophy is waiting for us, so let's go get it!
Sincerely,
Your eventual teammates,