Texas A&M Football: 7 Things That Must Be Fixed Before 2012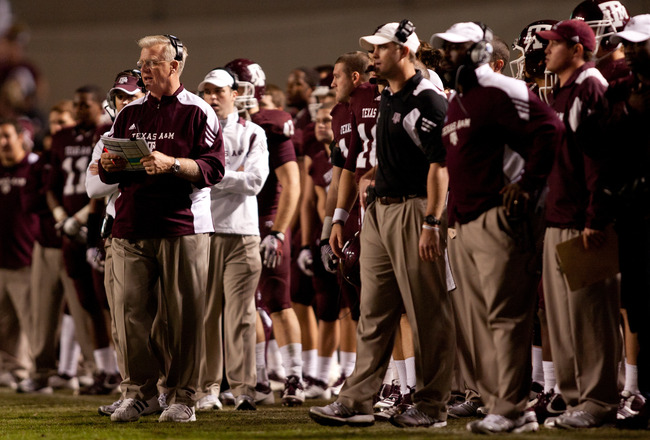 Darren Carroll/Getty Images
As the A&M faithful look upon one of the most disappointing seasons ever for the Aggies in recent memory, they all realize one thing. If things don't start to pick up soon for Texas A&M football, the Aggies' record will be much nastier than 6-6.
Whether that comes as a coaching change, scheming, game plans or just overall player performance, many things need to be different moving into the inaugural SEC season. With the Aggies entering the toughest division in the nation, it's actually frightening to think they remain at the same level of competitiveness next year.
Many things must be fixed for next season. The university has already realized that in their firing of head coach Mike Sherman, looking for a replacement to lead them into the Southeastern Conference. So what other big things need a new look in Aggieland?
Check out seven things A&M must change if it wants to be known as any kind of threat in 2012.
Take Advantage of Home Field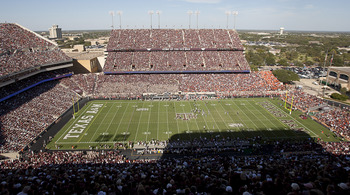 Bob Levey/Getty Images
This season, A&M has lost three huge games at home to three teams that it had beaten at halftime. Kyle Field is known as one of the loudest venues in college football, and the Aggies need to take advantage of that.
Oklahoma State was down by 17 points going into the half, having been outplayed on both sides of the ball easily by A&M. One of the best offensive duos in the nation looked dormant, while the OSU defense seemed to be having trouble holding up Tannehill and the offense.
The entire Aggie sideline fed off the energy from the crowd the entire first half, using that against the Cowboys. When the second half came, however, it seemed they were content with their lead and didn't need the 12th man any longer.
Despite the constant yelling of the Kyle Field faithful, A&M was sunk by not only their complacency, but also their inability to use the crowd to their advantage once the lead was taken. That has to change.
Missouri is another great example. Texas A&M had the Tigers beaten in the first half, going up big before the second quarter ended. In the fourth quarter, though, they allowed so many points that they had to come back just to put the game into overtime.
Not to say that other fans are less loyal, but A&M fans are known to stay till the final whistle. Aggies are some of the most faithful in the business, and not taking advantage of that would be a mistake when the 2012 season rolls around.
Avoid Road Intimidation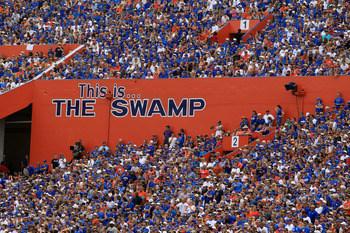 Sam Greenwood/Getty Images
Texas A&M's toughest road game this year was against Oklahoma in Norman. Aggie fans, including myself, were confident that if A&M could get OU on the ropes early, they would have trouble making a comeback.
The Aggie football team instead became intimidated by the seemingly powerful Sooners, allowing four touchdowns in the third quarter alone. I can guarantee you that Norman is nothing compared to most SEC venues A&M will be visiting.
Road intimidation is extremely difficult to avoid, especially against teams that are known to be tough to beat in their own house. However, dropping that feeling will be something A&M must learn quick if they want to have any wins that aren't in Texas next year.
Whether it be the sheer size of Alabama's Bryant-Denny Stadium or the cowbells at Mississippi State, the Aggies have to focus on the team they're playing rather than where it will be at. Every SEC university except maybe Vanderbilt and Kentucky will have some of the rowdiest crowds the Aggies will ever see.
I mentioned Alabama and Mississippi State earlier, but that's just the beginning of the horror. Texas A&M will have to play in Jordan-Hare, at Neyland, in the Swamp, between the hedges, and last but not least, every other year at Death Valley.
I just got chills.
Consistency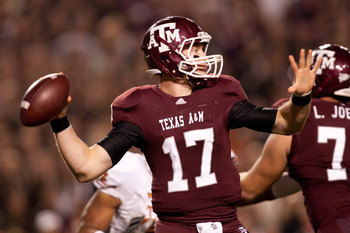 Darren Carroll/Getty Images
A&M is one of the most inconsistent teams in college football. One drive they're moving the ball down the field like it's easier than a drunk college girl and another they're going three-and-out. It's like watching a schizophrenic play football.
The defense is even worse. One half they can't be stopped and another it's like they've disappeared. The Southeastern Conference is going to rip them apart if they can't show up as the same squad quarter after quarter.
If this isn't fixed by next season, the Aggies will end up the Ole Miss of the Western Division.
Prepare for Big Injuries
Ronald Martinez/Getty Images
The Aggies have had some tough injuries on the year. Losing their superstar running back duo in Cyrus Gray and Christine Michael, as well as their veteran, really killed A&M's offensive production. Also, the defense losing Coryell Judie early in the season didn't help a lapse secondary perform any better.
The A&M backups, however, need to be more prepared. RB Ben Malena was actually showed up quite impressively at the Texas game, but was not on the same level of Michael or Gray. The A&M secondary, however, needed to understand the possibility of losing one of their veteran leaders in Judie.
Injuries happen in football. It's the single most physical sport in the world and preparing for said injuries is a necessity that A&M didn't take heed of.
Defense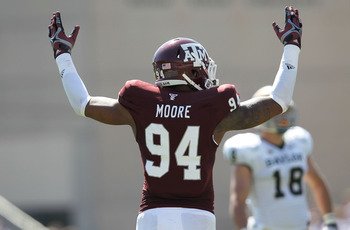 Sarah Glenn/Getty Images
As pretty much all Aggie football fans know, A&M has one of the worst pass defenses in the nation. It's actually despicable how bad they are considering how much promise they had coming into the season.
Tim DeRuyter is one of the best defensive minds in college football, improving the defense dramatically last year from the season before. His run defense has been one of the strongest nationwide, holding most Big 12 teams to minimalistic rushing yards.
However, as far as pass defense goes, A&M is horrible. Only its sack totals are impressive, but that doesn't make up for the poor secondary play it's had all season.
The SEC won't tolerate a poor pass defense. They will rip the Aggies limb from limb in the air, tearing apart some of the best talent on the field. SEC defenses are some of the best in the country, and if A&M wants to have any kind of success, it will have to match their new conference's defensive intensity.
Here are some SEC quarterbacks who will still be playing next year that I'm a little worried about already. Sophomore Aaron Murray heads up Georgia, Junior Tyler Wilson at Arkansas, Sophomore Tyler Bray up at Tennessee, and Sophomore AJ McCarron runs Alabama.
Just for kicks, here's one more that'll freak me for the next couple years. Brett Favre's little nephew, Dylan Favre, is a freshman QB this season at Mississippi State. Yes, Brett Favre, like the former Packers superstar Brett Favre.
Coaching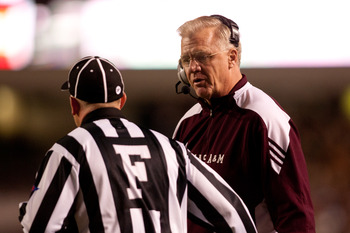 Darren Carroll/Getty Images
On Thursday, Texas A&M fired head coach Mike Sherman and his mediocre 25-25 record. The former NFL coach really improved this Aggie team over the past couple of years, but this last season was the university's final straw.
With no bowl wins in two tries, Sherman has underachieved in the overall sense of things. Texas A&M in the modern era has no room for slackers and needs a strong coach with a great recruiting skills, player development aptitude and on-the-field adjustment capabilities.
Coaching has been a tough thing to overcome for A&M since RC Slocum left back early in the decade. From now on, the Aggies have to shy away from loose, kinda do-good coaches and pick up someone with experience, class and a dangerous ability to make opposing squads shiver.
Finish Games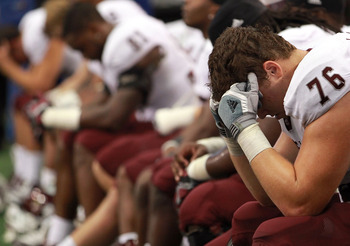 Ronald Martinez/Getty Images
Perhaps it's just me, but this is certainly the biggest aspect of A&M football that has to change. Not finishing out games strong is one of the most frustrating things to any football fan, and it sure has every Aggie on the brink of insanity.
Multiple times this season, Texas A&M has been leading late only to allow their opponent to not only outscore them, but flat-out out play them. The third quarter has been especially dangerous, killing their chances time after time. For example, Texas scored 17 points in the third quarter alone with no response.
More frustrating, however, is watching A&M fall apart. It starts out as small mistakes such as missed blocks, but eventually evolves into much more consequential mishaps such as dropped balls or missed tackles.
If A&M had been able to finish out games this season, the Aggies would be sitting with only a single loss to OU at Norman. One of the most despairing feelings to have going into a second half with a lead is knowing that by the final whistle, that seemingly clinched victory will have become a loss.
In the SEC, teams are much more explosive than in the Big 12. Finishing games will be of the upmost importance, especially on the road.
Texas A&M has the potential to be one of the most powerful universities in their new conference, but it will require discipline, attention to detail and most of all, a strong will.
In 2012 when the SEC brings new competition to College Station, the Aggies can either lie down for all their tough opponents or grab a few wins. Which one they choose is completely up to them.
Keep Reading

Texas A&M Football: Like this team?