Passing on Donovan McNabb the Right Choice for Caleb Hanie's Bears
December 2, 2011
Hannah Foslien/Getty Images
Like it or not, Caleb Hanie is the river card in the Bears' 2011 season: he'll either hit the jackpot for this Bears team or validate a losing hand.
The latter is more likely, say the odds, but the former remains a glimmer of hope for the optimistic Bears fan. Never say never, they'll say.
Either way, Hanie holds the keys to the Indianapolis Express: not Josh McCown, not Nathan Enderle and not Donovan McNabb.
And don't count on Jay Cutler. If you got the feeling during Cutler's presser Thursday that he isn't optimistic he will return this season, you're not alone.
"It could be that I am done for the season," Cutler reminded us before adding that he's just in his sixth pro season and needs to consider the rest of his career.
What if Hanie gets hurt, you say? Then the fears of the 2011 season being lost to a freak injury become reality.
It won't matter who gets the snaps the next five or six Sundays, unless it's Cutler, or if the Bears lure a happily retired Kurt Warner back to the bruising frozen turf of Soldier Field.
There's just not enough reward for bringing in a guy like McNabb, and yes, it could hurt to do it.
First, let's state that if Hanie continues to play like a journeyman backup or falls to injury over these next few weeks, the Bears are done (under the assumption Cutler heals like the rest of us human beings). It will take a leprechaun and a pot of gold to get them out of the first round of the playoffs.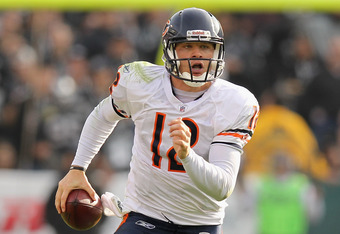 Ezra Shaw/Getty Images
Still, I argue they have a better chance to do so with McCown than McNabb.
Mentally, McNabb would be far less capable of running the Bears offense than McCown, who got to know the Mike Martz playbook for a season with him in Detroit. Don't underestimate that.
And yes, it's true when the Bears called McCown last week, he wasn't practicing on an NFL field. He was coaching high schoolers for the past couple months.
But McNabb has been playing like a high schooler for the past couple years.
Don't let the name fool you: this isn't the same McNabb of 2004, or 2009 even. He's 35 years old, and when you read the rumors of his lax work ethic over the past two seasons, coupled with his poor play, you can put two and two together.
I'm willing to bet many of the 32 NFL teams thought the same thing today. Not one put in a waiver claim for McNabb and his modest $1.6 million salary for the rest of the season.
There won't be any fairy-tale ending for McNabb, as Kurt Warner teased him on Thursday night on NFL Network, at least not in Chicago.
But there's also likely not to be a fairy-tale ending for Hanie and the Bears this season.
Still, here's to a pot of gold.