Tim Tebow: A Response to ESPN's Howard Bryant Regarding Broncos QB
December 2, 2011
Harry How/Getty Images
Nice guys finish last.
It's an idiom that has been around longer than most of us have been alive, and has been applied in all walks of life for a variety of reasons.
Nice guys finish last.
ESPN hires some of the best journalists in the industry. Thus, it is no surprise that the network is afforded all sorts of exclusive access to players, teams and stories. It also gives them the benefit of being the most trusted name in sports. For the most part, what ESPN says goes.
Some of us, however, don't always buy into the hype. Such is the reason that I am writing this, a response to an article by one of ESPN's finest journalists, Howard Bryant. Mr. Bryant wrote an article, "Cult Classic," about the current media frenzy surrounding Tim Tebow, Denver's young, polarizing quarterback.
Plenty has been written about the quarterback; much very accurate and some completely off-base. To bash the man for his religious beliefs or sometimes over-enthusiastic demeanor is just plain wrong. To bash him for his unorthodox style of play is somewhat less wrong. But let's get one thing clear: it's working.
As much as his throwing motion and short-throw accuracy are mediocre, and as much as he reads through his progressions about as well as a toddler, Tim Tebow wins football games.
Isn't that why the game is played? Didn't Herm Edwards say a thing or two about winning games?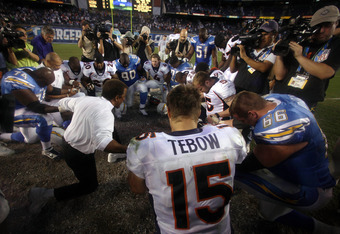 Donald Miralle/Getty Images
I get your point, Mr. Bryant. Denver's defense and running game does most, if not all, of the work. You are correct in your assumption that Tebow's presence does not cause Von Miller to turn into the second coming of Patrick Willis.
But where you're wrong, Mr. Bryant, is regarding Tebow's talent.
"Tim Tebow is an overblown phenomenon, drowning out the buzz for more talented QBs," the subtitle of your article reads.
ESPN never ceases to amaze me. Not only do they hire the best journalists, but they also hire the greatest football talent evaluators in the country.
It is human nature to reject something that is unusual. From the human body to group psychology to international politics, the notion that "if you're different, you're wrong" has dominated the human condition from the beginning of time.
So I challenge you, Mr. Bryant, to look a little closer at this unusual specimen named Tim Tebow.
Have you considered that the reason Denver's running game is so successful is because the defense must account for the threat of Tebow's ground game? Do you not see the contain defense that teams run against Denver, taking away defenders from the line of scrimmage and giving Broncos running backs a little extra breathing room?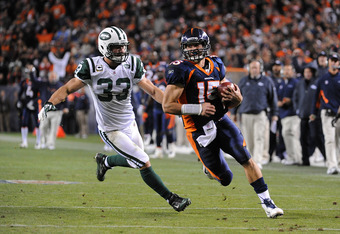 Garrett Ellwood/Getty Images
Maybe you don't believe in clutch throws; I don't believe in clutch anything. Statistically, it doesn't exist. But to what do you attribute Tebow's ability to make big fourth-quarter throws? Dumb luck? Soft defense? Jesus?
Have you considered that Denver's defense has been particularly effective because a clock-controlling offense, led by Tebow, has kept them fresh throughout games? I know about the talent the Broncos have. Von Miller, Elvis Dumervil, Champ Bailey—those are the real heroes of this team, right?
Or are they simply benefiting from a little extra rest? Over the last three games, Denver's offense has been the 12th-best in terms of clock control at just under 31 minutes per game. Not great, but not bad, either. But when you consider the team's season average is 29 minutes per game, you can see that the Tebow-led offense has had some impact.
It's going to be hard to convince you that you're wrong, Mr. Bryant. Perhaps you won't ever tip your cap to the man. Perhaps, even if the Broncos do make the playoffs and maybe even win a game there, you will refuse to acknowledge that Tim Tebow is more talented than you give him credit for.
You compare the man to Vince Young and Tarvaris Jackson. These are names that are associated with mediocrity. Tell me, Mr. Bryant—what about a man who is 5-1 as a starter, has a higher quarterback rating than Michael Vick and Joe Flacco, and rushes for almost six yards per carry denotes mediocrity?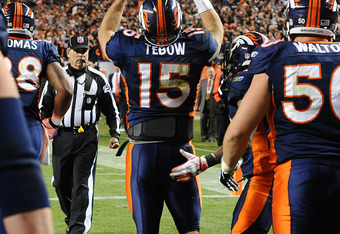 Garrett Ellwood/Getty Images
What standards are you holding him to?
Tim Tebow is not Aaron Rodgers. He is not John Elway, Steve Young, or Fran Tarkenton. He is Tim Tebow. There has never been a player in the NFL like him. And maybe that, Mr. Bryant, is why you refuse to accept him.
Of course, Tim doesn't care what you think. He's going to do what he gets paid to do—win games. You can write all you want about how undeserved his hype is, but here's the truth of the matter: Andy Dalton, Matt Stafford and Alex Smith may be better quarterbacks, but come January, Tebow will be playing right next to them. Attribute it to whatever you want, but he'll be there.
You state, "The promise of pure competition is perhaps the biggest reason we watch. Except that's a lie."
According to whom?
We love Tim Tebow because he plays the game to win. We love Tim Tebow because he is the ultimate teammate. He's the guy we all wanted to be growing up—the one who can run into a huddle, give a speech, and egg his team on to victory.
Tim Tebow is the definition of competition. He also happens to be an unorthodox quarterback, one of the best role models in athletics, and extremely humble. He's a nice guy, Mr. Bryant.
What was that idiom I mentioned?
Nice guys finish last?
Oh, yeah. That's a lie too.