Indianapolis Colts vs. New England Patriots: Spread Info, Line and Predictions
December 2, 2011
Elsa/Getty Images
An old rivalry is renewed this week, as the Indianapolis Colts (0-11) take on the New England Patriots (8-3). 
The Colts come into this game looking for their first win of the season. However, starting a new quarterback in Dan Orlovsky and playing the AFC East division leader could prevent the Colts from obtaining their first win. 
Where: Gillette Stadium, Foxboro, Mass.  
When: Sunday, Dec. 4 at 1:00 PM ET
Watch: CBS 
Betting Line: According to SBGlobal, The Cowboys are a 20-point favorite. You should take the Patriots to cover. When the Colts went into New Orleans to play a Saints team built like the Patriots they lost 62-7. The Pats should be able to run the score up in this game. 
Betting Over/Under: According to SBGlobal, the over under is 47.5. Take the over as the Patriots should run the score up to 38-41 points, while the Colts should score between 10 and 13 points.
Who Might Not Play For Indianapolis
RB Joseph Addai: Addai is probable after missing a few games due to a hamstring injury. 
TE Dallas Clark: Clark is questionable with a leg injury. 
QB Peyton Manning: Manning is still out with a neck injury. However, he is making progress and should be continuing his rehab. 

Who Might Not Play for New England
LB Brandon Spikes: Spikes missed practice on Thursday and could be out due to an knee injury. 
OL Sebastian Vollmer: Vollmer missed practice on Thursday because of a foot injury. 
RB Danny Woodhead: Woodhead missed practice on Thursday and is questionable with a leg injury.  
Fantasy Big Players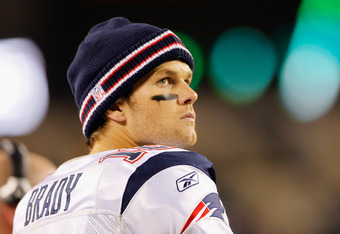 Rich Schultz/Getty Images
New England QB Tom Brady: The Colts have the worst defense in the league, and Brady has been one of the better quarterbacks this year. You have to start Brady this week, because he will throw four to five touchdowns. 
New England RB BenJarvus Green-Ellis: Green-Ellis had a good game last week against the Eagles, scoring twice. Now he faces one of the worst rushing defenses in the Colts. You should start Green-Ellis, because he will have another two-touchdown game with 65 to 80 rushing yards.
New England WR Wes Welker: With Brady bound to have a big day against the Colts, Welker will be his biggest target. Welker will see 10 to 15 targets, while catching eight passes for 149 yards and two touchdowns. 
Key to Indianapolis Win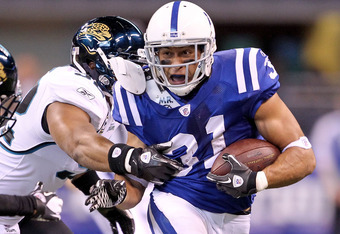 Andy Lyons/Getty Images
Give Orlovsky time to throw the ball. The Patriots do not have a good pass rush, and it should give the new Colts quarterback time to find his receivers. 
Get Donald Brown going. If they can get the running game started, it should take pressure off of the passing game to constantly make throws. 
Jam Welker on the line. Welker is going to be their best receiver on Sunday. If the Colts can hit the speedy receiver before he breaks into his passing route, it will eliminate him from the passing game. 
Key to New England Win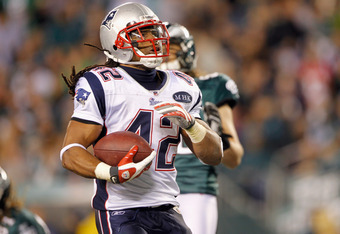 Rich Schultz/Getty Images
Put pressure on Orlovsky. With the Colts starting a new quarterback, they should be able to tee off on the Colts quarterback.
Establish a running game. Brady and the passing game should be able to do whatever they want against Indianapolis. However, if the Colts are able to slow down New England's passing game, they will have to be able to fall back on Green-Ellis and the rushing game. 
Do not take the Colts lightly. It seems like everyone is writing this game off as a guaranteed win for New England. If they take the Colts lightly, it may end up in the biggest upset this year.  
Prediction

The Patriots are the more dominant team this year. If the Colts had Manning, this game would be on Sunday Night Football instead of a 1:00 PM game. Everything is pointing towards a Patriots blowout. They have more talent, they have the better offense and they will prove to be too much for the Colts. 
New England 45 - Indianapolis 13.