Georgia vs LSU: Live Scores, Highlight and Analysis of the SEC Championship Game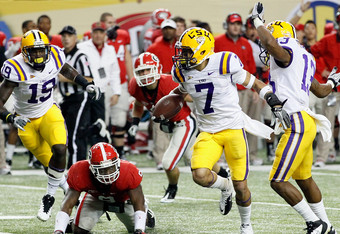 Kevin C. Cox/Getty Images
UGA 10 LSU 42 Final

The tale of two halves.
After totaling just 12 yards in the first half, LSU came out and dominated Georgia in the second half.
Mistakes from Georgia and a punt return from Tyrann Mathieu kept the Tigers in the game. Down 10-7 at the half, LSU exploded for 35 unanswered in the second half.
Two Hilliard touchdowns sandwiched a fantastic punt return from Tyrann Mathieu.
UGA was able to run the ball effectively early but stalled after that. A drop on the one-yard line and some missed passes cost them two touchdowns. Instead they had to settle for one field goal, and missed another.
LSU's win means they are the only undefeated team in the nation. They head to New Orleans for the National Championship. They figure to play Alabama, but anything can still happen.
Thank you to all those who joined, read and participated in the live blog. The game may be over, but feel free to leave any comments or reactions you had towards the game. They will be acknowledged and responded to.
In the mean time, make sure to stay on the bleacher report website. Reactions to the game are to follow, along with BCS reactions throughout the weekend.
Best,
The best teams find ways to win. LSU had 12 yards in the first half...and won by 32.
And that is a final. To the very end, LSU refused to buckle on defense. Mercy.
What is Danielson talking about? He knows that Alabama lost and is playing in the National Championship right? He knows that both teams in the National Championship will be from the SEC, right?
Keep those cameras on Les...cause he just might go 13-0 and win the SEC Championship.
Of course. Let's make fun of Miles instead of complimenting him.
By this rationale... what would happen if Oklahoma State and Virginia Tech lost tonight? Then Oregon would be No. 2 and get a bye.
It reminds me of the NFL...ya know, the one that gave the Seattle Seahawks a home game last year.
This Danielson hypothetical ought to be good.
I want to amend something I stated earlier.
For TCU to get a BCS bid then they would need to finish in top 12 of BCS standings (they are currently 18th)...

OR
Finish in the top 16 and be ranked ahead of Southern Miss and the Big East champion. A non-AQ has to win their conference, finish in top 16 and be ahead of a BCS conference champion (in this case, the Big East).
TCU will be ranked ahead of Southern Miss and West Virginia unless the unthinkable happens. Now, as stated before, they just need to move up two spots.
Oklahoma State not getting a shot at the national title because they aren't "in the 50s" in defense is one of the most asinine things I've ever heard.
Furthermore, where are the accolades for Miles? He is the one who did a great job.
For one, they didn't lose all year. Secondly, they went into Tuscaloosa and won when they were six point underdogs (and they were underdogs against Oregon).
They've won in Tuscaloosa, Morgantown, Starkville and beat Oregon in Texas and Georgia in Atlanta.
Can someone illuminate me on why Coach Richt is considered to have done a great job this season?
He entered on the hot seat any many said he needed to split his opening two games. They lost both. Since then they've won ten straight, but we're favored in every single game they played. They were favored by 31 over Kentucky and won by nine.
If not for South Carolina's injuries and slip-ups, UGA wouldn't be in the title game today.
I'm not saying Richt isn't a good coach or should be fired or anything...but he lost two games against alleged equal opponents. Then he beat 10 teams he was supposed to beat.
How does that translate into a great job?
That cannot be a horse collar. I know by rule, it is...but what are you going to do?
If he didn't horse collar him, Jefferson would have had more than 15 yards.
Doesn't really feel that LSU's defense is getting the credit it deserves. They kept LSU in the game early by allowing only 10 points. Since then, UGA hasn't had a chance to move the ball.
As a corollary to that (and then I promise I'll stop)...UGA has about as much chance to win this game as Lang had winning the re-match.
"Eye of the Tiger" is a fitting song for LSU today.
Just like in Rocky III, Rocky gets a big head and is over-confident going into his match against Mr. T. He loses, consider that the first half of this game.
Then, Rocky regains the eye of the tiger and dominates the re-match. Consider that the second half.
Luckily, Les Miles didn't have to die the way Mickey did.
If you're scoring at home, that's my second Rocky reference today.
In case you missed it, here's Mathieu's first punt return. This one went for a touchdown.
I'm looking for a highlight of the second one that set LSU up for their third touchdown. If anyone has it, I'd love if you could send it this way.
Great coverage, but anyone who thought that Murray was a top quarterback in the nation or a top player overall needs to re-think their position.
The fact that the Heisman could have a "fluid situation" shows how dumb the award is in the first place.
By the way...this is what championship teams do. They find ways to win. Offense wasn't working early. The defense and special teams were. Those units kept their teammates in the game and this is the result.
Does it strike anyone else as odd that Danielson gets more excited for a play getting reviewed than he does a touchdown run where a player drags two defenders into the endzone?
Two seconds ago he couldn't tell, now he's certain the ball hit the ground.
That's just what college needs. Adopt the "review all touchdowns" rule and make every game four hours plus.
Danielson gets way too giddy over reviews and potential reviews.
"Special Teams" - Great analysis from Verne.
It didn't go for six, but that punt return was much more impressive than the first.
This article is
What is the duplicate article?
Why is this article offensive?
Where is this article plagiarized from?
Why is this article poorly edited?

LSU Football: Like this team?