Shooting Guards the Chicago Bulls Must Pursue for a 2012 NBA Championship
December 2, 2011
Gregory Shamus/Getty Images
The 2011-12 NBA season is finally upon us and there is only one month before the beginning of the 2012 title run. That means it is time for the Chicago Bulls front office to get their act together and make the most of this shortened free-agency period and do something big to put the Bulls over the top.
Everyone knows what the Bulls need. It's no surprise. It is the same need they had at the beginning of the 2010-11 season and will be the same need they have at the beginning of this season—bring in a scoring shooting guard to start opposite of the all-world Derrick Rose. For a complete breakdown of potential shooting guards refer to this article.
Now, we all know what needs to be done, but who is available and how it can be worked out is the real question. There are a number of ways that this must needed move can happen, but the Bulls front office is going to need to be both creative and persuasive all at once.
Of course, there is the no-brainer wishlist of the three most coveted young restricted free-agent shooting guards. Aaron Afflalo is the top choice followed by Marcus Thornton and Nick Young. All three of these players represent young, dynamic shooting guards who can bring a lot of needed help to the Chicago backcourt. Both Young and Thornton can score in bunches and are solid defenders, while Afflalo is the kind of deadly three-point shooter, lock-down defender and all-around player that is a can't miss.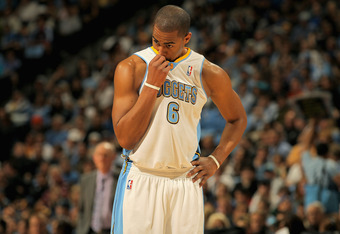 Doug Pensinger/Getty Images
However, the problem is that their current teams know that as well as the Bulls do and will be unlikely to part with their services.
If their current teams were somewhat willing to let any of those players walk, it would be at a price Chicago could afford with some creative management.
The next group would be the unrestricted free agents headlined by Jason Richardson. Though his best days are probably behind him, Richardson is a serviceable defender and can be a great scorer, especially from behind the arc. He would add the necessary scoring and floor spacing Chicago is desperate for, as well as the size the Bulls' guards lack.
However, the problem with a Richardson signing is that his price tag probably puts him out of the Bulls spending range. If he would accept the mid-level exception and a two-to-three year deal, I could see management making it happen.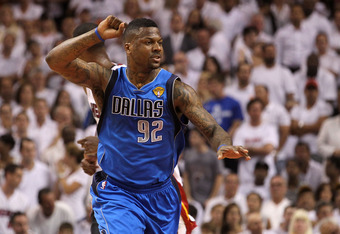 Ronald Martinez/Getty Images
Other unrestricted free-agent targets would be Caron Butler, Shannon Brown, Jamal Crawford, DeShawn Stevenson, Josh Howard, Micheal Redd, Vince Carter and Tracy McGrady. Butler has expressed interest in joining the Bulls and at the right price, he could be worth the risk, even after coming off of a season ending injury. Butler could start at the two and play some three when Deng needs a breather. He is a former All-star and a player on Chicago's radar.
The Bulls should have zero interest in Crawford even though I am sure they will give him a look. He is not a complete enough player and will cost too much for what he is worth. Shannon Brown could help and would be an upgrade on Bogans as the starter, but I don't think he is the type of player who could put the Bulls over the top.
Josh Howard is another interesting option and depending on his health, he could be worth the gamble if the price is right. He too is a former All-star and someone who could add the size and scoring the Bulls require.
Stevenson would also be an interesting candidate since his price tag shouldn't be too high and because he plays lock-down defense (see his defense of LeBron in the Finals) and could space the floor for Rose. Stevenson is coming off of a championship season and is hungry for another.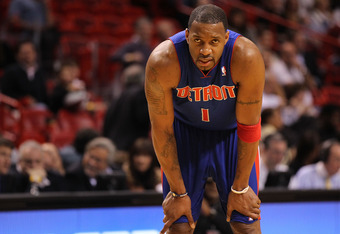 Mike Ehrmann/Getty Images
Redd would be a great player off the bench to come in and knock down shots since he is still one of the deadliest shooters in the NBA, regardless of his injury problems. However, he isn't the kind of player who could compete on both ends of the floor for an entire game (especially since he would probably get injured) and wouldn't be the starter the Bulls need. If he came in at a veteran minimum on a two-year deal, the Bulls should use the amnesty on Korver and free up more money for signing one of the three young restricted free agents.
Vince would be an option, but is he worth the headache? Probably not. Though his scoring ability and his ability to create his own shot would be more than welcome, I'm not sure his attitude would. His size is a plus, but he isn't known for wanting to play defense which is a must here in the Windy City. I would rather see Carter in a Bulls uniform over Crawford or J.R. Smith, but he is much lower on the totem pole than most of the players addressed above.
In the end, I don't see the Bulls being able to afford to sign any of the young restricted building blocks (except if they use amnesty on Korver and sign Redd at the veteran minimum - an idea that grows on me every day). I think the next best option would be to find a way to sign Butler, Howard or Stevenson to be the starting two guard and to give Deng a spell at the three.
If Chicago went that route then I think their next move to transform that signing into a championship move would be to lure Tracy McGrady to come to Chicago and play backup point guard, reserve shooting guard and even log some minutes at small forward. McGrady is big, can still create his own shots and score. He also proved last year that he could be a solid distributor at the point.
A combination of Butler, Howard or Stevenson with McGrady would give the Bulls backcourt added scoring, would help to space the floor for Rose and would give the Bulls much-needed size to deal with the big shooting guards in the league, namely Dwayne Wade.
Without the services of Afflalo, Young or Thornton, a Chicago roster as outlined below would give the Bulls the versatility to have big lineups, small/fast lineups, defensive lineups and scoring lineups. The Bulls would be able to change their lineup to matchup with any team in the NBA and would have the deepest roster 1-12 in the league:
Starters:
PG: Rose
SG: C. Butler, Howard or Stevenson
SF: Deng
PF: Boozer
C: Noah
Bench:
PG: C.J. Watson and McGrady
SG: Ronnie Brewer, Korver and McGrady
SF: J. Butler, Korver and C. Butler, Howard or Stevenson
PF: Taj Gibson
C: Omer Asik and Kurt Thomas (need to resign Kurt)
Those are just my thoughts. Though I am not the Bulls GM, I know something needs to be done about the Bulls shooting guard situation for Chicago to hoist its 7th NBA Championship Trophy.