Bobby Valentine Meets the Press: Why This Was Different
December 2, 2011
Elsa/Getty Images
While it's highly unlikely that anyone missed the press conference to introduce new manager Bobby Valentine yesterday at 5:30 p.m. in Boston. It does seem as if one unique aspect of the Bobby V intro has sort of flown under the radar. 
Yesterday Bobby Valentine became the first manager in the modern history of the Boston Red Sox to be introduced without having to answer questions about a curse. No real Bambino drama. No questions about when the Red Sox will finally win a World Series. 
When Terry Francona took over the Boston Red Sox in the offseason between the 2003 and 2004 seasons things were a bit different. 
It had been (as if anyone needs reminding) 86 years since the Boston Red Sox had won a World Series Title. 1918 if I recall. 
The 2003 season had ended in a manner possibly more brutally heartbreaking than the 2011 season had. A 5-2 lead with one out in the bottom of the eighth inning and Pedro Martinez on the mound in Game 7 of the ALCS against the New York Yankees in Yankee Stadium. 
Needless to say, things didn't turn out so well. This wasn't Jonathan Papelbon's fault, there was no John Lackey, no Carl Crawford, Terry Francona hadn't lost control of the clubhouse either. Grady Little left Pedro Martinez in for too long and the Yankees made him pay. Then Aaron Boone ended the game, the series and the Red Sox season with an eleventh inning walk-off home run.  
That's because if memory serves me correct the Red Sox were dealing with a "curse", brought on by the ill-timed sale of baseball icon Babe Ruth to the New York Yankees. The 2003 Boston Red Sox got an HBO documentary made about their demise while the 2011 Boston Red Sox got a Boston Globe Article with as many on-the-record sources as Watergate had and without a catchy pop-culture nickname like "Deepthroat" to go with it.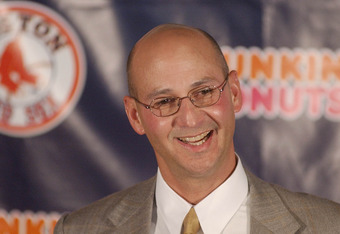 Jessica Rinaldi/Getty Images
That's because there was noting mythical or amazing about the Red Sox collapse in 2011—they just stunk for a month. There's also not going to be anything amazing or mythical about a 2012 Boston Red Sox World Series Title. They've got the talent and Bobby Valentine unlike many managers before him is walking into an organization that knows how to win—they've done it twice in the last eight seasons. 
No curses.
No 1918.
No Problem.