Chiefs vs Bears: How Did Both Teams Forget to Sign a Decent Backup QB?
December 2, 2011
Thearon W. Henderson/Getty Images
This game will feature a battle between two backup quarterbacks—Tyler Palko versus Caleb Hanie. This obviously isn't the most compelling game among all contests in Week 13.
Both teams felt good at the quarterback position. Bears general manager Jerry Angelo remained with Jay Cutler while Chiefs general manager Scott Pioli kept Matt Cassel.
Both quarterbacks had a disappointing ending to the 2010 season. The Chiefs and Bears both reached the playoffs due to sterling performances from their respective quarterbacks. In the end, Cassel struggled against the Baltimore Ravens in the wild-card round, throwing for three interceptions. Cutler threw one interception against the Green Bay Packers and left the NFC Championship match due to an injury.
Today, Cassel and Cutler find themselves watching their backups play.
In Week 10 against the Denver Broncos, Cassel's offensive line did him no favors in pass protection, allowing him to be sacked four times and knocked down 12. Cassel suffered a finger injury on his throwing hand after being hit by Broncos linebacker Von Miller in the fourth quarter and is out for the season.
In Week 11 against the San Diego Chargers, Cutler broke his thumb and told the media on Wednesday that he believes he is out for the season. Cutler's injury took place when he tried to prevent a touchdown on a 64-yard interception return by Chargers cornerback Antoine Cason in the fourth quarter. Cutler was blocked by linebacker Donald Butler and was favoring his thumb following the play.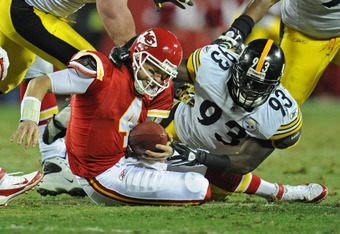 Peter Aiken/Getty Images
Chiefs head coach Todd Haley and Bears head coach Lovie Smith face a big challenge. While both teams are still in position to earn a spot in the postseason, they must do so with a backup quarterback.
The problem is, neither team made the attempt to sign a viable quarterback behind their starters.
Palko has been nothing but a journeyman in his career. He was chased out of the Canadian and United Football Leagues after coaches were more satisfied with the performance of other quarterbacks.
Hanie has been with the Bears since entering the league in 2008. He received a lot of face time in front of the world during the NFC Championship game against the Packers when he had to step in after Cutler and Todd Collins left the game with injuries.
Palko has thrown six interceptions and once fumbled the ball away in the past two games since taking over as the starting quarterback. He has yet to find his first career touchdown pass as the Chiefs have scored only once in their past 45 drives in the span of four games.
Hanie has two touchdown passes and three interceptions. All of them came against the Oakland Raiders last week in his first career start as the Bears lost and dropped to 7-4.
This Sunday, one backup quarterback will win. But will it carry over throughout the month of December when many teams go into "must-win" games in order to keep their postseason chances up?
This game could be a battle of which defense will have the better game (or which quarterback limits his mistakes the most). This game will also be a perfect example of why NFL teams must have good depth at the backup quarterback position.