BCS Buster Alert: How the BCS Implodes with a Georgia Win over LSU
December 2, 2011
Kevin C. Cox/Getty Images
There is a perfect storm on the horizon for the landscape of college football, and if all scenarios interlace together in a glorious splendor of chaos and confusion, the NCAA and BCS could implode before our very eyes in what could finally prove to be the perennial end all argument for a playoff system implementation in Division I football.
All of this, of course, is contingent on one major factor and scenario playing out on Saturday.
At the heart of this storm is the SEC championship which features the clear and undisputed No. 1 team in the nation LSU going up against the 14th-ranked Bulldogs of Georgia.
I think it's safe to assume at this point that even the fairest weather fans can acknowledge that with a win LSU will rightfully find itself in the BCS title game, and in turn eliminate virtually all drama that could be tied into Saturday's action.
Thus also completely negating anything I say from this point forward…
However…
What if Georgia can do the unthinkable and unseat the Tigers to claim the SEC crown?
While dominance in a given sport is great for stability and helps negate any and all headaches that can arise from the glorious cluster of confusion that is the BCS, imagine the pandemonium that would ensue on Saturday, not just in Athens, Georgia, but across the nation.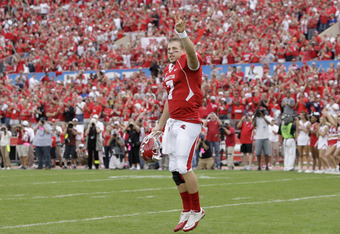 Thomas B. Shea/Getty Images
An LSU loss opens up the door for more arguments than the BCS creates questions.
Suddenly with Georgia as the SEC Champion, and heading to the Sugar Bowl, LSU would still dominate talks for the national championship game, but at worst simply acquire an automatic-at-large bid therefore possibly eliminating Alabama from any possibility of playing in a BCS game.
That would only be the lighting of the fuse…
Suddenly Houston's Conference USA Championship game, played at noon, could potentially be carrying national title implications. If Case Keenum and the Cougars upend Southern Miss and finish as the only undefeated team in the land who is to say that they haven't earned the right to play for the national title?
Oklahoma State would then have a valid claim to a title shot should they corral Oklahoma for the first time nine years, they currently sit third and fifth in both human polls and third in the BCS whereas Houston is currently six/seven and sixth in the BCS.
However, a loss by Oklahoma State suddenly brings Stanford, fourth across the board, back into the mix for the national title as logic would imply that they move as high up as No. 2 in the rankings potentially one slot ahead of LSU who could fall to third with an idle Alabama, who is not even playing for their conference title, moving up from No. 2 to No. 1.
Not to mention vaulting Oklahoma into the Big XII's automatic BCS berth, and potentially leaving Oklahoma State on the outside looking in without a BCS game; imagine being in that scenario where a win could put you into the national title game regardless of what LSU does, yet a loss could have you playing outside the BCS.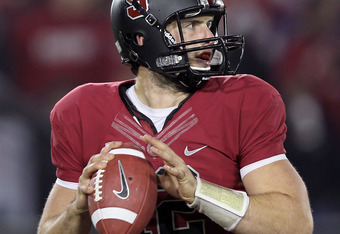 Ezra Shaw/Getty Images
If that were to happen, LSU could potentially find themselves out of the mix completely in regards to a BCS game, whereas Georgia heading to the Sugar Bowl would then set the stage for Alabama to take over as No. 1 and play for the national title without having played for the conference championship and losing to LSU earlier in the season.
Imagine the explanation that would be required should LSU lose, then still play for the national title.
Not only would the Crimson Tide faithful be up in arms, but the state of Georgia could riot based off the fact they would have a legitimate gripe considering they just beat LSU; correct me if I'm wrong, but I don't think it is written anywhere that teams can now clinch BCS title game slots before even playing their final game.
Still with me?
All that being said, we haven't even touched on the ACC Championship between Virginia Tech, Nos. 3 and 5 in the human polls and fifth in the BCS, and Clemson.
A win by the Hokies, coupled with an LSU loss could merit serious consideration for Frank Beamer's squad to leapfrog both idle Stanford and Alabama and join a potentially undefeated Houston team and Oklahoma State squad already laying claim slots in the BCS National Championship Game.
What's even more mind boggling in that scenario is that a win coupled with an LSU loss could vault the Hokies to the No. 1 ranking in the USA Today poll, assuming Alabama moves to No. 1 in the AP.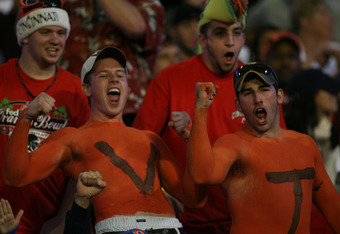 Marc Serota/Getty Images
Then you engage in the age-old question as to whether or not one-loss teams from one of college football's major conferences trump the achievements of an undefeated team from a smaller conference.
Not to mention the conundrum that would exist with Houston being undefeated, Alabama and Oklahoma State as Nos. 1-2 in the AP poll, and Virgina Tech as the likely No. 1 in the USA Today poll.
As if all of this wasn't enough to really decimate some brain cells, try to fathom what an idle Boise State squad could jump into if Houston, Oklahoma State and Virgina Tech all bite the bullet on Saturday.
They could feasibly move into the top four without playing a game however unlikely it is, and they would probably need some help from UCLA for that to be reasonable, but it remains a possibility.
Speaking of UCLA, its matchup with Oregon, while not all that impressive on paper, could have big-time BCS implications if the Ducks triumph as most of America believes they will.
Oregon would then get the Pac-12 slot in the Rose Bowl, playing the winner of the inaugural Big Ten Championship game between Michigan State and Wisconsin, with Stanford then most likely taking an at-large bid to possibly play in the Fiesta or Sugar Bowls; that is of course if both LSU and Oklahoma State both don't lose on Saturday which could then vault the No. 4-ranked Cardinal into a potential top two slot in the BCS standings.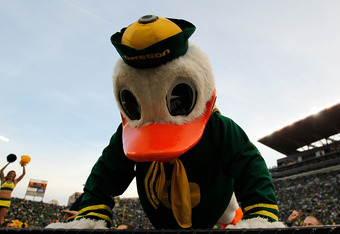 Jonathan Ferrey/Getty Images
With so much hype surrounding a potential LSU-Alabama rematch, it almost seems blasphemous to think that we could potentially witness a Virginia Tech-Houston national championship game, or an Oklahoma State-Alabama contest for that matter…
Or Houston-Alabama…
Or Virgina Tech-Oklahoma State…
Or the possibility that two idle teams, Stanford and Alabama, who won't even be playing for their conference championships could justifiably move into the one and two slots for the national title game if those around them fall on Saturday.
Did anyone else's head just explode?
Not to throw more on my readers, but I would be remiss if I didn't throw in a what-if to this argument, and that what-if would be a one-loss Big Ten team throwing their name into the hat.
Fortunately for us, however, the Big Ten decided not to get tangled up in this mess and join the Big East as mere asterisks and footnotes on this potential confusion that could arise should LSU fall on Saturday.
Then again, all of this is nothing more than a moot point encased in speculation and hypotheticals should LSU go out on Saturday and do what we all expect and that is dominate Georgia from the coin toss to the final whistle.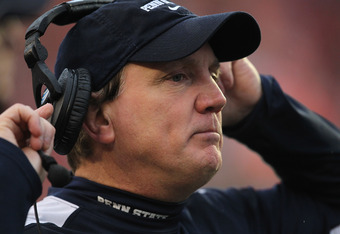 Jonathan Daniel/Getty Images
It all seems just a little too perfect….
A little to organized and convenient….
Efficient if you will….a little to efficient for the BCS.
I know that this Saturday at 4 p.m., Georgia has a chance to turn the world of college football upside down if the Dawgs can pull out a win.
In the end, all that excitement…well…that's just what the BCS is all about!