Chicago Bears: 9 Players Critical to Beating the Kansas City Chiefs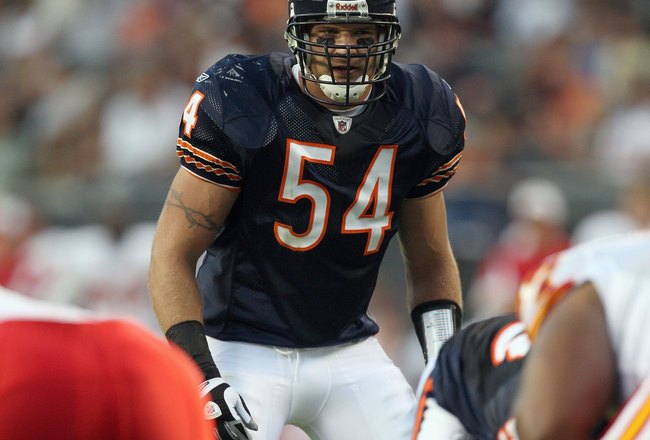 Jonathan Daniel/Getty Images
Brian Urlacher and Julius Peppers. Yup, they're crucial for Chicago.
Devin Hester, Matt Forte and Earl Bennett. The Bears need them, too.
In fact, it's going to be a team effort the rest of the year while Jay Cutler rehabs a broken thumb.
But here are the nine Bears critical to victory over the Kansas City Chiefs.
No. 9: Devin Hester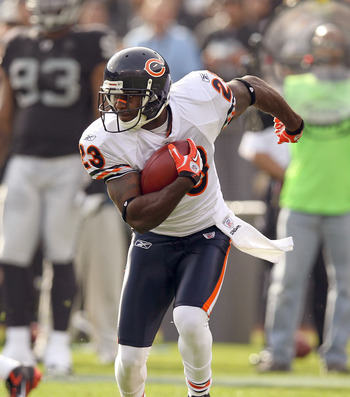 Ezra Shaw/Getty Images
Why ranked so low?
Hester's shin injury has limited him offensively, causing pain when planting and turning. That makes it hard to run sharp routes.
Hence, the past few weeks, Devin has contributed on punt returns but is mostly a decoy on kicks. And he can't line up on offense 40 times a game against tough defensive backs.
He's hoping to get some snaps on offense this week, and possibly some kick returns. Assuming his offensive contributions are small, he needs to make the most of his special-teams opportunities.
The Bears don't need him to score, just provide decent field position.
No. 8: Johnny Knox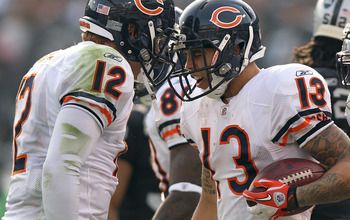 Ezra Shaw/Getty Images
Whatever Hester can't provide, Johnny Knox has to make up.
Knox has the most rapport with quarterback Caleb Hanie, due to their time together on the second team offense.
And he was brilliant last week against Oakland, catching four passes for 145 yards, including a touchdown, and returning four kicks for 133 yards.
Knox and Hester don't often reach those numbers combined.
The Bears will need increased production across the board while Jay Cutler recovers, and it's unrealistic for Knox to replicate last week's totals.
But five catches and a touchdown (on offense or special teams) would give the Bears a needed boost against Kansas City.
No. 7: Earl Bennett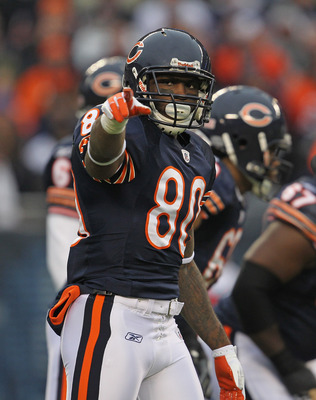 Jonathan Daniel/Getty Images
Okay, this is the third receiver in a row.
But Bennett might be the most important. Especially for Caleb Hanie.
Earl "Third Down" Bennett is often the hot read or safety valve in the Mike Martz offense. That's why he gets so many looks on third down: defenses are most likely to send pressure, and his number gets called.
With a young quarterback, that's even more likely.
Bennett will need to beat press coverage, bump and run, and keep his body in good position against the defense. And he can't drop anything, or the Bears offense will sputter and punt its way into trouble (again).
But that's why Martz made him the hot read/safety valve receiver in the first place.
He doesn't drop anything.
No. 6: Marion Barber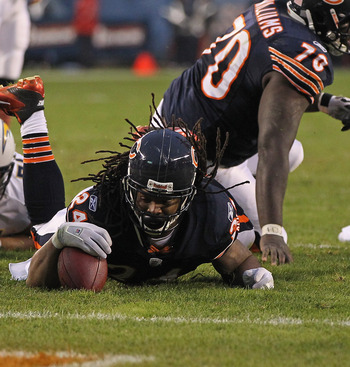 Jonathan Daniel/Getty Images
Barber had 63 yards on 10 carries against the Raiders.
Marion still runs violently, and punishes defenders with a nose-down, shoulders-first attack.
At one point in the game, he had 27 yards on three straight attempts.
Truth is, the Chiefs would rather start him than any other running back on their roster. They'd easily trade Kyle Orton for him.
But he's the perfect complement to Matt Forte, who works best with fresh legs and can use a rest this late in the season.
And the Bears need Barber.
If he comes close to his rushing totals against the Raiders, it will mean a long afternoon for a tired and banged-up Kansas City defense.
No. 5: Charles Tillman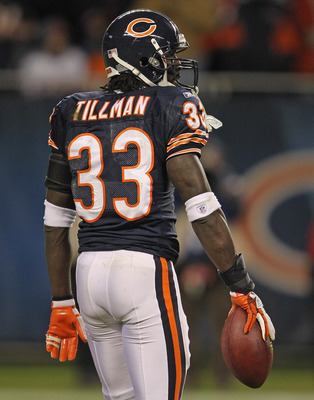 Jonathan Daniel/Getty Images
Tillman was great against Charles Johnson.
Then lousy against Vincent Jackson.
And just okay against Darrius Heyward-Bey.
But the Bears need Tillman at his best against Dwayne Bowe, a strong, physical receiver about his size, and the only legitimate threat in the Chiefs' passing attack.
The matchup favors the Bears' cornerback, in part because Bowe's quarterback is Tyler Palko.
And it's hard to imagine Dwayne can beat Tillman consistently enough to get open for a rookie duck-tosser like Palko.
Even so, this is a matchup to watch.
No. 4: Matt Forte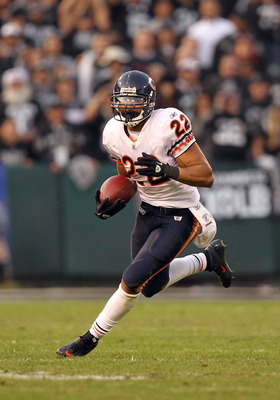 Ezra Shaw/Getty Images
Was Forte absent against Oakland?
No, he was present. But Caleb Hanie was too busy throwing interceptions to keep him consistently involved in the offense.
Actually, that's not fair. One of the interceptions Hanie threw was intended for Forte.
So, it seems everyone knows Matt needs to get the ball.
That's good.
Hopefully, Forte will get the ball handed to him from two yards behind the line of scrimmage more often this Sunday. It's less likely to be intercepted that way.
And 20 rushing attempts from Forte probably means game over for the Chiefs.
No. 3: Brian Urlacher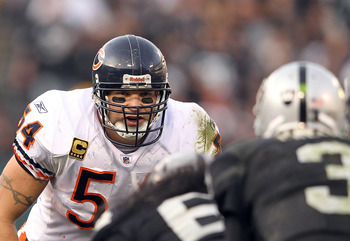 Ezra Shaw/Getty Images
Urlacher will be called upon to shut down Kansas City's running game.
Honestly, the Chiefs will have a hard time throwing with a backup quarterback and few receivers on the roster who aren't injured.
So look for Kansas City to run the ball on offense and hope they don't make mistakes.
Then remember it's up to Urlacher to cause them.
Brian and the defense will be focused on turnovers, because the Hanie-led offense needs as many chances as possible to develop a rhythm (and get lucky).
Frankly, it wouldn't be surprising to see the Bears' defense outscore the Chiefs' offense this week: They'll be after the ball like a triple-digit contract extension.
No. 2: Julius Peppers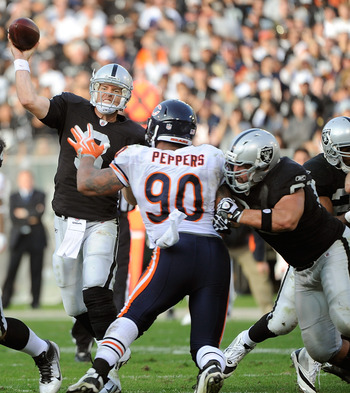 Thearon W. Henderson/Getty Images
Peppers will need to provide pressure and get penetration.
With the Bears offense unlikely to develop sustained drives, the Chiefs are sure to get extra chances to move the ball.
But if Peppers can get into the backfield, keep sweeps contained to the sideline, and generate a pass rush when Kansas City is forced to throw, Chicago should stifle the extra chances.
Screen passes will be the Chiefs' main weapon for avoiding or slowing down Peppers. But he's been good at chasing down running backs from behind, even when the play is to the opposite side of the field.
It's one reason he'll be in the Hall of Fame, regardless of his sack totals.
And with Kansas City poised to run outside the ends as often as possible, the Bears will need another one of his prime-time performances.
No. 1: Caleb Hanie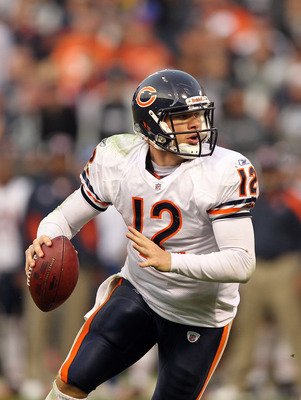 Ezra Shaw/Getty Images
Hanie doesn't need to throw for 250 yards and two touchdowns, like he did against the Raiders.
More importantly, he doesn't need to throw three interceptions.
And the Bears would gladly take half his offensive output if it meant he threw half as many picks. Truth is, for Caleb Hanie to step up and lead the Bears he needs to sit back and do less.
Hand off more.
Run for it if no one is open. (Throw it away if he can't run for it.)
And he must remember that every time he lets go of the ball he's giving the opponent a chance to end up with it.
He doesn't want to call himself a "game manager," but the best thing he can do for the Bears is exactly that. Manage the game.
Considering how he played against Oakland, it's crucial to Chicago's chances.
Keep Reading

Chicago Bears: Like this team?