Arizona Diamondbacks: Creating the Perfect Lineup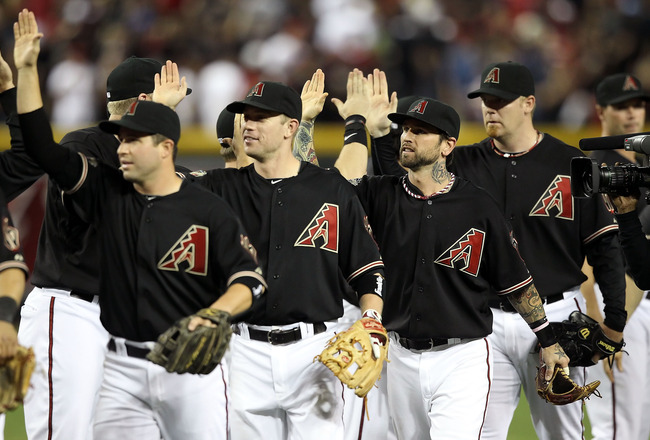 Christian Petersen/Getty Images
It's a consistent theme around the major leagues: Lineup turnover is unavoidable due to injuries, promotion, and trades.
The most common lineup card of Arizona Diamondbacks manager Kirk Gibson was posted just nine times (Roberts leading off, Johnson second, then Justin Upton, Stephen Drew, Chris Young, Miguel Montero, Juan Miranda seventh and Gerardo Parra eighth). The second most popular line-up occurred just six times.
By the end of the season, the most common grouping of players in the heart of the lineup was Justin Upton third, Miguel Montero fourth, Paul Goldschmidt fifth, and Chris Young batting sixth.
There's absolutely nothing wrong with this formation, but I would prefer an order that grouped similar players.
Pairing Upton and Young together would have value, because the club could then have two speedy runners on base at the same time. With the grouping above, you have two base-cloggers in between Arizona's swiftest runners, which would just create roadblocks.
I'd rather have the option to create havoc on the base paths. I would therefore suggest the modest change of batting Chris Young fourth, and bringing Montero and Goldschmidt down one position each.
With the addition of decent runners with respectable on-base numbers in the No. 1 and 2 holes, you then have a stretch of four hitters who can move around the bases with ease.
Speaking of the No. 1 spot, the leadoff role was not properly filled in 2011, with the likes of Willie Bloomquist and Ryan Roberts seeing significant time there.
Neither player is well-suited for the spot; both are really part-time players.
With the current available players on the roster, Gerardo Parra could be installed in the No. 1 spot. He has the best mix of speed, walk rate and on-base percentage, leading Roberts, Hill, and Drew).
Ideally, though, the club should be on the lookout for a true leadoff hitter during the MLB winter meetings.
No. 1 Hitter: Gerardo Parra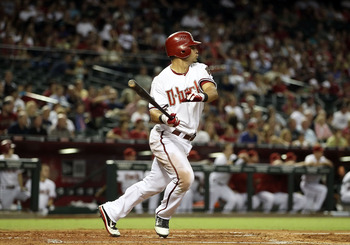 Gerardo Parra
Christian Petersen/Getty Images
Gerardo Parra is the only everyday player on the roster that provides important lead-off skills like speed, decent on-base numbers and the ability to hit for average.
His .357 on-base percentage in 2011 was respectable, and he could steal 20 bases, if motivated to do so.
No. 2 Hitter: Aaron Hill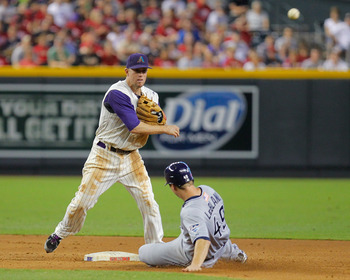 Aaron Hill
Chris Pondy/Getty Images
Acquired from the Toronto Blue Jays during the 2011 season, Hill provides a solid bat with the necessary skills to succeed as the No. 2 hitter in the lineup.
He just needs to avoid trying to pull everything. He's shown in the past that he's not afraid to sacrifice himself to advance the runner.
No. 3 Hitter: Justin Upton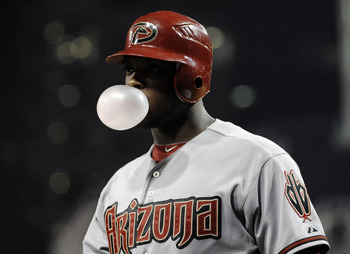 Justin Upton
Denis Poroy/Getty Images
A 30-30 threat with the ability to hit .300, Upton is the perfect No. 3 hitter. The scary part is that he could still get even better in 2012.
He needs to improve his hitting with men on base—he has a .239 average in the situation, and 21 of his 31 home runs came with the bases empty.
No. 4 Hitter: Chris Young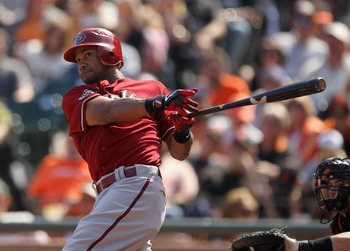 Chris Young
Ezra Shaw/Getty Images
Although not the perfect No. 4 hitter because of his propensity for strikeouts, Young matches up well with fellow speedster Justin Upton batting third.
The two players could create havoc on the base paths and distract pitchers while Miguel Montero and Paul Goldschmidt stroll to the plate.
Young is another 30-30 threat.
No. 5 Hitter: Miguel Montero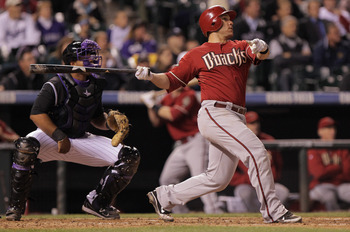 Miguel Montero
Doug Pensinger/Getty Images
Miguel Montero has proven over the past three seasons that he's one of the top hitting catchers in the National League—if not the majors as a whole.
He has the potential to hit 20 home runs in 2012, while providing protection for Chris Young.
Montero hit .316 with men on base and .349 in high-leverage situations.
No. 6 Hitter: Paul Goldschmidt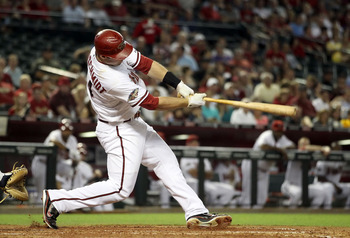 Paul Goldschmidt
Christian Petersen/Getty Images
Sophomore Paul Goldschmidt will look to recreate his rookie magic while providing power from the No. 6 hole in the lineup.
He popped eight home runs in 48 regular season games, and then hit .438 with five doubles in four playoff games.
No. 7 Hitter: Stephen Drew
Stephen Drew
Christian Petersen/Getty Images
The club will look for a bounceback season from the oft-injured, but talented Stephen Drew.
A slot in the seven-hole allows him to work his way back into game shape without too much pressure.
No. 8 Hitter: Ryan Roberts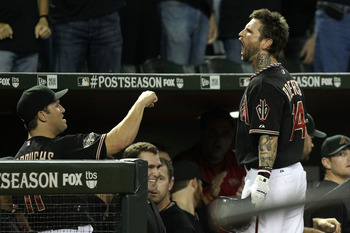 Ryan Roberts
Christian Petersen/Getty Images
Ryan Roberts will provide pop from the No. 8 hole, after being miscast as a leadoff hitter in 2011 due to his decent on-base average.
He doesn't really hit for average on a consistent basis, and last year may have been a career season.
The club should be looking to upgrade on the well-traveled player during the offseason.
Keep Reading

Arizona Diamondbacks: Like this team?