Texas vs. Baylor: Latest Spread Info, BCS Impact and Predictions
December 1, 2011
Sarah Glenn/Getty Images
This Saturday, the Baylor Bears look to build a win streak over in-state rival the Texas Longhorns, as well as finish the regular season with nine wins, something they haven't done since 1986.
Robert Griffin III and company ended a 12-game losing streak against the Longhorns last year, and there's a very strong chance the Bears make it two in a row over Texas.
Both teams have had their ups and downs this season, and the winner of this game secures a spot in a much better bowl game. A concussion last week could limit RGIII's production, but since this is his last shot at moving up the Heisman rankings, it's hard not seeing him out on the field come Saturday.
With that said, let's take a look at some specifics of this Big 12 showdown.
When: Saturday, Dec. 3 at 3:30 p.m. ET
Where: Floyd Casey Stadium, Waco, Texas
Watch: ABC
Spread
The Bears are favored at -3, which is about right. They're playing at home, but they haven't proven they're a dominant team this year. The defense can be scored on, but the offense is strong enough to cover the spread on Saturday.
Over/Under 
The over/under is set at 64, and I actually like the under here. I don't think the Longhorns offense will reach the 30's, and the Bears aren't going to blow them out by a huge margin.
Key Injuries
For Baylor, according to USA Today, DB's Chance Casey (ankle), Demetri Goodson (ankle) and Tyler Stephenson (ankle) are all questionable. Robert Griffin III (concussion) is probable.
For Texas, according to USA Today, OL Sedrick Flowers (shoulder) is out indefinitely.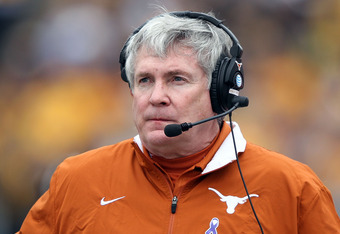 Jamie Squire/Getty Images
BCS/Top 25 Implications
The Longhorns are surprisingly still ranked in the BCS despite being 7-4 on the year.
The BCS sure is strange. A win on Saturday would solidify Texas' place in the Top 25 and put them in a much better bowl game.
Baylor needs this win to give the program great confidence moving forward. For quite some time, the Bears have struggled against the mighty Longhorns, but on Saturday, they have a chance to stick it to them and extend the win streak over Texas to two games.
Keys to Texas Win
With the extra time to prepare, the Longhorns have to make sure they'd ready to slow down RGII. He's a dynamic player, but a bad game puts the Bears in grave danger of losing.
On offense, Texas needs to have a strong performance from freshman running back Malcolm Brown, who hasn't been the same since coming back from an injury. In his last two games, Brown has only rushed for a total of 62 yards. Prior to getting hurt, Brown had back-to-back games of 100 plus rushing yards.
Again, it all comes down to the Longhorns defense needing to stop RGIII from destroying them.
Keys to Baylor Win
With the No. 2 offense in the country, the Bears just need to keep doing what they do. It isn't just RGIII that can take can take of business, as the Bears have a 1,000-yard running back and receiver.
Senior running back Terrance Ganaway rushed for 246 yards last week when RGII had to leave the game early.
It's uncertain how effective RGIII will be on Saturday, which means Ganaway and senior receiver Kendall Wright have to step up.  
If RGIII is at full strength, then he shouldn't have any problem shredding the Longhorns secondary.  
Prediction
The Longhorns will put up a good fight, but in the end, their offense won't be able to hang with the Bears. They'll keep Baylor in check for a good portion of the game, but struggling to put points on the board will be their downfall.
Baylor 31, Texas 20