MLB Free Agency: Pittsburgh Pirates Make a Slew of Moves
December 1, 2011
Jeff Curry/Getty Images
The Pittsburgh Pirates are back at the trash heap, gleaning what they can from the bottom of the free-agent pile. Prolific in number are these moves that, mostly, involve unknown names.
The team signed utility players Nick Evans and Jake Fox, outfielder Brandon Boggs, starting pitcher Shairon Martis, minor leaguers Kyle Cofield, Jose Diaz and Stefan Welch, and claimed minor league pitcher Jeremy Hefner from the San Diego Padres. They also released outfielder Xavier Paul, and lost catcher Matt Pagnozzi to free agency and catcher Brian Jeroloman to a waiver claim.
Try saying all that in one breath.
Here's a breakdown of each of those moves.
Former New York Met Nick Evans, 25, has bounced around the majors and minors each of the past four seasons, never quite finding a place on the team's roster where he could stick.
In 2011, he had his longest big-league jaunt, 59 games, and hit .256 with four home runs and 25 RBI.
He is a decent power hitter with adequate defensive ability and minimal speed—he is the type of guy who, given the chance, could be a solid utility player off the bench.
A former third-round draft pick, the power-hitting Jake Fox has never really lived up to the promise he has shown in the minor leagues.
Though he has displayed adequate power at the big-league level (11 home runs in 2009, for example), the 29-year-old Fox has never hit for a high batting average and his on-base percentage has always been lackluster.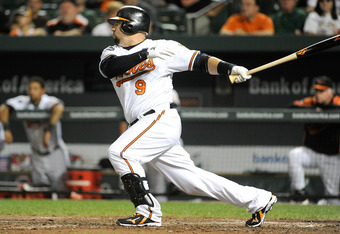 Greg Fiume/Getty Images
He spent most of 2011 in the Baltimore Orioles' minor league system, hitting .275 with 12 home runs and 58 RBI in 68 games. He also spent 27 games in the big leagues, batting .246 in 61 at-bats.
Brandon Boggs, too, has good power and is also quicker on the base paths. However, despite these upsides, he has struggled at the Major League level with a .209 average over the past four seasons.
The 28-year-old spent most of 2011 with the Milwaukee Brewers' Triple-A affiliate, the Nashville Sounds, hitting .241 with nine home runs and 38 RBI. He will likely settle into a backup role.
Right-handed pitcher Shairon Martis has not appeared in the major leagues since 2009, when he made 15 starts for the Washington Nationals and went 5-3 with a 5.25 ERA, yet he is still only 24 years old.
The young gun had an impressive season at Double-A last year, going 8-6 with a 3.05 ERA and striking out 146 batters in 133 innings. It wouldn't be surprising if he competed for a role in the starting rotation in 2012.
Pitcher Kyle Cofield, 24, appeared in 17 games as a Chicago White Sox farmhand in 2011, winning a game and posting a 3.30 ERA.  
Hurler Jose Diaz, a nine-year minor league veteran, has always performed well at that level, yet has never earned a shot at the major leagues.
The 27-year-old posted a 2.62 ERA with 23 saves in 48 games while in the Baltimore Orioles' minor league system last year, averaging more than a strikeout per inning. In his career, he is 13-16 with 71 saves and a 2.87 ERA in 225 games. It would be unlikely for Diaz not to reach the major leagues at some point in 2012.
Stefan Welch is a strikeout-prone first baseman with decent power and occasional speed. Last year, the 23-year-old hit .271 with 16 home runs and 53 RBI for the Single-A St. Lucie Mets in the New York Mets' system. He's just minor league filler.
After a solid 2010, in which he went 11-8 with a 2.95 ERA in 28 starts for the Double-A San Antonio Missions in the San Diego Padres' system, minor leaguer Jeremy Hefner struggled a bit last year, as his ERA ballooned over two points to 4.98 while at Triple-A. Clearly, the Pirates saw enough in him to acquire him anyway.
All of the aforementioned players, though hardly household names, have the potential to see considerable big-league time in 2012—they are playing for the Pirates, after all.
Finally, the Bucs bid adieu to outfielder Xavier Paul and catchers Matt Pagnozzi and Brian Jeroloman.
Paul spent all of last season riding the pine for the Pirates and Dodgers, hitting .255 with 16 stolen bases in 128 games. Though he isn't a superstar, his speed and defensive versatility should find him another big-league job.
Pagnozzi has shown a decent bat during his big league cups of coffee by hitting .310 in his short career. However, that number is misleading and is caused by a small sample size. At the minor-league level, he is a .220 hitter who relies more on his defense than his offense. He spent five games with the Pirates last year, hitting .250 in eight at-bats.
The Bucs originally claimed Jerolomon, a career minor leaguer who has yet to make his major league debut, from the Toronto Blue Jays, who quickly re-claimed him from the Pirates after he was designated for assignment. He owns a .245 minor-league batting average.