Urban Meyer Hire Feels Like the Right Move for Ohio State, Upon Further Review
December 1, 2011
Jamie Sabau/Getty Images
On Nov. 3, I published an article titled "Luke Fickell Should Be Ohio State's Full-Time Head Coach, Without Interim Tag." In that article, I praised Ohio State head coach Luke Fickell, stating that he had met all reasonable expectations and should be rewarded with a long-term contract.
Now on Nov. 28, 25 days later, the Ohio State Buckeyes have signed Urban Meyer to a six-year, $24 million contract to be the next head coach of Ohio State football.
Circumstances have changed considerably since I wrote the previous article. At the time, the Buckeyes were coming off of their biggest victory of the season, a 33-29 upset win over Wisconsin. With that win, the Buckeyes' record improved to 5-3, and they had worked their way back into the Big Ten championship race.
At that time, the Buckeyes had been improving steadily since the beginning of the season, and with that big victory it seemed that they had turned the corner on their season, with a chance to win out.
There was no reason to expect that everything would turn back downhill from there. It did.
Following an uninspiring two-touchdown victory over Indiana, a team that did not win a single game against an FBS opponent this year, the Buckeyes lost their final three games of the season. The Buckeyes suffered an overtime defeat at Purdue, lost their final home game of the season to Penn State and then, worst of all, lost on the road to bitter rivals Michigan for the first time in eight years.
With those three losses, the Buckeyes finished the season at 6-6, a horribly disappointing finish having still been in the chase for the conference championship four weeks earlier. A season that ends with the Buckeyes winning only half of their games and a loss to Michigan is simply not acceptable in Columbus.
Joe Robbins/Getty Images
That said, Fickell's fate had been decided before the game against Michigan last Saturday. The Buckeyes claim that they began discussions with Meyer to become the head coach on Sunday, November 20, but they were rumored to be discussing the job with him for months.
Had the Buckeyes actually kept the momentum alive from the win over Wisconsin, won out and made it to the Big Ten championship game, I certainly hope that athletic director Gene Smith and the administration would have been re-considering hiring Meyer and made Fickell the full-time head coach.
Instead, after finishing the season with six wins and six losses, it was time for the Buckeyes to move on.
Ohio State football really needs to put the Tressel era behind them, but a mediocre season with Tressel's defensive coordinator as the head coach is not going to do that. By hiring Urban Meyer, a coach with two national championships already on his resume, it is time for a new era of Buckeye football to commence.
Yes, I do realize that I was wrong in what I wrote one month ago, and that I am flip-flopping worse than a congressman by writing this article. The fact of the matter is, emotions were running high after the Wisconsin victory, and there was reason to believe the Buckeyes could win the rest of their games, or at least come close to it. I had said that if the Buckeyes were to lose two or more of their final four games of the season, then it would be tougher to retain Fickell, but at that point, I really did not see that happening.
That said, I supported Fickell until the end, and I'm glad that he and Meyer have mutually agreed that he will remain a member of the Ohio State coaching staff. While the season performance was very disappointing, Fickell took over the head coaching position under very difficult circumstances, and he remained loyal to the effort of doing things the right way and trying to win football games.
Fickell deserves a spot on our coaching staff (I do think it would be in his best interest to search around for head coaching positions elsewhere), but a change at the top was needed. The best way to make Buckeye Nation forget about Tressel, or at least accept that his era in Ohio State is over, is to hire a head coach with as tremendous of a resume as Urban Meyer has.
In 10 season as a head coach at the FBS level, Meyer has a career record of 104-23, the best active winning percentage among coaches with at least 10 years of head-coaching experience (credit to ESPN stats and info). Meyer had a 17-6 record in two seasons at Bowling Green State University, then had a 22-2 record at the University of Utah, where he led the school to their first BCS bowl game, and BCS bowl win, in 2004. Following that season, Meyer went to Florida, where he went 65-15 and won two national championships.
Meyer was born and raised in Ohio and worked as a graduate assistant under Earle Bruce for Ohio State football during the 1986 and 1987 seasons. For recruiting purposes, Ohio State usually hires football coaches who have a background within the state of Ohio, and Meyer fits the criteria.
The biggest gain in hiring Urban Meyer may come in recruiting. Meyer is one of the best recruiters in all of college football, and potential recruits will be lured by Meyer's history of success. I did not believe that Meyer would be able to make an immediate impact on this year's class, but before he was even officially hired, that was proven wrong.
On Nov. 22, the Buckeyes got their best recruit yet in the class of 2012 with the commitment of defensive end Adolphus Washington from Cincinnati, Ohio, who said at the time that he hoped to play for Meyer, clearly showing that Meyer's pending hire was a factor in his commitment. Then on Sunday, Meyer's continued recruiting impact in the state of Florida was displayed, as Ricquan Southward, a receiver from Lakeland, Florida, committed to Ohio State.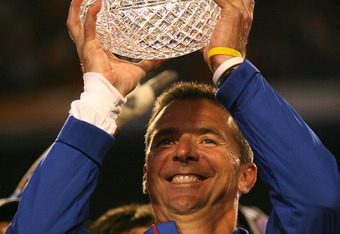 Marc Serota/Getty Images
Ohio State certainly did not have the usual level of talent on its roster this year, so the recruiting impact Urban will make is a huge advantage of his hiring.
Meyer's attitude and confidence also give off a great vibe. It is clear that after a year away from coaching, Meyer recognized his passion for coaching football. Some have expressed concern over whether Meyer will be around for the long term, considering he retired from Florida after the 2010 season for "health reasons" and to spend more time with his family. I do not see that being a problem. It is clear that coaching at Ohio State is a dream job for Meyer, and I believe that he is ready to tackle the oncoming challenges head-on, and be a loyal leader for the Buckeyes.
While his hard-nosed coaching philosophy is needed for the hard times still to come in Columbus, my one major concern with Meyer is his offensive philosophy. For the first time ever, the Ohio State Buckeyes will be running a spread offense, which Meyer plans to implement.
Woody Hayes must be turning in his grave at the notion of the Ohio State Buckeyes running a spread offense. While the spread has become the norm in the Big 12 and Pac-12, it has yet to be implemented successfully in the Big Ten. Rich Rodriguez attempted to bring his spread philosophy to the Michigan offense in 2008, but in three seasons there that Wolverine fans would prefer to forget, they had a combined record of 15-22.
That said, if there is any coach in college football who can make the spread offense work in the Big Ten, that coach is Urban Meyer. Meyer ran the spread offense at Florida while playing in the Southeastern Conference, the toughest conference in college football, and won two national championships doing so.
With a tremendous young talent at the quarterback position in Braxton Miller, there is reason to believe that Meyer's offense will find early and lasting success for Ohio State. Plus, following a season after which the Buckeyes' passing offense ranked 116th nationally (fifth-worst of all FBS teams), changes should be embraced, not resisted.
As the years pass, Meyer's hiring will be judged primarily on one thing: winning. Winning games, winning against Michigan, winning conference championships and, for Meyer's reign to truly be successful, winning national championships. If that happens, Meyer will be a loved and revered figure in the city of Columbus, just as former head coaches Woody Hayes and Jim Tressel, both of whom won national championships, will always be.
Luke Fickell should continue to be praised for doing the best he could with what may go down as the most difficult year in the history of the Ohio State football program. Fickell will remain a part of our staff for now, and it should not be more than a few years before Fickell finds success elsewhere as a full-time head coach.
But as it presently stands in Columbus, the Urban Meyer era is beginning, and it feels right. Our recruiting is improving already, Meyer's confidence is clearly showing and the fanbase is excited for the years to come. It has been a down year for Ohio State football, but there is reason to believe that things will only go up from here.