Seahawks vs. Eagles: Thursday Night Football Live Score, Highlights and Analysis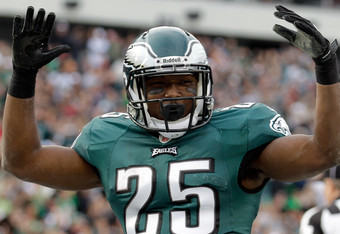 Rob Carr/Getty Images
Tonight, Week 13 in the NFL kicks off with a matchup of two disappointing teams: the Seattle Seahawks and the Philadelphia Eagles, two teams that both stand at 4-7. Although these teams share the same record, they were expected to have very different seasons despite both teams being in the playoffs last year. Although the Seahawks and Eagles were thought to go down different roads this year, they have ended up going down a very similar one on their way to a struggling season, and are currently on the brink of complete playoff elimination. Still, tonight should be an interesting game between two teams desperate for a win.
Final Score: Seahawks 31, Eagles 14

Thanks for following my live blog, and hope everyone enjoyed the game. An impressive win by the Seahawks, as they go on to win, 31-14.
Zach Miller, whose injury apparently wasn't that bad, clinched the game with a 25-yard reception to the one-yard line, and the Seahawks will take a knee to end the game.
As the clock winds down to the two-minute warning, I'll provide my thoughts on the game:

Overall, the Seahawks played about as good of a game as they have played all season long, and I am very impressed with what they did, both offensively and defensively.
The Eagles, however, are going to have alot of questions to answer as they fall to 4-8 after a bad loss to a team that was originally perceived to be far inferior to them. But because the Seahawks took care of the football, and made some big plays on defense, they come away with a big win, even if they are hopelessly out of the NFC West race.
Tonight, the Seahawks took 21 points off three Eagles turnovers, which was highly impressive for the Seahawks, but also, indicative of what this Eagles season has been like--plenty of mistakes and tons of turnovers.
And as I write this, Vince Young throws ANOTHER interception. And thus, the Eagles season is pretty much over. And turnovers tell the story.
Vince Young is clearly upset on the sideline after throwing his third interception of the night, a bad pass to David Hawthorne.
But honestly, with the way the Eagles were playing, it was unlikely they would have had the time to make the full comeback. While they had a good drive, they milked way too much time off the clock, and now, 4:24 remain as the Seahawks regain their 17-point lead.
And right after that, Vince Young throws an interception to David Hawthorne, which quickly turns into a pick six, and this game is over, as the Seahawks take a 31-14 lead.
Under five minutes remain, and LeSean McCoy takes the ball to the 20-yard line.
Seattle takes a timeout with 5:14 remaining.
Meanwhile, Young has completed 10 of his last 11 passes, certainly continuing his reputation as a big 4th quarter player. Can he pull off another comeback?
Riley Cooper redeems himself by catching a pass for a 14-yard gain and a first down. Eagles are driving on the 33 yard line with less than 6 minutes to go.
Two back-to-back plays by DeSean Jackson and LeSean McCoy put the Eagles in Seattle territory with about 6:50 to play...
The Seahawks were able to run about four minutes off the clock, two minutes they got because of a holding penalty committed by the Eagles.
Also, as the Eagles get the ball back, it is discovered that the timeout was burned because the Eagles had 12 men on the field. Those kind of mistakes aren't going to get you in the playoffs.
The Eagles are able to stop Marshawn Lynch on third and short, and with about 8:30 left to play, the Eagles will get the ball back.
It's going to be hard for the Eagles to come back in this game, down by two possessions with only half a quarter remaining. In addition, Andy Reid has called another timeout, a timeout I'm sure he would like to have later in the game.
The Eagles' mistakes have been their downfall this season. That holding penalty could have huge consequences for them, especially if Marshawn Lynch continues to pound the ball. And even when he can't, Tarvaris Jackson has been playing well in this game, especially in the last few drives, only throwing two incompletions.
On a big 3rd and 3 for the Seahawks, Tarvaris Jackson attempts to pass, but the ball is batted down, and the Eagles will get the ball back with about 10 minutes left to play.
And as I write this, the Eagles get called for holding, and the Seahawks drive continues. Unbelievable.
Lynch has another tough run that gives him a first down. The Eagles sure have their hands full with Lynch, who has rushed for more yards than any back in the past four games.
Vince Young had a very efficent drive, completing 6 of 7, but the drive still ate a lot of clock, taking up 10 minutes of time.
Still, Young has proven to be good at the end of games, which could work in the Eagles' favor if they want to have a chance to come back in this one.
LeSean McCoy runs for his second touchdown of the game, giving the Eagles some life in this game, down 24-14 with a little under 13 minutes left in the game.
For the Eagles to have a shot at all of making a comeback, they have to stop Marshawn Lynch, or he may run the clock out and essentially end the game.
LeSean McCoy converts for a first down, and this Eagles drive, which has gone on for eight minutes, continues.
Brent Celek is a yard shy of a first down, and the third quarter ends as the Eagles will have to make a decision to go for it on 4th and 1, or play it safe and kick a field goal.
At this point, down 17 points going into the fourth, the Eagles will likely have to go for it. If they don't make it though, it could be over, especially if Marshawn Lynch can continue to effectively run the ball and run out the clock in the fourth.
The Eagles are continuing to drive, with LeSean McCoy reversing field and getting some blocks to get a crucial first down. The Eagles have to score a touchdown here though, a field goal may not be enough to get them out of this hole this late in the game.
The Eagles call a timeout, which could be costly, especially considering that they are so behind, and they could use those timeouts late in the fourth.
The Eagles are driving, and seem to be getting that spark back that they had in the first drive of the third quarter. They just have to avoid turnovers, which could be easier said than done for a team that has struggled with turning the ball over all season long.
The one thing I wasn't really expecting was a Seahawks rout, but its looking like that's what's going to happen. The Seahawks are rolling with a 24-7 lead in what might be their best offensive performance.
The Seahawks clearly have found a groove, and their drives have been strikingly similar--a drive that is sparked by a big run by Marshawn Lynch, followed by a big play by Tarvaris Jackson or one of his receivers. This game has proved that this Seattle offense doesn't necessarily need Jackson to play consistently, as long as Marshawn Lynch can provide a spark to this offense.
And after a few plays by Marshawn Lynch, Tarvaris Jackson makes a big play, throwing a touchdown pass to Golden Tate, who made an unbelievable catch.
The Seahawks have a 24-7 lead. Unbelievable swing, as the Eagles could have been down by just three, now they are down by 17 after an interception by Browner, the same guy who intercepted Eli Manning and returned it for a touchdown all the way back in Week 5.
Looks like Seattle tight end Zach Miller was injured on the previous game. Hopefully we'll know more soon.
This article is
What is the duplicate article?
Why is this article offensive?
Where is this article plagiarized from?
Why is this article poorly edited?

Philadelphia Eagles: Like this team?