MLB Free Agency: Los Angeles Dodgers Agree to Terms with Slew of Players
December 1, 2011
Rick Yeatts/Getty Images
Say hello to some new prospective 2012 Dodgers. The club has signed catcher Matt Treanor, journeyman relief pitcher Wil Ledezma and infielder Luis Cruz to contracts. Los Angeles has agreed to terms with infielder Adam Kennedy.
Treanor arrives to the club on a one-year, $1 million contract with a 2013 club option, per the Los Angeles Times.
The eight-year Major League veteran, who hit .214 in 72 games for the Kansas City Royals and Texas Rangers last season, will serve as a backup to the Dodgers' assumed starting catcher, A.J. Ellis.
Not a strong hitter, the 35-year-old Treanor possesses what a backup catcher is expected to have—solid defensive skills with a good arm and leadership ability.
That said, his inability to swing the bat is a hindrance, as his .225 career batting average and .315 on-base percentage can attest. He has never hit above .269 in a major league season, nor has he slugged above .397.
Arriving with Treanor to the big league club is 35-year-old infielder Adam Kennedy, who has agreed to a one-year, $800,000 contract, according to the Los Angeles Times.
The speedy Kennedy, who has played for four different clubs these past four seasons, hit .234 with seven home runs and 38 RBI in 114 games for the Seattle Mariners last year. A 13-year veteran, Kennedy was once a solid ballplayer, who is now on the downside of his career. In 2000, he finished sixth in the American League in Rookie of the Year voting, and in 2002 he won the American League Championship Series Most Valuable Player Award.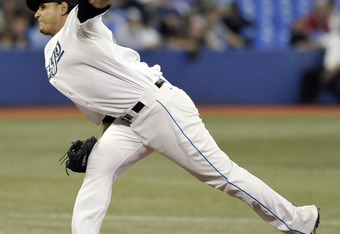 Brad White/Getty Images
Despite his former accolades and accomplishments, he will likely have to settle for a backup role in 2012. He is well-suited for such a job: He is defensively versatile and can field more than adequately.
Ledezma, 30, will likely serve as minor league filler, though he may spend some time with the big league club as well—if his career to date is any indication.
Save for a five-game stint with the Blue Jays last year, the new arrival spent all of 2011 in Triple-A, going 1-1 with a 4.50 ERA in 36 appearances.
He has always performed well at the minor league level, with a 3.41 ERA and 535 strikeouts in 512 innings, though his major league performance has left something to be desired. In his nine-year career, he is 15-25 with a 5.40 ERA in 192 games. Despite his less-than-mediocre numbers, he has made appearances in the bigs each year since 2003, though he has never held a full-time role on a major league club.
If he performs well in the minors in 2012—which is likely—per past precedence, he will surely find himself in Dodgers blue for a spell as well.
Cruz, who signed a minor league contract with the club, may serve as competition to Kennedy for a backup role in 2012, though more than likely he will also be minor league filler. The six-year Triple-A veteran had cups of coffee in the major leagues each season from 2008 to 2010, hitting .221 in 154 at-bats for the Pittsburgh Pirates and Milwaukee Brewers. He spent last year in the Texas Rangers system and in Mexico, hitting a combined .298 with 16 home runs and 52 RBI.