Raiders vs. Dolphins: A Tough Weekend for This Raider Fan
December 1, 2011
Ezra Shaw/Getty Images
Two of the things I'm most passionate about in life are my beloved Oakland Raiders and the beautiful girl who sometimes lets me call her my girlfriend, Miss Brandi L. Holder. Those two loyalties get tested this Sunday because unfortunately Brandi is a Dolphins fan and unfortunately it's not the best time in our relationship either!
If things were more blissful, this might be fun. There could be some side bets. Bets that maybe didn't include any money changing hands. I could remind her that at 3-8, the Dolphins aren't going anywhere (again) and that this is a much more important game for the Raiders. I could be there to comfort her after the crushing defeat that's going to occur on Sunday.
Alas, due to the fact that I've been flagged for more penalties than the Raiders this year that's probably not going to happen this week. My best hope with my girl, might be to have the Dolphins win the game. Then maybe, just maybe, some sympathy might be in the cards! Doubtful, but maybe!
I won't be rooting for a Dolphins win this week, though. Even if there is the most remote chance that it might help me catch a break in my personal life. I'm a Raider fan. That's not how a Raider fan rolls.
We're always there for our team. Always! Even if that team has let us down so many times we can't remember, we're there. Even though the Raiders have brought us more sadness than joy in our lifetime, that's not what we dwell on.
It's a feeling of craziness, joy, pain, sorrow, desperation, heck you can throw any emotion in there you want. I guarantee we've felt them all at some point supporting this team. You know what I'm talking about Raider Nation. You know it's never easy!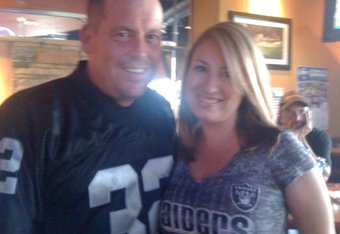 Just last week against the Bears, I experienced nearly every one of those emotions in the fourth quarter alone! It's never easy, is it? When you love your team the way we do it doesn't matter though, does it?
That's why I'm so proud to be a fan of this team. We know adversity, we know pain. We don't care a bit though, all we care about is "Just Win Baby!"
Raider Nation is full of people who never give up! On their team, on themselves and definitely not on the ones they love!
I'll be doing the live-blog on Sunday once again. If a certain Dolphin fan wants to come by and play nice, I could probably get you a seat.
That would be a personal "Just Win Baby!"