Fantasy Football 2011: Musts, Trusts and Busts (Week 13)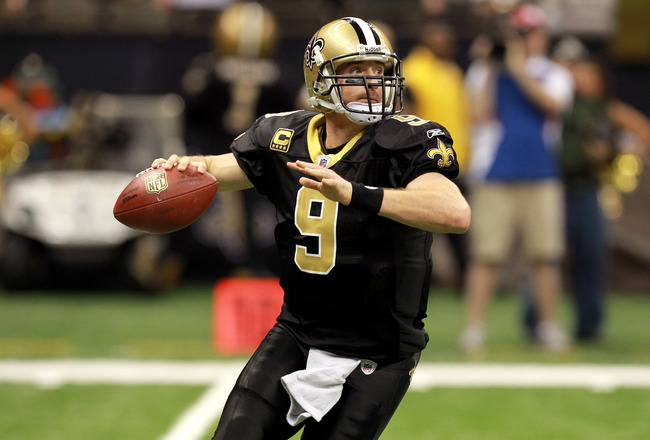 Ronald Martinez/Getty Images
Drew Brees and the New Orleans Saints absolutely decimated the New York Giants in front of a national audience on Monday Night Football.
Brees threw for over 360 yards on the game en route to adding four touchdowns through the air and one touchdown on the ground. If there is an argument to the Rodgers for MVP campaign, it's Drew Brees.
So what can we expect from the savior of New Orleans as the Saints head into a Sunday night prime time match up against the limping Detroit Lions?
Let's just say start Drew Brees over Andy Dalton this week.
But, does Drew Brees top the list of "Musts" this week?
Read on to find out.
MTB Week 13, here we go.
Quarterback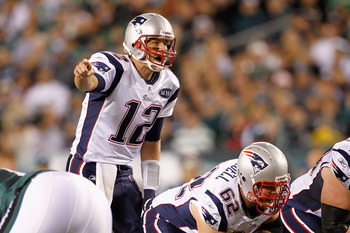 Rich Schultz/Getty Images
Musts:
1. Tom Brady
3. Drew Brees
5. Cam Newton
Trusts: Tim Tebow, Eli Manning, Tony Romo, Matt Ryan
Busts: Alex Smith, Andy Dalton, Tarvaris Jackson
Injury Fill-In: Vince Young, Kevin Kolb
Injury Report
Michael Vick (Ribs) The Eagles again have ruled out both Michael Vick and Jeremy Maclin. The Vick injury once estimated to shut Vick down for about one-three weeks is now thought to be more in the four-six week range. Fantasy owners, shut him down for the remainder of the 2011 seasonlook for other options at quarterback as you prepare for your playoff push.
Running Back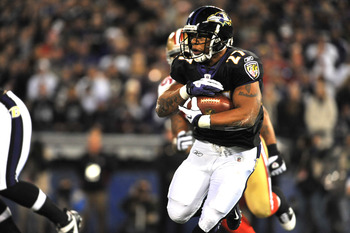 Larry French/Getty Images
Musts:
1. Ray Rice
2. Matt Forte
3. LeSean McCoy
4. Arian Foster
5. Frank Gore
Trusts: Maurice Jones-Drew, LeGarette Blount, DeMarco Murray, Chris Johnson
Busts: Peyton Hillis, Steven Jackson, Cedric Benson
Injury Fill-In: BenJarvus Green-Ellis, Reggie Bush, Darren Sproles
Injury Report
Cedric Benson (Foot) Benson has missed practice all week up to this point as he tries to push through a foot issue. Pushing through injuries usually doesn't translate into great statistical outputs by running backs facing James Harrison and the Pittsburgh Steelers defense.
Adrian Peterson (Ankle) Peterson is still nursing an ankle injury that forced him out in Week 11. The Vikings have officially ruled him out of this weekends contest at home versus Denver.
LeSean McCoy (Toe) He looks like a go for Thursday's matchup at Seattle. Though he has officially been listed as questionable, McCoy says, "I feel alright."
Wide Receiver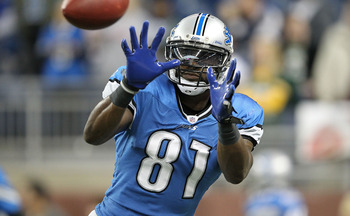 Leon Halip/Getty Images
Musts:
1. Calvin Johnson
2. Wes Welker
3. Greg Jennings
4. Roddy White
5. Marques Colston
Trusts: Laurent Robinson, Brandon Lloyd, Steve Smith, Jordy Nelson
Busts: A.J. Green, Dwayne Bowe, Andre Johnson
Injury Fill-In: Riley Cooper, Antonio Brown, Torrey Smith
Injury Report
Andre Johnson (Hamstring) Johnson made it through Week 12 without re-aggravating the hamstring injury suffered all the way back in Week 4. But, with season ending injuries to both the teams starting and backup quarterbacks, it looks as if Johnson owners have been dealt yet another blow. Rookie T.J. Yates is set to start the Week 13 matchup versus Denver, though the Texans did sign tenured quarterback Jake Delhomme.
Jeremy Maclin (Shoulder, Hamstring) Maclin has been officially listed as out. Riley Cooper is a fantastic plug and play option for Maclin owners looking to fill the void.
Sidney Rice (Concussion) The Seattle Seahawks were forced to shut the 24-year-old down for the season due to what was already Rice's second concussion in 2011. The move was made in hopes that it wont become a lingering issue for the remainder of his career.
Keep Reading